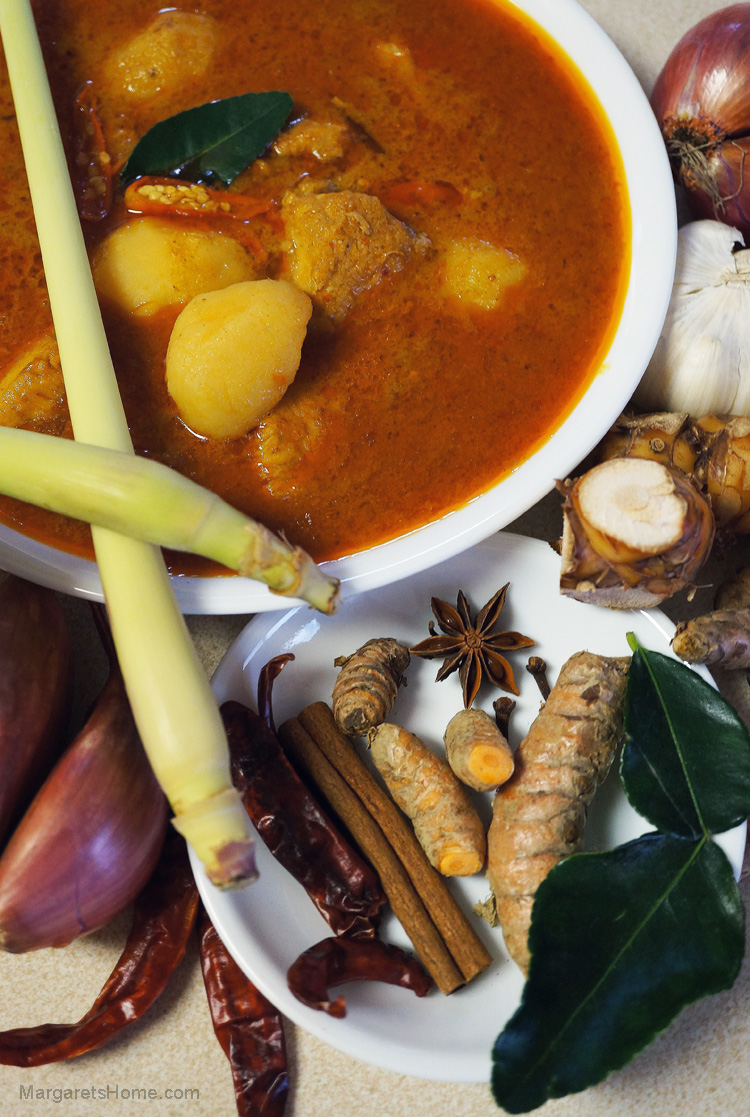 Nyonya chicken curry is one of my all time favorite dishes. I love it and it is worth hunting for all the ingredients that go into making it. Some time ago, I shared my beef rendang recipe, another one of my favorite Malaysian dishes. The next item that I will share with you, from my list of favorite Malaysian recipes, is roti canai.
Nyonya cuisine is a blend of Chinese ingredients with spices and cooking techniques used by the Malay/Indonesian community. They call their wet spice paste rempah. The cooking skill of a new daughter-in-law is judged by listening to her preparing rempah with a mortar and pestle. I definitely wouldn't qualify as a good cook, because I used a blender to make my rempah!
When I first started experimenting with other world cuisines, many of the herbs, spices and techniques were unfamiliar to me. Some of the ingredients mentioned in this recipe may not normally be on your kitchen shelf or in your refrigerator. But with all the specialty markets springing up these days, it was easy for me to find all these ingredients. Challenge yourself and try cooking this dish. I am sure you, your family, and your friends will be delighted with the results.
Malaysian Chicken Curry – Nyonya chicken curry
Prep time: 30 minutes, (includes time for soaking chillies)
Cooking time: 30 minutes
Serves: 6-8
Ingredients:
½ cup peanut oil
1 star anise
3 cloves
3-inch piece cinnamon, (broken in half)
2 sprigs of curry leaves
3 lbs chicken, (cut into small pieces)
10 baby potatoes, (peeled, halved and parboiled)
2 Thai red chillies, (slit in half)
2 14 fl oz (400 ml) cans of coconut milk
1 kaffir lime leaf
salt
2 teaspoons sugar
For the wet spice paste (Rempah):
4 tablespoons whole coriander seeds
2 teaspoons cumin seeds
2 teaspoons fennel seeds
20 dried red chillies, (broken in half, seeded, and soaked in boiling water)
1 teaspoon fish sauce, (or one piece belacan, broken into bits)
3 tablespoons roughly chopped fresh turmeric root
3 tablespoons finely chopped galangal
3 tablespoons finely chopped lemon grass
2 tablespoons sliced garlic
2 cups roughly chopped shallots or red onions
½ cup water, (or use the water that you soaked the red chillies in)
Directions:
To make the wet spice paste, break the red chillies in half, remove the seeds, and soak them in boiling water for 20 minutes. Drain and save the water to use to grind the paste.
Next, roast the coriander, cumin, and fennel seeds in a small non-stick pan over medium-low heat for five minutes or until they smell fragrant. Cool completely.
Drain the soaked red chillies and put them into a blender. Add the roasted spices, fish sauce or belacan, turmeric root, galangal, garlic, shallots and half a cup of the water that you soaked the red chillies in.  If you forgot to save it just use water. Blend to a smooth puree.
Place a heavy bottomed saucepan over medium heat. Add oil and when it shimmers, add the wet spice paste, star anise, cloves, cinnamon, and curry leaves and sauté for 10 minutes or until you see the paste thicken, darken in color, and the oil separating from the mixture.
Add the chicken, stir until the paste coats each piece. Add potatoes, chillies, coconut milk, kaffir lime leaf, salt, and sugar. Cover and simmer over medium heat for 20 minutes or until the chicken and potatoes are cooked. Roti canai is the perfect accompaniment to this Malaysian chicken curry.