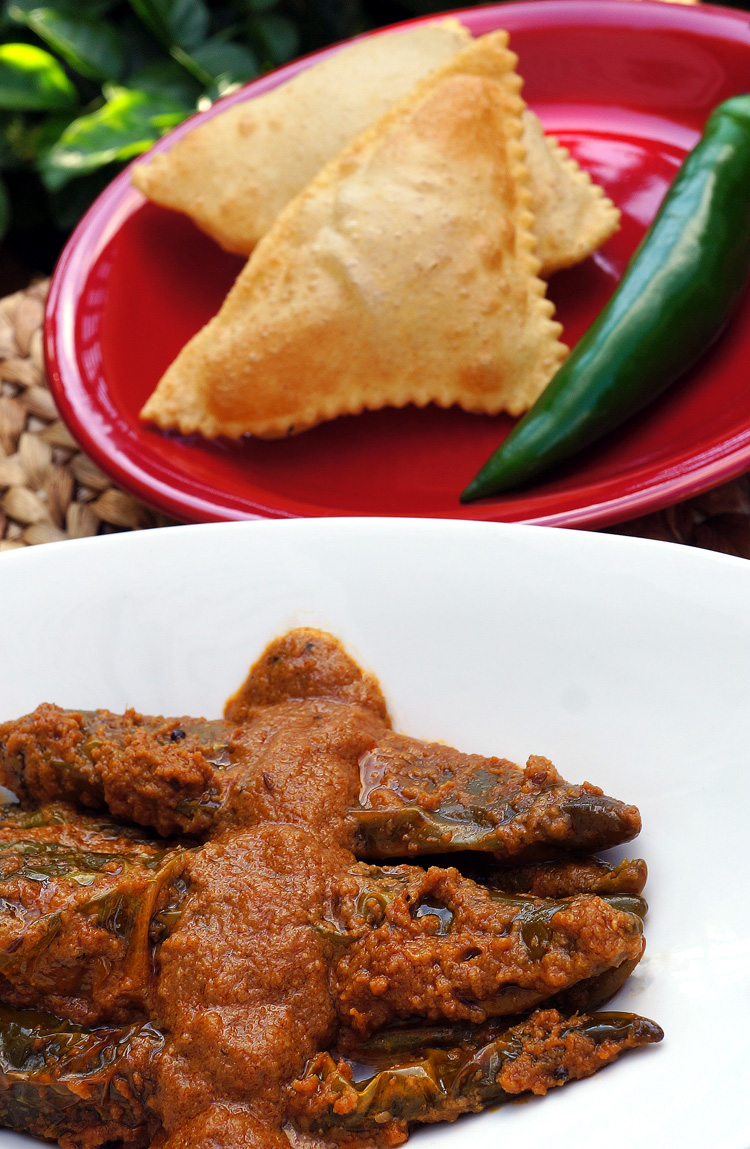 The spicy, tangy and nutty gravy of mirchi ka salan makes it the perfect accompaniment to biriyani. It doesn't necessarily have to be the famous Hyderabadi biriyani. It goes well with vegetable biriyani, chicken biriyani, egg biriyani and any other biriyani you make. I even enjoy it with plain rice, puris and naan. I hope you will enjoy my version of mirchi ka salan.
Mirch ka Salan

Prep time: 8 minutes
Cooking time: 20 minutes
Serves: 6
Ingredients:
10 large (mild) green chillies
2 tablespoons desiccated coconut
2 tablespoons white sesame seeds
2 tablespoon unsalted roasted peanuts
1 cup roughly chopped onion
2 tablespoons roughly chopped ginger
2 tablespoons roughly chopped garlic
¼ cup sesame oil/vegetable oil
½ teaspoon mustard seeds
½ teaspoon cumin seeds
½ teaspoon nigella seeds
3 fenugreek seeds, (optional)
1 sprig curry leaves
½ teaspoon turmeric powder
3 teaspoons coriander powder
1 teaspoon cumin powder
1 teaspoon Kashmiri chilli powder
2½ cups water
Salt
1 tablespoon brown sugar
3 teaspoons tamarind extract
Directions:
Wash, dry, and slit green chillies lengthwise without cutting the chillies into two. You can remove the seeds or leave them in depending on the amount of heat you prefer. In a large, non-stick frying pan add one tablespoon of oil. Shallow fry the chillies until the skin of the chillies blister. Set aside.
In a small non-stick frying pan, over medium heat, roast desiccated coconut until light brown. Remove and set aside. Next, roast white sesame seeds until lightly toasted. Put it along with the coconut. Cool completely. Add the roasted peanuts to the toasted coconut and sesame and grind all three to a smooth paste with three tablespoons of water. Set aside.
Next, grind the onion, ginger and garlic with two tablespoons of water. Set aside.
Place a heavy bottomed pan over medium-high heat. Add three tablespoons of oil and when it shimmers, add the mustard, cumin, nigella, and fenugreek seeds. When the mustard seeds splutter, add the curry leaves and the ground onion, ginger, and garlic paste. Cook until it turns light brown and the raw smell of garlic disappears. Then add the ground desiccated coconut, sesame, and peanut along with the turmeric, coriander, cumin and chilli powder. Cook for two minutes. Add water, salt, brown sugar, tamarind extract, and bring to a boil. As soon as the gravy begins to boil, turn the heat to low. Add the green chillies and simmer for eight minutes or until the gravy thickens. Serve hot with biriyani, puris or naan.