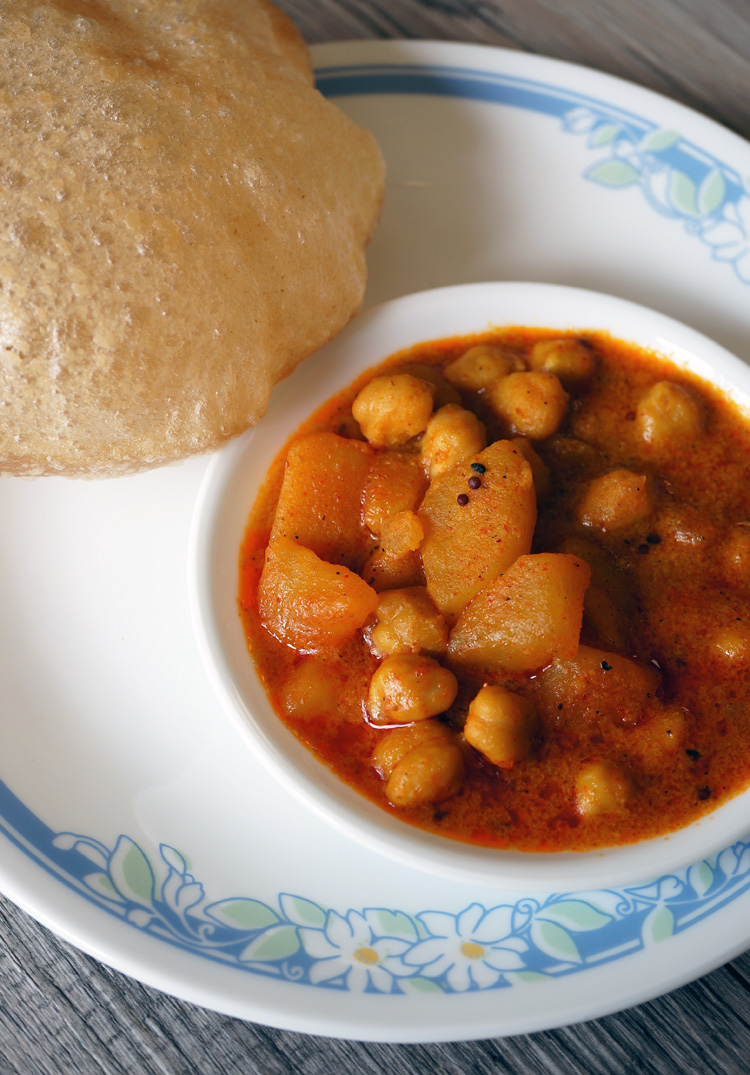 This was my lunch today. Curried chickpeas and potatoes can be eaten with chapati, naan or puri. It is easy to make and all you need is a small can of chickpeas, a few potatoes, and spices that are found on most Indian kitchen shelves. You can adjust the amount of chilli powder in this recipe depending on your preference.
I will be taking a break from blogging to travel, to take some cooking classes, and to catch up with projects around the house. Have a wonderful summer!
Curried Chickpeas and Potatoes
Prep time: 10
Cooking time: 20 minutes
Serves: 4
Ingredients:
4 tablespoons oil
½ teaspoon mustard seeds
½ teaspoon nigella seeds, (kalonji)
2 tablespoons ginger-garlic paste
1 15.5oz can (439g) chickpeas, (garbanzos)
3 medium potatoes, (boiled and peeled)
1 teaspoon Kashmiri chilli powder, (depending on heat and your preference)
1 teaspoon cumin powder
1 teaspoon garam masala powder
½ teaspoon turmeric powder
2 cups of water
salt
½ cup plain yoghurt
1 tablespoon chopped cilantro
Directions:
Place a saucepan on medium-high heat. Add oil. When the oil is hot add mustard seeds and when they crackle add nigella. Add the ginger-galic paste and saute until the raw smell of ginger-garlic disappears. Drain the chickpeas and add them to the saucepan. Cut the potatoes into small cubes and add them too. Saute for two minutes. Then add the chilli, cumin, garam masala, turmeric, water, and salt. Cover with a lid, turn the heat to high and bring to a boil. Once it starts boiling turn the heat down to medium-low and let the chickpeas and potatoes cook along with the spices for about ten minutes.
Beat the yoghurt until it is smooth and creamy. Turn the heat to low and add the yoghurt. Let the curry continue to cook for another ten minutes. The gravy should have thickened by now. Garnish with chopped cilantro. Sorry, I didn't have any so you don't see it in the picture!