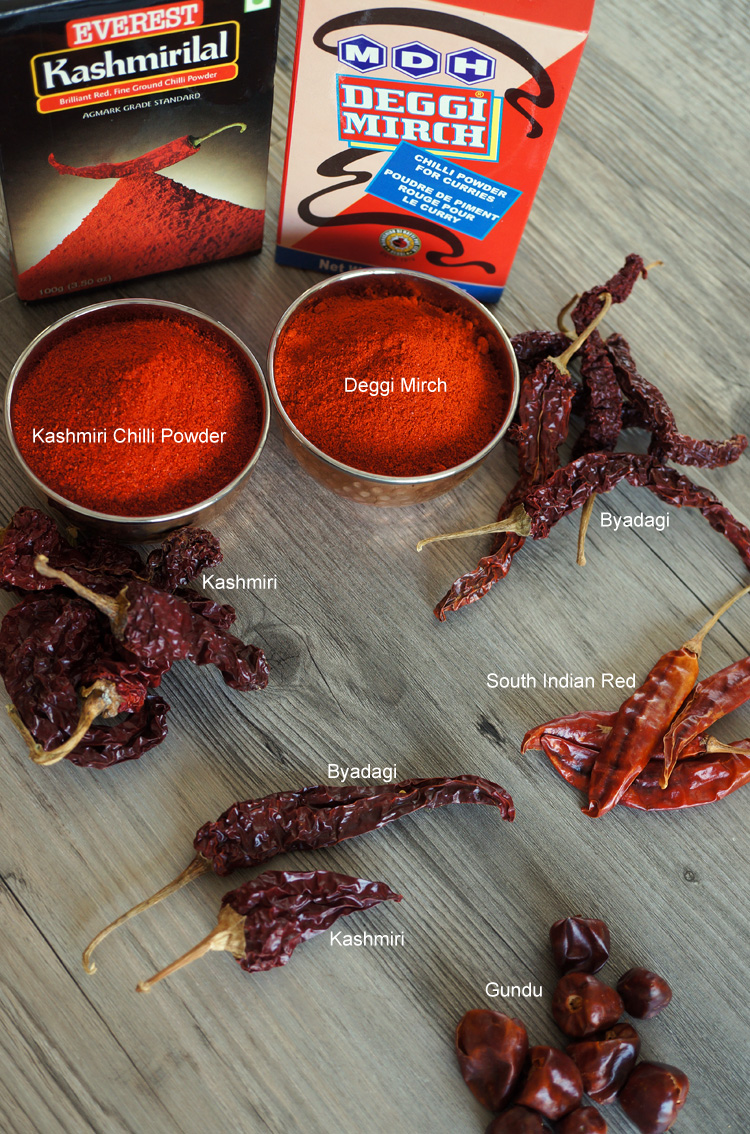 Many of my recipes call for Kashmiri chilli powder.  One of my friends told me that she went looking of Kashmiri chilli powder and could not find it at the India grocery store where she lived. I realized then that it was important for me to talk about some of the ingredients, spices, and equipment that I frequently use in my cooking. So, today I am going to start with the famous Kashmiri chilli powder which (shhh) doesn't even come from Kashmir!
Kashmiri chilli powder is the name given to a powdered chilli pepper. It is mildly hot, has a distinct flavor, and it adds a bright red color to food. True Kashmiri chillies are in high demand and since there is a short supply in India, substitutes are used to make Kashmiri chilli powder. You can identify dry Kashmiri chillies by their medium size, cone shape, wrinkles, and dark red color. One of the substitutes used is Byadagi chillies. They are grown in the state of Karnataka in India. Byadgi chillies are long, deep red, mildly pungent, and wrinkled. They have more color content than any other chilli in India. It is also nice to know that the least amount of pesticides are used in growing these chillies.
Kashmiri chilli powder is produced by hundreds of Indian spice companies – MDH, Everest, Eastern, Sakthi, Aachi, Swad, Badsha, just to name a few. The Indian grocery store, where I live, sells Kashmiri chilli powder under these names: Kashmiri chilli powder, Kashmiri Mirch. If you cannot find Kashmiri chilli powder, you can use deggi mirch. It is made from a blend of red bell peppers and Kashmiri chillies. It adds color but has a slightly higher heat level than Kashmiri chilli powder. You will find it at Indian grocery stores where it may be sold as deggi mirch, degi mirch, or deghi mirch. Different brands of chilli powder taste different and have different strengths regardless of being labelled hot, extra hot, very hot etc. I tend to use chilli powder by their difference in heat, rather than the name on the box. Yes, I taste the chilli powder before I use it.
I love the brilliant red color, flavor, and mild zing of Kashmiri chilli powder so I use it in most of my recipes. I also have a bottle of hot chilli powder that I use, if I want to bump up the heat level in my dish.  When I list the ingredients in my recipes, right next to chilli you will see in parenthesis, "depending on heat and your preference." I say this because the type of chilli – fresh green/red chillies, canned chillies, dry red chillies, red chilli powder, or chill flakes – could change the heat from mild to very hot. So, depending on the heat level of the chilli you are using and the amount of chilli you personally prefer, add less or more. Many of you want to know if there is a substitute for Kashmiri chilli powder. In a pinch, use three parts paprika and one part cayenne. But, if you want flavor and color, it's worth your time and effort to hunt down a box of Kashmiri chilli powder.