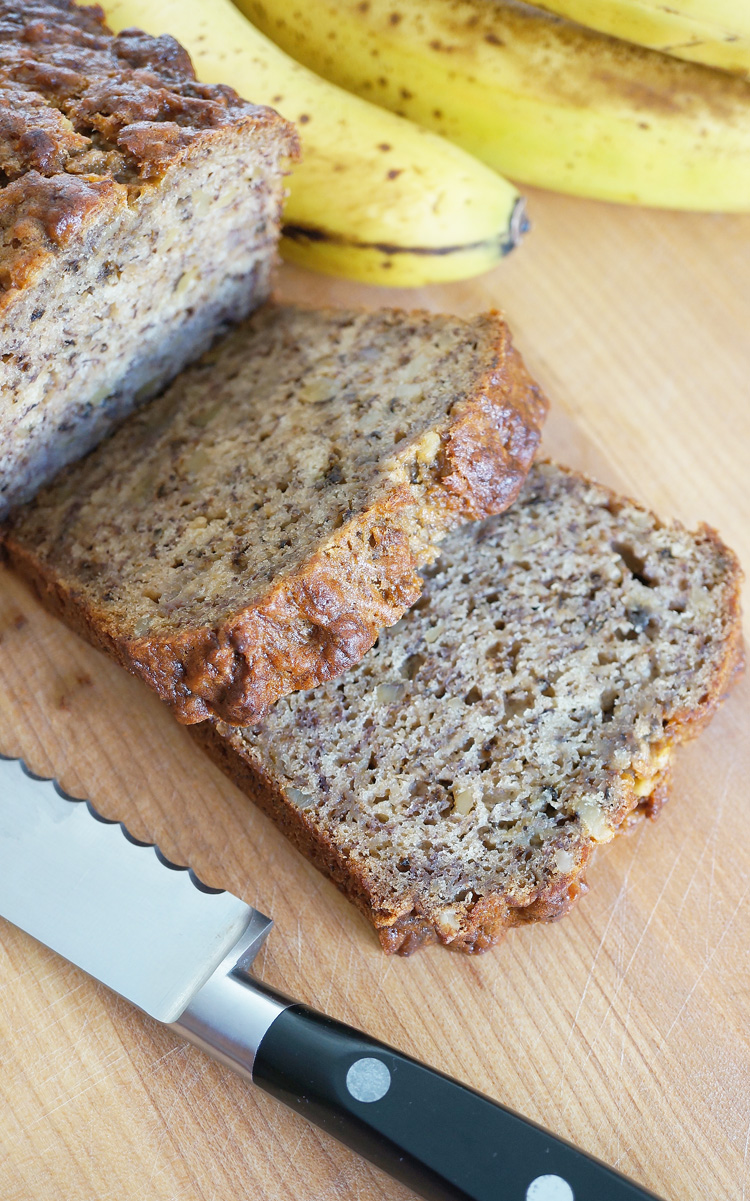 Overripe bananas are never a pretty sight in the kitchen. I've used them to make banana bread, banana fritters, banana pancakes, banana muffins, and even an occasional banana flambé. I bet you have your own "banana rescue mission" recipes.
I had six very ripe bananas, the exact number called for in the Cook's Illustrated recipe, sitting on my counter. We were snowed in, and although the recipe had a few extra steps, I decided to try it. The verdict: I'm tossing out all my other banana bread recipes and keeping this one!
The method used to incorporate more banana flavor into the banana bread, without adding all their moisture, is brilliant. The secret is to use really ripe bananas for this recipe. I didn't add the thinly shingled banana slices and the extra sugar on top. I loved the cake-like texture and the fact that it didn't crumble when cut into slices. It was rich, moist, and truly the best banana bread I've ever eaten.
Ultimate Banana Bread
(Recipe from Cook's Illustrated)
Total Time:  1 hr 20 min
Prep time:  20 min
Cook time:  60 min
Yield:  1 loaf (about 12 slices)
Ingredients:
1¾ cups (8¾ ounces) all-purpose flour
½ tsp table salt
1 tsp baking soda
6 large very ripe bananas (about 2¼ pounds), peeled and cut in half
2 large eggs
¾ cup (5¼ ounces) packed light brown sugar
8 tbsps (1 stick) unsalted butter, melted and slightly cooled
1 tsp vanilla extract
½ cup walnuts, toasted and coarsely chopped, (optional)
2 tsp granulated sugar
Directions:
Adjust oven rack to middle position and set oven to 350 degrees. Spray 8½ by 4½-inch loaf pan with nonstick cooking spray. Whisk flour, salt, and baking soda together in large bowl.
Place 5 bananas in microwave-safe bowl; cover with plastic wrap and cut several steam vents in plastic with paring knife. Microwave on high power until bananas are soft and have released liquid, about 5 minutes. Transfer bananas to fine-mesh strainer placed over medium bowl and allow to drain, stirring occasionally, about 15 minutes. You should have ½ to ¾ cup liquid.
Transfer liquid to medium saucepan and cook over medium-high heat until reduced to ¼ cup, about 5 minutes. Remove pan from heat, stir reduced liquid into bananas, and mash with potato masher until fairly smooth. Whisk in eggs, brown sugar, butter, and vanilla.
Pour banana mixture into flour mixture and stir until just combined with some streaks of flour remaining. Gently fold in walnuts. Scrape batter into prepared pan.
Slice remaining banana diagonally into ¼-inch-thick slices. Shingle banana slices on top of either side of loaf, leaving 1½-inch-wide space down center to ensure even rise. Sprinkle granulated sugar evenly over loaf. (I skipped this step.)
Place in the center of the rack. After 30 minutes turn the loaf around and check the bread for color. If it is browning too quickly, cover loosely with aluminum foil. Bake until toothpick inserted in center of loaf comes out clean, 55 to 75 minutes. Cool bread in pan on wire rack 15 minutes, then remove loaf from pan and continue to cool on wire rack. Serve warm or at room temperature.
Notes:
– Use very ripe bananas.
– Do microwave the bananas so they release their liquid.
– Reduce the liquid to a ¼ cup before adding them back into the bananas.
– I skipped putting the sliced banana on top of the banana bread and sprinkling sugar.
– To toast walnuts, heat a large non-stick frying pan over medium high heat. Add walnuts to the hot, dry pan and cook, watching constantly and stirring frequently, until walnuts starts to brown. Using walnuts is optional.
– To store banana bread, wrap the bread tightly in plastic wrap and store at room temperature overnight or in the refrigerator for up to 5 days. It can also be frozen. The wrapped loaf should be put into a resealable freezer bag and it can be kept up to two months.