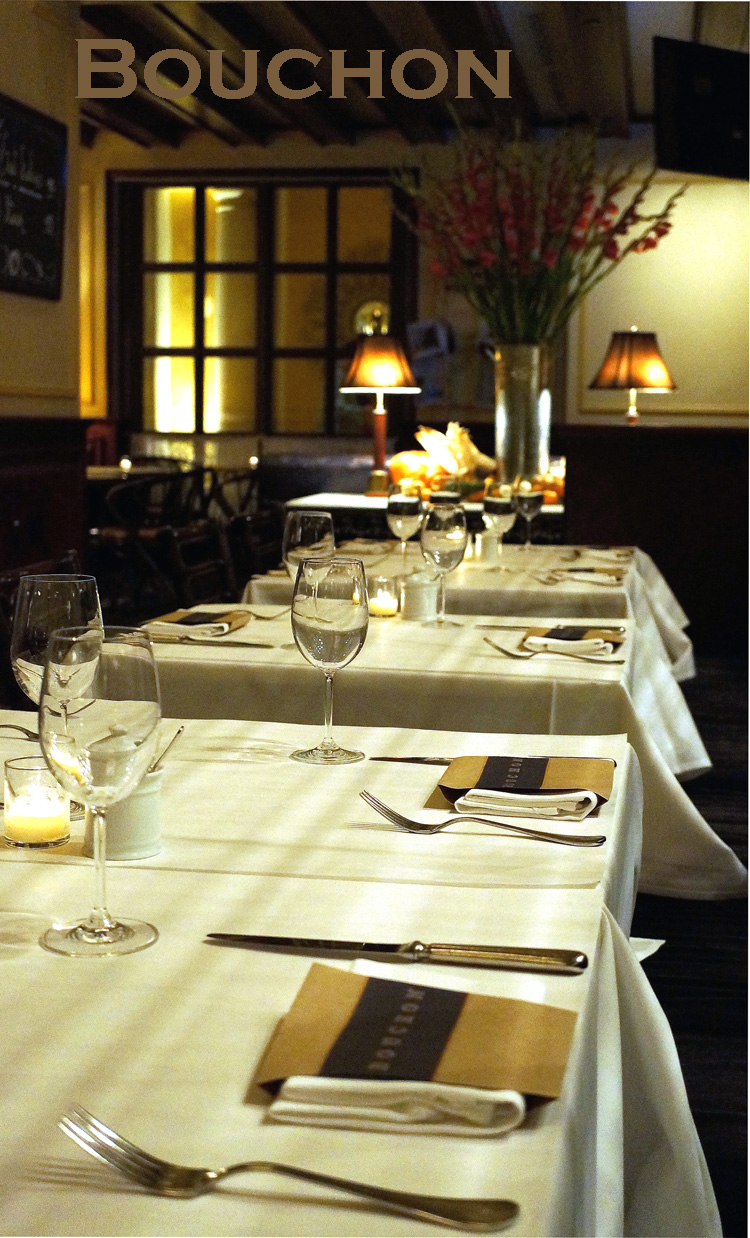 Having two of my favorite cookbooks, The French Laundry Cookbook and Bouchon Bakery sitting proudly on my bookshelves wasn't enough for me. I've always wanted to eat at one of Thomas Keller's restaurants. The opportunity presented itself last week. I went to Las Vegas for the FoodFightWrite blog conference and my son was there for a technology conference. We decided to have dinner together at Bouchon Bistro located in the Venetian hotel. White linen topped tables, little candles, dimly lit table lamps, mosaic floors, dark cherry wood, a huge hand-painted mural, and waiters in French uniforms made the restaurant warm and classy. Our server seemed to be new but she was attentive and a pleasure.
We nibbled on a wheat sheaf shaped crisp French baguette, butter, and warm pistachio nuts while pondering over the menu. I decided to start with Soupe à l'Oignon – sweet onions that were caramelized and slow cooked in beef jus, poured over a slice of country bread, and topped with Comté cheese. The broth was rich and delicious. My son had the Oeufs Mimosa – four creamy, buttery deviled eggs.
I wanted classic French so I ordered the Steak Frites as my main course. The pan-seared prime flat iron steak was topped with caramelized shallots with a pat of maître d'hôtel butter and served with French fries. I loved the dark charred parts of caramelized onion on the steak. It was by far the best Steak Frites I had ever eaten. I almost finished the whole steak. My son had the Gigot d'Agneau – roasted leg of lamb with flageolet beans, garlic confit, and thyme-scented lamb jus. He wasn't "oooing" and "ahhhing" as much as I was!
Even though we were really full, passing up dessert at Bouchon was out of the question. We shared profiteroles – French cream puffs or choux à la crème. They were filled with vanilla ice cream and soaked in a luxurious chocolate sauce. Yum-eeee!
As we walked out of the restaurant, the waitress handed me a box of macarons. My dream of eating at one of Thomas Keller's restaurants had just come true. I was ecstatic and the butter-soaked meal was totally worth it.