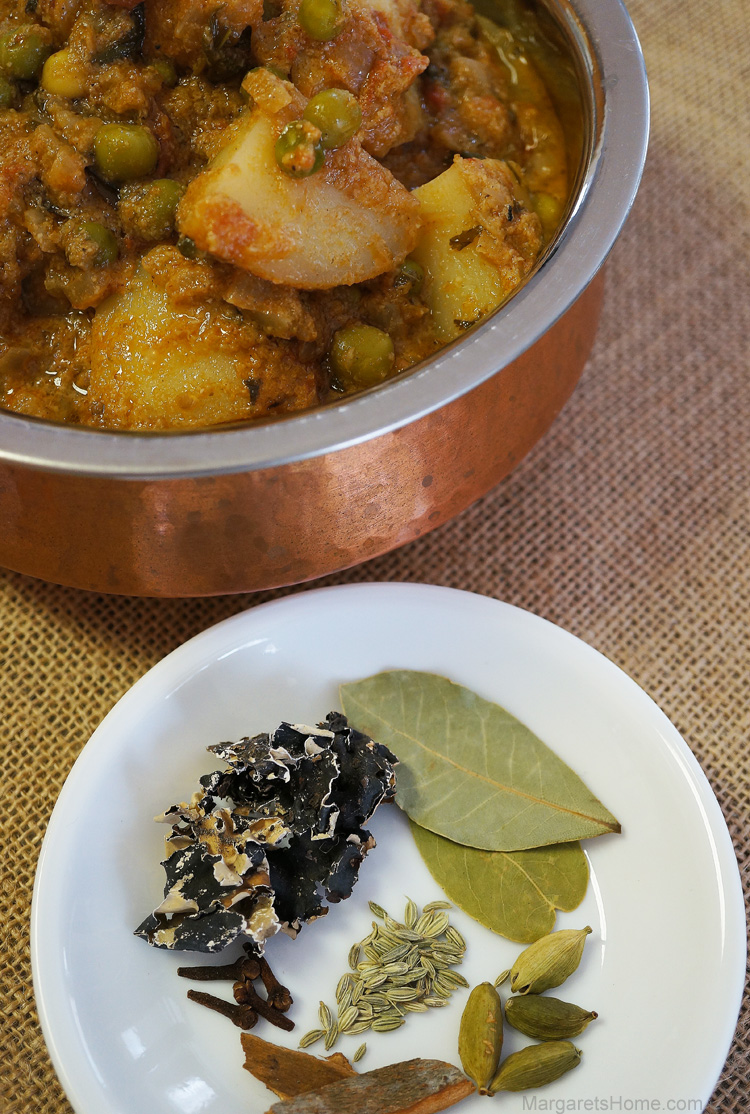 I want to introduce you to Parmotrema perlatum, commonly known as black stone flower, a species of lichen used as a spice in India. This mysterious lichen is the secret ingredient to my Chettinad and korma preparations. In India, it is called patthar ke phool in Hindi, dagad phool in Marathi and kalpasi in Tamil. It slightly resembles mushrooms and the plants grow on rocks and walls. An interesting fact about black stone flower is that it only grows in unpolluted air.
Black stone flower is sometimes included in some of the spice blends sold in Indian grocery stores. However, few home cooks use it knowingly. It is one of the ingredients in the famous Goda masala from Maharashtra. This unusual spice adds a very distinct, strong earthy aroma, and deep flavor to many vegetarian and non-vegetarian dishes. You will see, in the picture above, that I have added the spices I used in this recipe on a small white plate. Black stone flower is in between the bay leaves and cloves.
Well, now that my mystery ingredient has been disclosed, let's use it in the korma recipe that I'm sharing with you today. Do you use black stone flower in your recipes? Tell us what recipes you use them in and how.
Korma with Potatoes and Peas
Prep time: 15 minutes
Cooking time: 25 minutes
Serves: 6
Ingredients:
3 tablespoons ghee
1 whole green cardamom, lightly crushed
1 clove
1 bay leaf
½ inch piece cinnamon, broken into bits
2 cups finely diced red onion
2 cups medium diced tomatoes
¼ teaspoon turmeric, optional
2 tablespoons chopped cilantro
5 mint leaves, torn into bits
2 cups medium diced potato, (I used red potatoes)
1 cup frozen green peas
2 cups water
salt
½ teaspoon garam masala, (use my Home-made garam masala)
To be ground
1 inch-piece cinnamon, broken into bits
2 cardamoms, outer cover removed
2 cloves
1 bay leaf
1 teaspoon fennel seeds
4 small pieces of black stone flower
8 cashew nuts, (soaked in ¼ cup hot water for 15 minutes)
¼ cup grated fresh coconut
1 tablespoon roughly chopped ginger
1 tablespoon roughly chopped garlic
2 roughly chopped green chillies, (depending on heat and your preference)
Directions:
First, prepare the ingredients to be ground. Add the dry spices to your blender or spice grinder and powder them. Next, add the cashew nuts along with the water it was soaking in, coconut, ginger, garlic, and green chillies. Grind everything to a smooth paste. Set aside.
Heat ghee in a large pan over medium-high heat. Add the whole spices – cardamom, clove, bay leaf, and cinnamon. Sauté for 30 seconds and then add the onion. Cook until the onion turns translucent. Add the ground spice and coconut mixture. Fry for five minutes being careful not to burn the ingredients. Sprinkle a few drops of water, if it is catching to the bottom of the pan. Add tomato, turmeric, cilantro, and mint. Fry until the tomato turns mushy and you see the oil separate. Add potatoes, two cups of water, and salt. Cook on high until the water begins to boil. Turn the heat to medium-low, add peas, cover with a lid, and cook for 15 minutes or until the potatoes are done. Sprinkle garam masala and cook for another three minutes. This dish goes well with chapatis or puris.