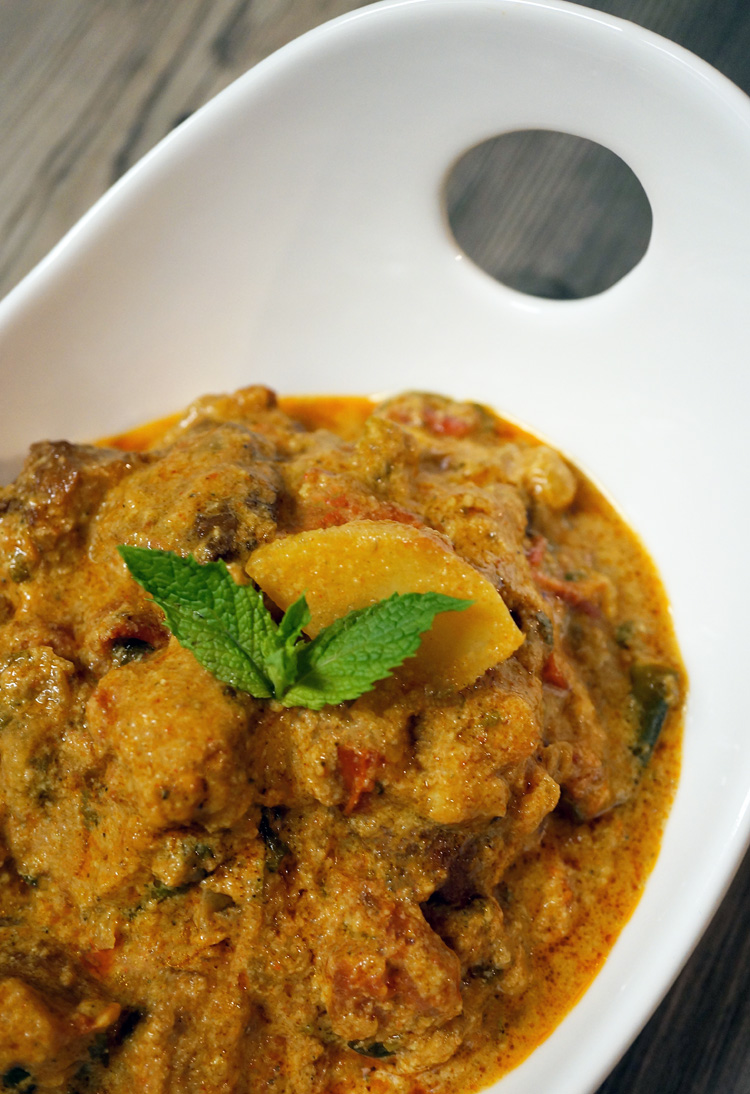 Ingredients:
For the spice blend
12 Cashew nuts
½ cup hot water
5 cardamoms
5 cloves
2 1-inch piece of cinnamon
1½ teaspoons fennel seeds
1 small piece of black stone flower, optional
¼ cup grated coconut
2 sprigs curry leaves
2 tablespoons cilantro
Directions:
Add the cashew nuts to a small bowl. Cover them with half a cup of hot tap water and let them soak for 15 minutes. Add the cashew nuts, along with the water they were soaking in, into a blender. Add the rest of the ingredients and blend to a smooth paste. Set aside until you are ready to use it in the curry. 
Ingredients:
To make the curry
¼ cup oil
1 teaspoon cumin seeds
1 cup ground onion
1 tablespoon ginger-garlic paste
1 teaspoon turmeric
1 cup diced tomatoes
1 teaspoon cumin powder
2 teaspoons Kashmiri chilli powder, depending on heat and your preference
2 teaspoons coriander powder
1 teaspoon garam masala, optional
2 medium potatoes, each cut into quarters
1 cup Lima beans
1 large can (2 lbs) Worthington FriChik original, drain and cut into four pieces
Salt
3 cups water
2 tablespoons finely chopped cilantro
Directions:
Select sauté to pre-heat the Instant Pot. When the word "Hot" appears on the display add the oil. Add cumin seeds and ground onion. Sauté for 2 minutes. Add the ginger-garlic paste and turmeric. Sauté for another 2 minutes. When the raw smell of turmeric disappears add the tomatoes. Sauté for a minute. Add cumin powder, chili powder, coriander powder, garam masala, potatoes, peas, FriChik, and salt. Mix well. Add water. 
Close and lock the lid. Select "Pressure Cook" or "Manual" and set 4 minutes. When time is up use Quick release. (Release pressure instantly, by pressing (Cancel) and then turning the steam release handle on the lid to "Venting" position.)