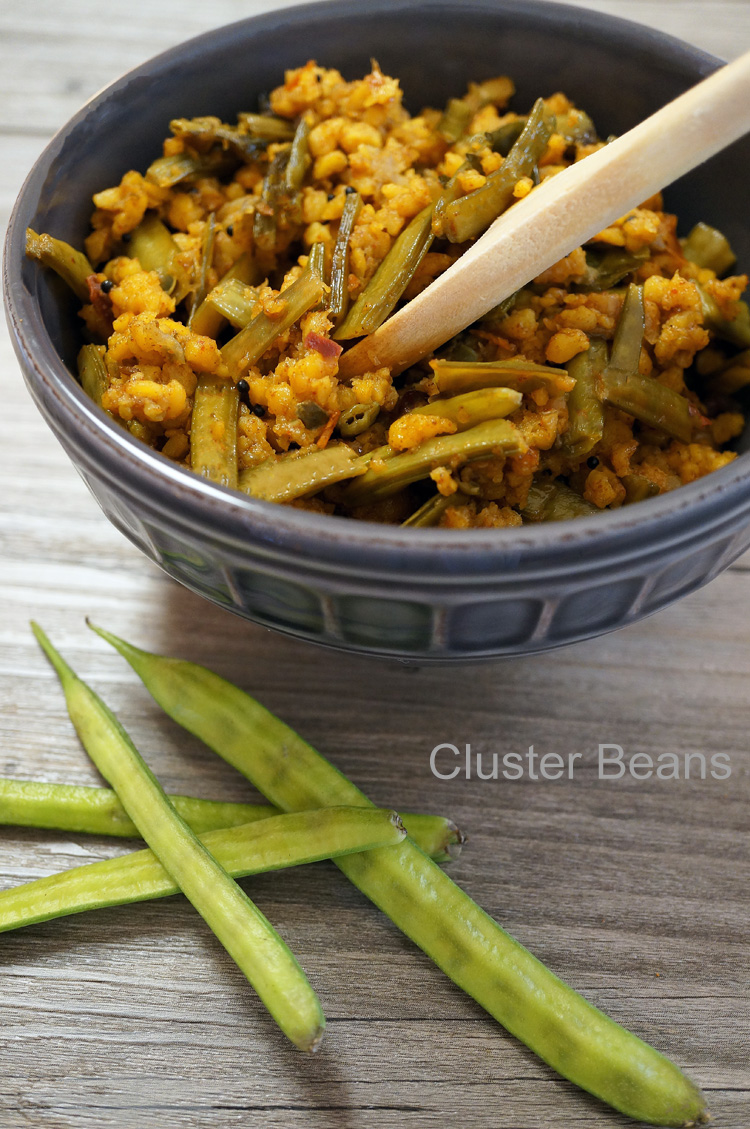 Cluster Beans is an annual legume that grows in Rajasthan, Maharashtra, Andhra and other arid regions in India. They are related to French beans but have a narrow, flat, long body with tiny pods. They are light green in color and they taste slightly bitter. They are called gavar phalli in Marathi. You will find cluster beans at Indian and ethnic grocery stores.
In India different states cook these beans in their own unique way. I combined kanda lasoon masala (onion-garlic spice mix) from Maharashtra with split Bengal gram (chana dal), a lentil frequently used in vegetable dishes in Tamil Nadu. The result was a fusion of flavors.
Thanks to my friend for bringing me a packet of this masala from India. You will find kanda lasoon masala at Indian grocery stores or you can order it on line. You could also use two teaspoons of coriander powder and one teaspoon of garam masala powder instead of the kanda lasoon masala. It will still taste great, but different. I love trying new vegetables. If you haven't tried cluster beans, you should.
Cluster Beans – Gavar with Kanda Lasoon Masala
Prep time: 15 minutes
Cook time: 15 minutes
Serves: 5
Ingredients:
1 cup split Bengal gram, (soaked for 2 hours; Chana dal)
2 dry red chillies, (soaked with Bengal gram; depending on heat and your preference)
3 tablespoons oil
1 teaspoon mustard seeds
1 sprig finely chopped curry leaves
1 cup finely chopped onion
3 cups cluster beans
¼ teaspoon turmeric powder
1 tablespoon kanda lasoon masala
salt
3 tablespoons water
Directions:
Put the Bengal gram into a bowl and wash in several changes of water. Cover with water and let it soak for two hours along with the dry red chillies. After it has soaked for two hours drain and put it into a food processor or blender. You want a coarse grind, so pulse/blend until the Bengal gram and chillies break up into tiny bits.
Wash and dry the cluster beans. Top and tail them. If they need stringing, just pluck the end of a cluster bean with your hand, and then pull downward; if a thick thread comes away, the bean need stringing. Do the same on the other side of the bean. The beans can then be cut into one-inch pieces.
Heat a pressure cooker over medium-high heat.  Add oil and when it shimmers add the mustard seeds. When the mustard splutter, add the curry leaves and chopped onion. When the onion turns translucent, add the cluster beans. Stir and cook the beans for two minutes. Next, add the turmeric powder, kanda lasoon masala, and salt.
Sprinkle the coarsely ground Bengal gram over the cluster beans. Add water, put the lid and weight on the pressure cooker, and turn the heat to the lowest possible point on your stove. There is hardly any water so steam will not escape. Set your timer for ten minutes. When ten minutes are over, turn off the heat. Let the pressure cooker cool down completely and then remove the weight and lid. The dal and beans would have cooked perfectly. Mix well and serve with rotis.