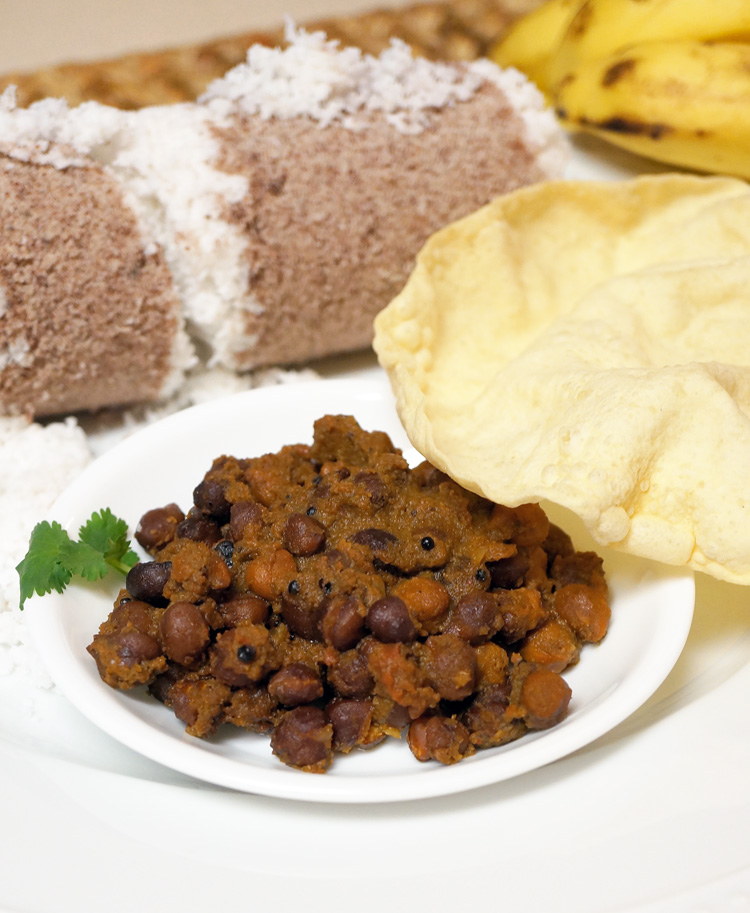 The classic combination of puttu, kadala curry (black chickpea curry), and papadam is made for breakfast in most homes in Kerala. When I'm homesick, it's my comfort food. Unlikely as the combination may sound, it actually works. Check out my post on, "Puttu, Pazham, and Pappadam" to learn how to make puttu.
In Kerala, black chickpea curry accompanies puttu, appam, idiyappam, and dosa. But it can also be served with rice, chapati, and puri. You can make it with or without gravy. Black chickpeas are called kala channa in Hindi.
Using garam masala is key. It adds flavor and spice to this curry. The feedback that I received on the garam masala recipe that I shared with you is excellent. Take the time to make it and use it in my recipes. It's the best!
Black chickpeas are a good source of protein, low in fat, high in dietary fiber, and rich in vitamins and minerals. So, add them to your diet, especially if you are vegetarian or vegan.
Black Chickpea Curry
Prep Time: 20 minutes + soak the chickpeas overnight (8-9 hours)
Cooking time : 30 minutes
Serves : 4
Ingredients:
1 cup black chickpeas (kala channa/kadala), soaked overnight
1 teaspoon coconut oil
4 tablespoons coriander seeds
2 South Indian dry red chillies (depending on heat and your preference, optional)
½ cup grated coconut
¼ cup diced shallots
2 teaspoons sliced garlic
1 sprig curry leaves
½ teaspoon cumin seeds
¼ teaspoon turmeric powder
1 teaspoon garam masala powder, (depending on heat and your preference, optional)
To season the black chickpea curry
3 tablespoons coconut oil
½ teaspoon black mustard seeds
1 sprig curry leaves
2 tablespoons diced shallots
Directions:
Rinse the black chickpeas in several changes of water. Add half teaspoon salt to 2½ cups of water and soak the chickpeas for 8-9 hours or overnight.
Heat one teaspoon oil in a small pan set over medium-low heat. Add coriander seeds and when they begin to turn light brown add the dry red chillies. Roast until coriander turns golden brown. Remove to a small plate. To the same pan add coconut. Roast the coconut, stirring constantly, until the coconut turns golden brown. Off the heat and add quarter cup shallots, two teaspoons garlic, curry leaves, cumin, turmeric, and garam masala. Mix and let it remain on the stove top until it cools. Once all the ingredients that were roasted have cooled, put them into a blender and grind with three tablespoons of water to make a smooth paste.
Add the black chickpeas, along with the water it was soaking in, to a pressure cooker. Add another two cups of fresh water and the ground coconut paste. Stir well. Cover with lid. Bring to full cooking pressure on maximum heat. Reduce heat to medium and cook for eight minutes. Allow the cooker to cool gradually before opening. Please check on the cooking time for your make of pressure cooker.
To season the black chickpea curry, heat three tablespoons of coconut oil in a small pan. Add mustard seeds and when they splutter, add curry leaves and shallots. Keep stirring until the shallots turn golden brown. Add the seasoning to the cooked black chickpea curry. Stir well and serve. If you want a thick gravy, cook the water down on high heat until the gravy thickens and reaches the consistency you desire.