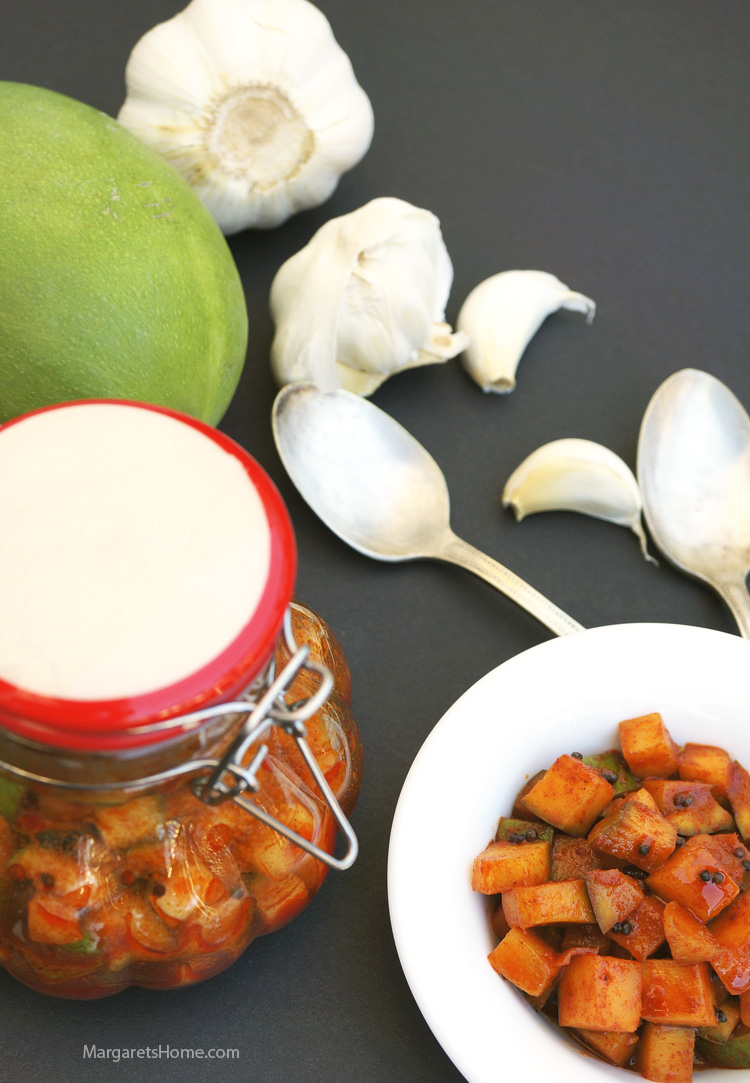 This is a quick and easy recipe with ingredients that most Indian families have in their pantry. Recently, my local Asian grocery store has been selling raw mangoes. I am sure, like me, many of my Indian readers had mango trees growing in their gardens. As children, we could not wait for the tiny raw mangoes to grow large enough so we could pick them from the tree and eat them with chilli powder and salt. I wonder how many mouths are watering while you reminisce plucking raw mangoes from your mango trees or from your neighbor's mango trees! I would love to hear your stories.
This is not a traditional mango pickle recipe that uses a lot of oil, salt or preservatives. I usually make this with one or two small raw mangoes and the pickle doesn't last for more than two or three days. If you make this pickle just for yourself, then refrigerate it after a day.
Kacha Aam ka Achar – Raw Mango Pickle
Prep time: 5 minutes
Cooking time: 3 minutes
Serves: 6-8
2 small raw mangoes, (about 4 cups, cut into small cubes)
2 tablespoons oil
1 teaspoon mustard seeds
4 garlic cloves, thinly sliced
2-3 teaspoons chilli powder, (depending on heat and your preference)
3 teaspoons salt
Place a small non-stick frying pan over medium-high heat. Add oil and when it shimmers and gets hot, add the mustard seeds. It will splutter all over the place, so quickly cover with a lid and turn off the heat. (Clarification – don't turn the heat back on, but leave the pan on the burner.) When it stops spluttering, remove the lid, and add the garlic slices. Sauté in the oil for three seconds. Add chilli powder, salt, and the mango. Mix well so that all the mango pieces are well coated with the mustard, garlic, chilli, and salt spiced oil. Set aside to cool. In a couple of hours the spices and mango will meld, making this simple pickle a great accompaniment to any rice and curry meal.