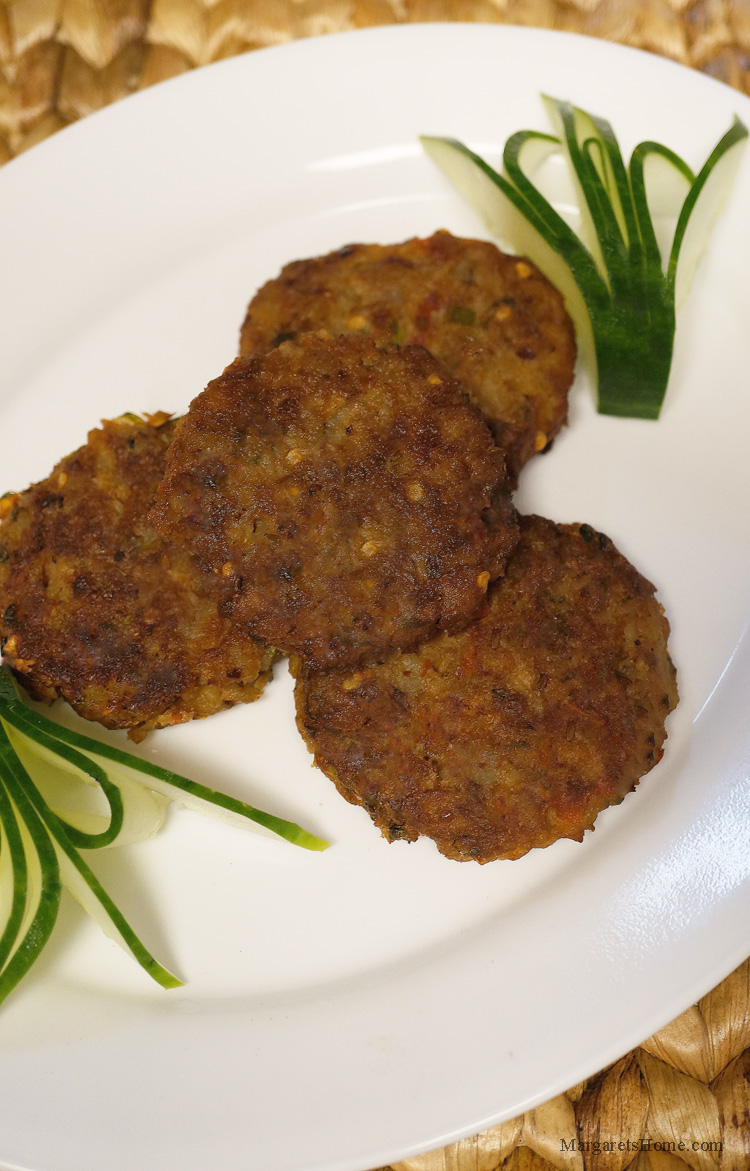 Fishless Tuna Cutlets
Prep time: 10 minutes
Cooking time: 25 minutes
Makes: 10-15
Ingredients:
3 Yukon gold potatoes, boiled, skins removed, and mashed, (about 3 cups)
2 cans (13oz/369g) Fishless Tuna, well drained
1 green bell pepper, finely chopped
1 small onion, finely chopped, (about ½ cup)
1 Roma tomato, diced
¼ cup finely chopped cilantro
5 mint leaves, finely chopped (optional)
3 green chillies, finely chopped (depending on heat and your preference, optional)
3 teaspoons chilli flakes, (depending on heat and your preference, optional)
½ teaspoon whole cumin seeds
2 teaspoons coriander powder
3 teaspoons dry mango powder, (amchur, optional)
¼ cup Bengal gram flour, (besan)
1 egg, (replace egg with two extra tablespoons of Bengal gram flour for vegetarian/vegan)
salt
Oil for shallow frying
Directions:
Add the potatoes, Fishless Tuna, green bell pepper, onion, tomato, cilantro, mint, green chillies, chili flakes, whole cumin seeds, coriander powder, dry mango powder, Bengal gram flour (besan), egg, and salt into a large bowl. Mix well. Form the cutlets and put them on a small tray.
Place a medium-sized non-stick frying pan over medium heat and add oil for shallow frying. Add a few cutlets at a time. If you over crowd the pan, it will be difficult to turn the cutlets over. Wait until you see the bottom edges of the cutlets turn golden brown in color. Then gently turn them over. Fry the other side until golden. Remove and place on a paper towel lined baking tray.
Notes:
1. Drain the Fishless Tuna and discard the water. Put the tuna in a sieve and press it with a wooden spoon so you can get all the water out before you use it.
2. Have all the ingredients ready before you mix them together, form the cutlets, and shallow fry them. If you mix the ingredients and leave it in the bowl to rest the onion, green pepper, and tomato will give out water which will make it difficult for you to form the cutlets.
3. Fry the cutlets on medium heat until you see the edges on the bottom of the cutlets turn golden brown.
4. If you like tartness, then add the dry mango powder (amchur).
5. Both Bengal gram flour and dry mango powder can be bought from an Indian grocery store.
6. These cutlets freeze well.
7. Replace the egg with two extra tablespoons of Bengal gram flour to make these cutlets vegetarian or vegan.
8. Fishless Tuna is a product of Atlantic Natural Foods Meatless Select. The cans are available at the Potomac Adventist Book & Health Food Store in Silver Spring, Maryland.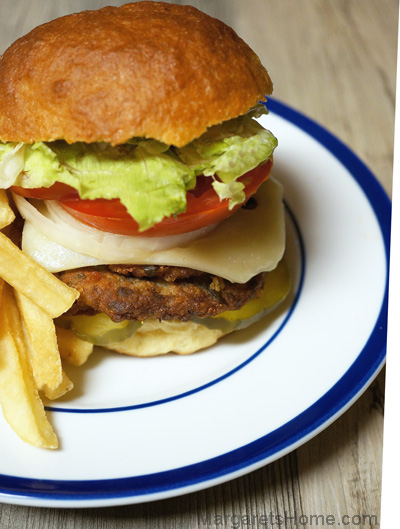 October 22, 2014 – Attaching a picture of the cans for those that asked. If you don't have a store that sells this, you can contact the company directly: Atlantic Natural Foods Meatless Select at: http://www.foodprocessing.com/vendors/products/2013/atlantic-natural-vegetarian-proteins/