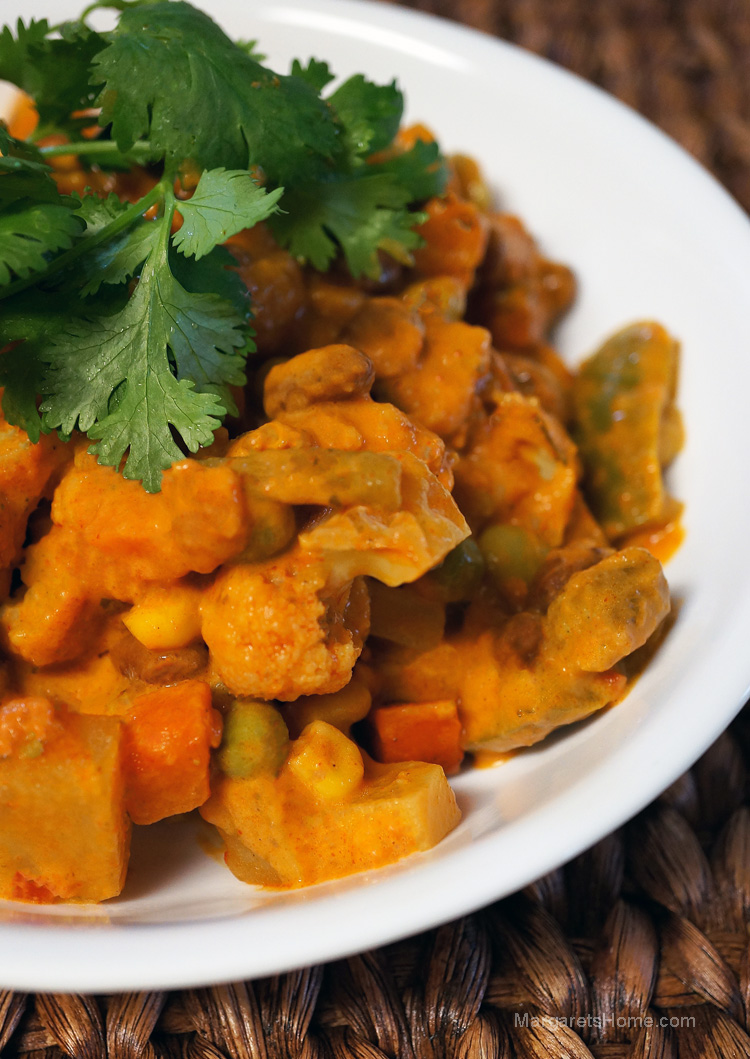 Have you ever wished you had asked your mom how she made your favorite dish? Have you stood beside her in the kitchen and watched her cook? I've heard many people say, "I wish I had asked my mom how to make. . ." Your mom, dad, sister, brother, in-laws, aunts, whoever it is that cooks in your family, love to be asked. Now is the time!
I still have recipes that my mom sent me by snail mail. I treasure the recipes my family has shared with me. One of the reasons why I blog is because I want my family and you to have the recipes that I've collected for many years. Don't be afraid to share. Someone dear to me once said, "Maggie, the more you share, the more you will learn." Those words couldn't be more true and they have stood the test of time.
You can use any combination of mixed vegetables in this recipe. Dry fenugreek leaves can be purchased at your local Indian grocery store. They taste similar to a combination of celery and fennel with a slightly bitter bite. Crumble the leaves with your fingers before you add them. Don't skip this ingredient as it definitely adds another dimension to this dish.
Creamy Mixed Vegetables
Prep time: 10 minutes
Cook time: 20 minutes
Serve: 4
Ingredients:
3 tablespoons oil
4 garlic cloves, minced
3 tomatoes, blanched and chopped
1 potato, peeled and cut into 1-inch pieces
1 carrot, peeled, halved lengthwise, and cut into 1-inch pieces
1 cup cauliflower florets
1 (15.5-ounce) can pink beans, drained
½ cup corn, fresh or frozen
3 teaspoons Kashmiri chilli powder, (depending on heat and your preference)
½ teaspoon cumin powder
½ teaspoon garam masala powder
½ cup tomato puree
salt
½ cup water
1 bell pepper, cut into 1-inch pieces
¼ cup cream
2 teaspoons dry fenugreek leaves, (kasoori methi)
Directions:
Heat oil in large saucepan over medium heat. Add garlic and cook, stirring frequently, until it turns light brown. Add tomato and cook for two minutes or until soft. Then add the potato, carrot, cauliflower, pink beans, corn, chilli, cumin, and garam masala. Stir and cook for another two minute. Add the tomato puree, salt and water. Stir, cover with a lid, and cook for ten minutes. Add bell pepper, cream, and fenugreek. Mix to combine the vegetables with the creamy sauce. Reduce heat to medium-low, and simmer, covered, for five minutes.