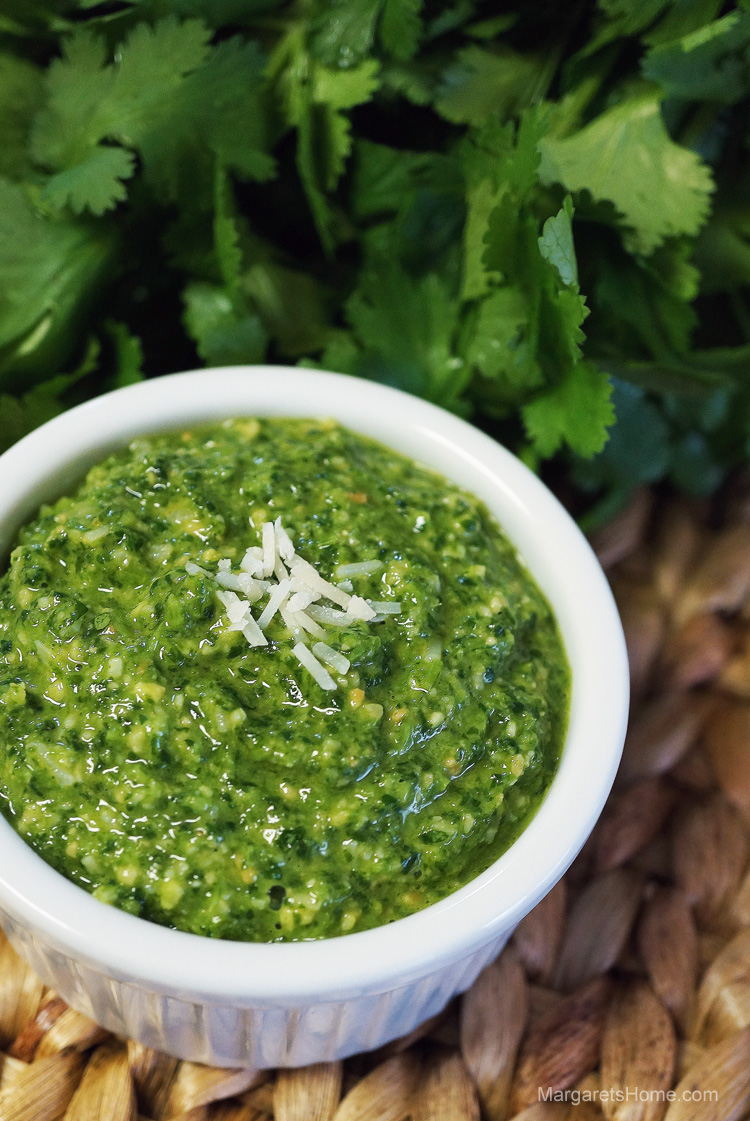 This recipe is a delightful version of the classic basil pesto, especially for people like me that are not big fans of basil.
Cilantro pesto can be used in several ways. Use it as a condiment on your sandwich and bruschetta or as dressing on pasta salad. Add lots of shredded cheese to it and use it as a filling in puffs. A tablespoon added to hummus or egg salad creates an extra layer of flavor. Garnish your tomato soup with cilantro pesto to take it to the next level. These are just a few ideas. I am sure you can come up with many more of your own. Until next week, have fun cooking.
Cilantro Pesto
Prep time: 8 minutes
Cooking time: 8 minutes
Makes: About 1 cup
Ingredients:
½ cup slivered almonds
2 cups cilantro, roughly chopped
1 shallot, roughly chopped
1 serrano chilli, chopped and seeded, optional
1 garlic clove, roughly chopped
2 tablespoons parmesan cheese
salt
2 tablespoons lemon juice
¼ cup olive oil
Directions:
Place a small pan over medium heat. Add the almonds and roast them until they turn golden and fragrant. Remove and cool.
In the bowl of your food processor add the cooled almonds and pulse until coarsely chopped.
Add cilantro, shallot, serrano, garlic, parmesan cheese, salt, and lemon juice. Pulse until coarsely ground. With the food processor running, slowly drizzle olive oil. Keep refrigerated until you are ready to use.