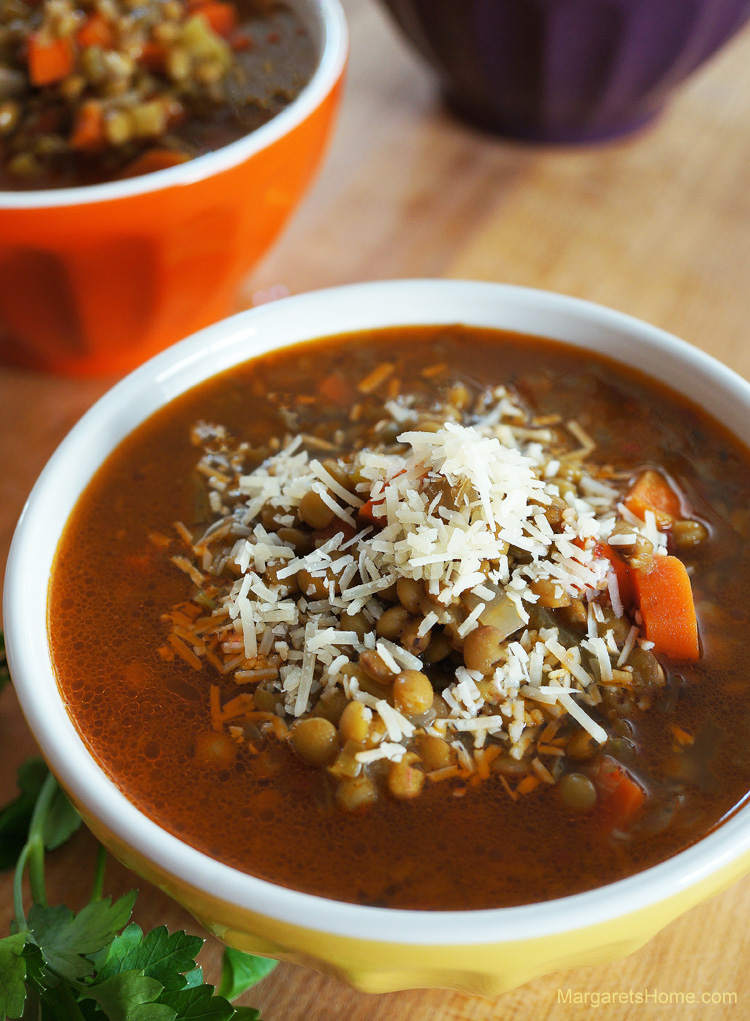 French Green Lentils (Lentilles du Puy) were originally grown in the volcanic soils near Puy in France but now they are also grown in North America and Italy. Green lentils don't turn mushy and hold their shape well after cooking so they are especially good in salads. They are said to have top fiber content compared to other lentils.
I found a packet of organic green lentils at Whole Foods and could not resist trying them out in this lentil soup. I followed the same recipe that I use for my Moroccan lentil soup. The green lentils added richness and consistency to the soup. They take longer to cook than other lentils so I soaked them in boiling water for 15 minutes before adding them to the soup. If you do not have green lentils, you can use brown or red lentils instead. You will not need to soak them and they will take less time to cook. Adjust the chilli flakes and pepper to suit your palate. Fresh thyme leaves is the secret ingredient in this recipe so try using them instead of dry thyme leaves.
I've been posting soup recipes for the past few weeks and you can blame the cold weather on the East Coast for that. So, hang in there with me, while I try to keep my family warm with soup for supper.
Lentil Soup
Prep time: 20 minutes
Cooking time: 1 hour 20 minutes
Serves: 10
3 tablespoons vegetable oil
1 bay leaf
4 cups chopped onion
1 tablespoon grated ginger
2 tablespoons grated garlic
1 tablespoons minced thyme leaves, (or 1 teaspoon dry thyme leaves)
1 cup chopped leeks, (white parts only)
Salt
1 tablespoon coriander powder
2 teaspoons cumin powder
1 teaspoon chilli flakes, (depending on heat and your preference)
2 teaspoons freshly ground black pepper
3 cups medium-diced celery
3 cups medium-diced carrots
¼ cup tomato paste
2½ cups green lentils, (you can also use brown or red lentils)
12 cups low-sodium chicken or vegetable stock
2 tablespoons lemon juice
2 teaspoons red wine vinegar
4 tablespoons freshly grated Parmigiano-Reggiano cheese
Rinse and soak the green lentils in boiling water for 15 minutes.
Add oil to a large pot, over medium-high heat. When it shimmers add bay leaf, onion, ginger, garlic, thyme, leeks and salt. Sauté until onion turns translucent. Add coriander powder, cumin powder, chili flakes, ground pepper, celery, carrots, and tomato paste. Stir and cook until the oil separates.
Drain the lentils and add to the soup. Then add the chicken or vegetable stock. Cover with a lid and bring to a boil. Once the soup starts boiling, turn the heat to medium-low, remove the lid and let the soup simmer and cook for one hour. Add lemon juice and red wine vinegar, stir and check to see if the salt is sufficient. Turn off the heat. Cover the soup and let it rest for 15-20 minutes. Reheat the soup when you are ready to serve. Garnish with Parmigiano-Reggiano cheese.