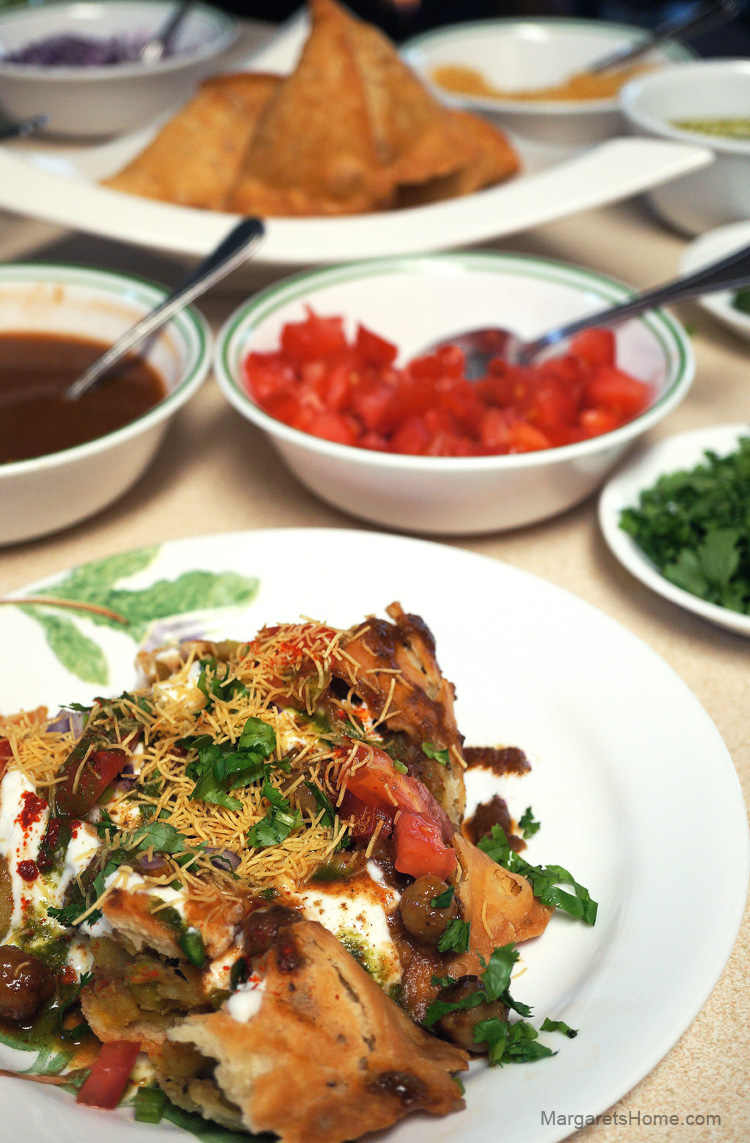 Just the mention of the word "Chaat" makes my mouth water. Chaat is a word used for many of India's favorite street foods like bhel puri and paani puri. The last time I was in India I saw a street cart with the sign, "paani puri made with mineral water." It was nice to see that local vendors are making efforts to make chaat safe for foreigners, or locals-living-abroad, such as myself.
When I was a young girl, during my summer holidays, several schoolmates and I used to go to the Pune Cantonment swimming pool. Right after our swimming session we would stop by the street carts for our fix of samosa chaat, bhel puri, and paani puri. What fun we had! I wonder if anyone of them remembers those days.
On one of our vacations to India my children and I stopped in Mumbai. We went to a restaurant called Status. We heard they were famous for their samosa chaat. We were hungry after a whole morning of shopping. The three of us were ravenous and we ordered a whole bunch of dishes. My son ordered two plates of samosa chaat and the waiter told him that would be too much for the three of us. That one plate along with all the rest of the food that we had ordered would definitely be enough. But my son insisted on two plates. When our food came, we could hardly finish the first plate of samosa chaat. The samosas were humongous! That was a meal in itself. In the background we could hear the waiters whispering to each other with smiles on their faces.
Making samosa chaat at home is a time consuming job, but totally worth it. My friends and family have great fun assembling their own plates of samosa chaat. I made my own samosas but you can buy yours from an Indian store or restaurant. However, it is well worth making the chole, cilantro and mint chutney, and the date and tamarind chutney from scratch as homemade tastes best. So, here is my take on the famous samosa chaat.
If you plan to use dry chickpeas/garbanzo/Kabuli channa follow the Chole recipe from my previous recipe.
Chole – using canned garbanzo beans
Prep time: 10 minutes
Cooking time: 35 minutes
Serves: 6

For the spice mix
Ingredients:
3 tablespoons coriander seeds
4 black cardamoms, peel and use seeds
5 cloves
1-inch piece cinnamon stick
1 teaspoon whole black pepper
1 bay leaf, (tejpatta)
4 whole dry red chillies, (depending on heat and your preference)
2 teaspoons cumin seeds
3 tablespoons pomegranate seeds, (anardana)
Directions:
In a small pan, over low heat, roast the above mentioned ingredients until they smell fragrant and turn a very dark brown. Cool completely and then grind to a powder in a coffee grinder. Set aside.
For the Chole
Ingredients:
3 tablespoons oil
2 cups finely chopped onion
2 tablespoons finely chopped ginger
1 tablespoon finely chopped green chillies, (optional)
1 cup diced tomatoes
2 teaspoons Kashmiri chilli powder
Salt
2 15.5 oz cans of garbanzo beans
3 cups water
Directions:
In a large heavy bottomed saucepan, over medium-high heat, add oil. When the oil begins to shimmer add the onions. When they turn translucent add the ginger and fry for a minute. Add the green chillies and tomatoes. Keep stirring until the tomatoes are well cooked you see the oil separating from the tomato-onion mixture. Add the spice mix, Kashmiri chilli powder, and salt. Fry for 30 seconds.
Add the garbanzo beans along with the liquid in the cans and three cups of water. If you like the chole gravy to be a little thick, use a potato masher to mash a small portion of the garbanzo beans. Bring to a simmer and cook for an additional 30 minutes over medium-low heat, so the flavors can meld. Stir occasionally to make sure that the gravy does not stick to the bottom of the pan. Remove from heat. Serve on top of samosa chaat.
Date and Tamarind Chutney
Prep time: 10 minutes
Cooking time: 10 minutes
Serves: 6
Ingredients:
2 teaspoons cumin seeds
½ teaspoon fennel seeds
1 cup dates, pitted and roughly chopped
½ cup brown sugar
1 cup tamarind extract
3 teaspoons red chilli powder
2 teaspoons ginger powder
3 cups water
2 teaspoons chaat masala
1½ teaspoons black salt
Directions:
Add cumin and fennel seeds to a small non-stick pan. Roast over low heat until fragrant. Cool and grind to a powder.
Add cumin and fennel powder, chopped dates, brown sugar, tamarind pulp, chilli powder, ginger powder, chaat masala, salt and two cups of water to a small saucepan. Place the pan over medium-high heat. Stir and bring to a boil. Turn the heat to medium-low and continue to cook for ten minutes. Cool completely. Add to a blender and process until smooth. Transfer to a bowl. Serve with samosa chaat.
Cilantro and Mint Chutney
Prep time: 5 minutes
Cooking time: 5 minutes
Serves: 6
Ingredients:
1 cup fresh cilantro leaves
½ cup fresh mint leaves
3-4 green chillies, (depending on heat and your preference)
2 tablespoons water
Salt
1/4 tsp sugar
2 tablespoons lemon juice
Directions:
Roughly chop the cilantro, mint, and green chillies. Add to a blender and process until smooth. Use a tablespoon or two of water if necessary. Add black salt and sugar. Blend again and transfer to a bowl. Stir in lemon juice. Serve with samosa chaat
Plating and Garnishing

Ingredients:
12 Samosas, (can be warmed up in an oven at 400 degrees F for 6-8 minutes)
2 cups plain yoghurt, whipped
2 cups fine sev, (can be bought from Indian grocery store)
1 cup finely diced onion
1 cup finely diced tomato
2 tablespoons finely chopped green chillies, (optional)
¼ cup finely chopped cilantro
2 teaspoons roasted and powdered cumin seeds
2 teaspoons chaat masala
2 teaspoons chilli powder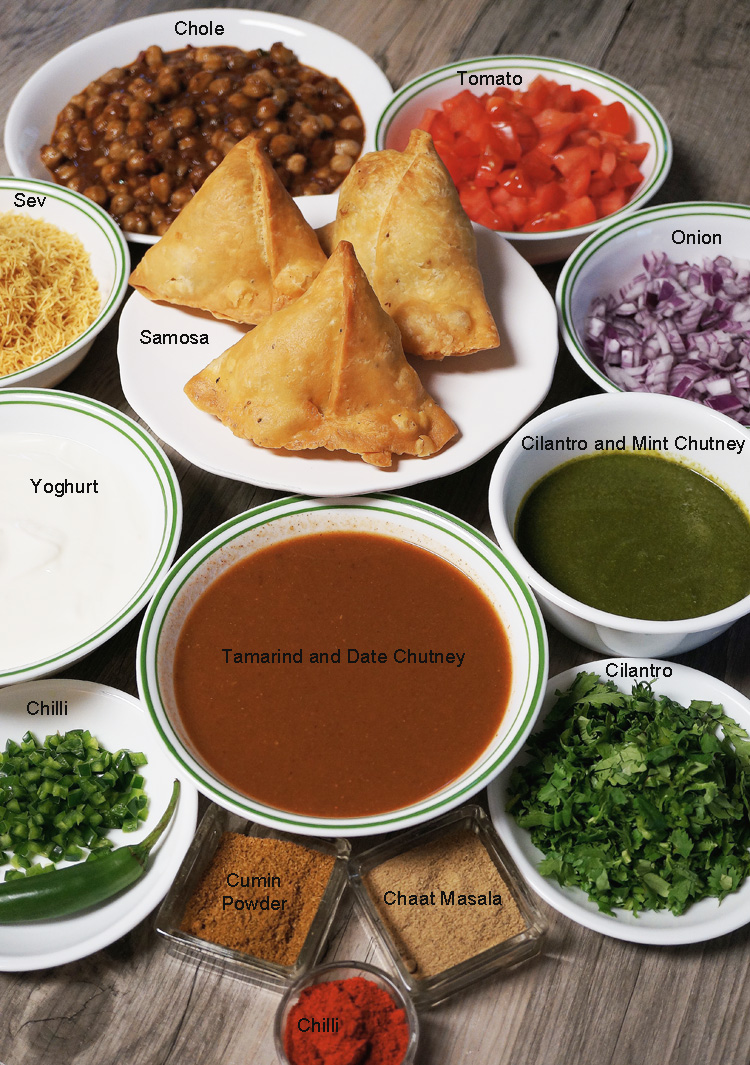 Directions:
Break two samosas into four or five large chunks and put them on a plate. Pour a large spoonful of chole over them. Scatter a heaped teaspoon of chopped onion and tomato. Add a few bits of green chillies, if you like your chaat to be spicy. Sprinkle with a pinch of cumin, chilli and chaat masala powders. Drizzle a tablespoon of yoghurt, tamarind and date chutney, and cilantro and mint chutney over them. Finally top them off with sev and bits of chopped cilantro. There you have it – one of Indian's favorite street foods!