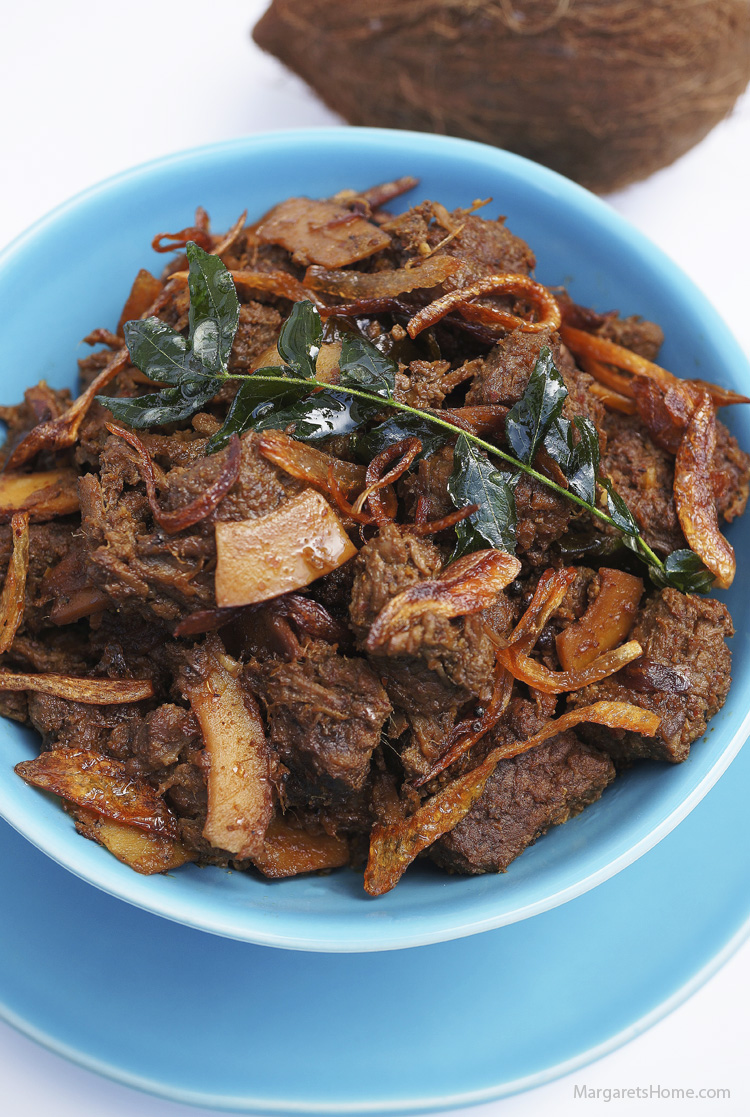 Happy New Year! I want to wish each one of you God's richest blessings in 2015. May the new year bring you good health, peace, happiness, and prosperity.
Beef olathiathu is my all-time favorite Kerala beef recipe. It's my sister, Leela's, signature dish and I'm sharing it as a gift to my readers for all the "likes" and comments you made on my Facebook page and here on my blog. I hope you will treasure this recipe as much as I do!
Thanks to my sister, (my Ammama), for teaching me how to make this traditional Syrian Christian dish. In Kerala, in the old days, the meat would be cooked in an urali – a heavy metal vessel, which retains heat for a long time. Today, the urali is replaced with the modern pressure cooker.
The beef is cooked and roasted in coconut oil, which complements the spices perfectly. If you prefer, you may use peanut or grape seed oil. But then, of course, you will lose some of the authentic flavor and aroma. Make this dish for New Year and enjoy the compliments!
Beef Olathiathu (Spicy Roast Beef)
Prep time: 20 minutes
Cooking time: 20 minutes
Serves: 6
Ingredients:
1 pound beef, (washed, drained, and cut into ¾-inch cubes)
40 dry red chillies, (reduce the number depending on heat and your preference)
2 tablespoons coriander seeds
1 teaspoon black pepper corns
1 teaspoon cumin seeds
1-inch piece cinnamon
2 cardamoms
6 cloves
¼ teaspoon fennel seeds
1 cup fresh or frozen coconut pieces, (cut into 1-inch, thin chips)
¼ teaspoon turmeric powder
salt
5 tablespoons coconut oil
½ cup thinly sliced shallots
2 teaspoons finely chopped ginger
2 teaspoons finely chopped garlic
1 tablespoon white vinegar
½ cup water
1 teaspoon mustard seeds
2 sprigs curry leaves
Directions:
In a small non-stick pan, over medium-low heat, dry roast the chillies, coriander, pepper, cumin seeds, cinnamon, cardamom seeds, cloves, and fennel seeds until they smell fragrant. Cool completely and grind to a fine powder in a coffee grinder. Set aside.
Mix the coconut pieces, turmeric powder, and salt in a small bowl. Heat two tablespoons of oil in a pressure cooker over medium heat. Add the coconut pieces and fry until light brown. Add the ground spices, half the shallots, ginger, garlic, vinegar, beef, and water.  Close the cooker and bring to full cooking pressure, on high heat. Reduce to medium heat and cook for ten minutes or until the meat is tender. The amount of time will depend on the cut of beef and your pressure cooker. Allow the cooker to cool gradually. Open the lid and dry roast the beef until all the water evaporates.
To season the meat, heat the remaining oil in a small non-stick pan, over medium heat. Add mustard seeds and when they splutter, add the curry leaves, and shallots. Fry until the shallots turn brown. Add the seasoning to the meat in the pressure cooker. Place the pressure cooker over medium heat, stir and roast until all the pieces are well coated with the spices. You can garnish this dish with sprigs of fried curry leaves, if you desire.