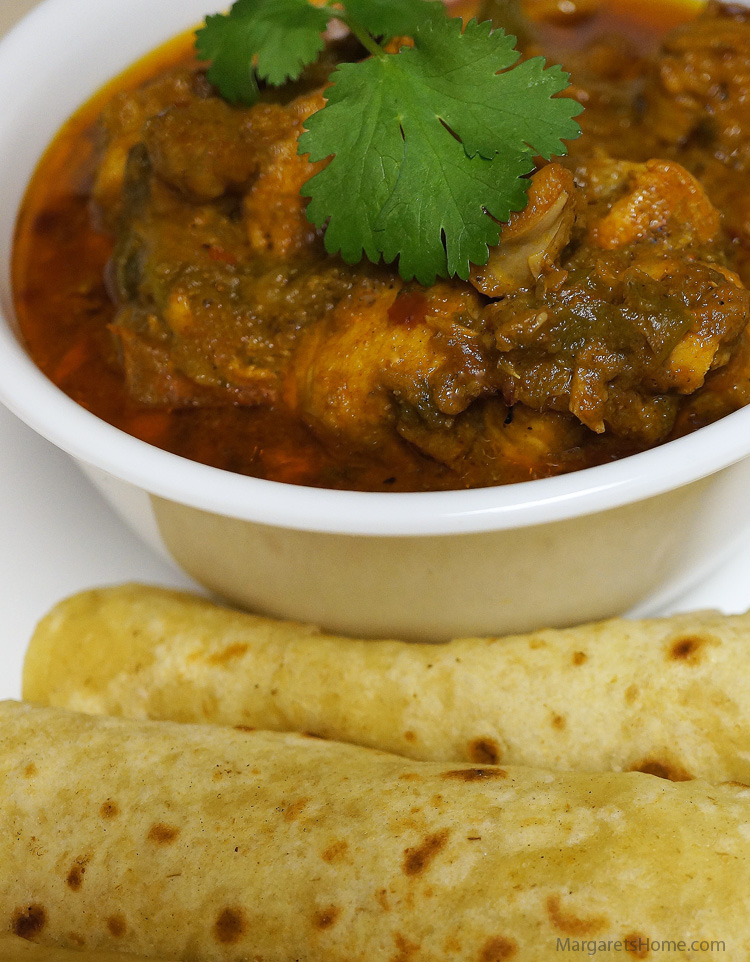 As promised, here is my Chop n' Drop Chicken Curry recipe. I hope you made the Home-made Garam Masala that I posted last week, because this recipe calls for it. You will be surprised at how easy it is to make this tasty North Indian flavored dish.
Yesterday, I visited two of my friends. It was a fun day for me as I got to test this recipe in their homes. For me, it was a great learning experience, because I was cooking in a different environment with different equipment. For example, I have a gas stove in my kitchen and they had electric stoves in theirs. As a recipe developer, I realized that I described my recipes using the experience I had with a gas stove which might differ slightly with an electric stove.
The best lesson that I learned from cooking with friends was that sharing the cooking experience brought me much more joy than cooking by myself. I have those two friends to thank for this new enlightenment!
Chop n' Drop Chicken Curry
Prep time: 10 minutes
Cooking time: 25 minutes
Serves: 6-8
3 pounds chicken, (one large chicken, cut into pieces)
2 cups thinly sliced onion
2 tablespoons grated garlic, (one whole head or bulb)
3 teaspooons Kashmiri chilli powder, (depending on heat and your preference)
½ teaspoon turmeric powder
2 tablespoons coriander powder
¼ cup water, (or less depending on how much water your chicken gives out)
Salt
2 cups diced ripe tomatoes
2 tablespoons grated ginger, (or cut into short, thin strips – like matchsticks)
¼ cup ghee
3 teaspoons garam masala, (use Home-made Garam Masala)
2 tablespoons chopped cilantro
3 green chillies, slit down the middle, (optional)
Add chicken, onion, garlic, chili, turmeric, coriander, water and salt to a heavy bottomed, wide pan. Please note here that you could add anywhere from two tablespoons to a quarter cup of water, and this would depend on how much water the chicken gives out and whether you drained the chicken well after you washed it. Mix all the ingredients and place on high heat and bring to a boil. Once it comes to a rolling boil, add tomatoes and ginger, stir well, and cook on medium-high heat until the water evaporates and the chicken is cooked – about 10-15 minutes. Add ghee. Stir and fry until the oil separates and the chicken is roasted. Sprinkle garam masala, cilantro and green chillies. Mix everything, cover and cook for five minutes on low heat. Serve with chapatis, naan or rice.
Note: This chicken curry tastes best with the Home-made Garam Masala that you will find in last weeks blog post. You can use one large whole cut up chicken or a combination of pieces. Chicken in the U.S. cooks much faster than in India. So, I cooked it on high heat on a gas stove during the whole process. You may have to adjust the heat and time to make sure the chicken cooks well. I also used ghee for this recipe which added a distinct North Indian flavor and richness to the dish.