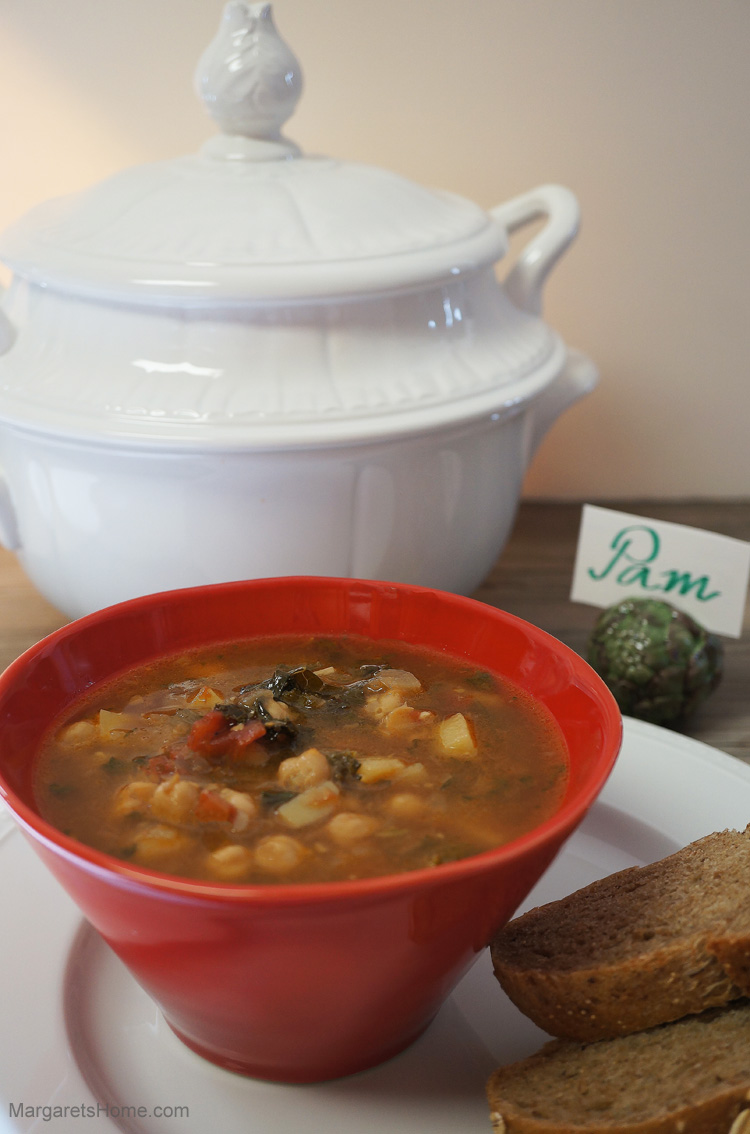 Nothing beats a warm bowl of soup on a chilly night, and we've been having a lot of those recently. This recipe is sure to become one of your staples. It calls for vegetable stock – a recipe I shared with you last week.
This is a hearty vegetable soup with earthy garbanzos, potatoes, and kale. I've browned  the potatoes lightly to deepen their flavor.
I use only the green part of the kale leaves. An easy way to prepare the kale for this soup is to hold each kale leaf upside down by the stem and pull the leaves off, then stack the large greens one on top of the other, roll them into tight bundles and slice them into thin strips.
Hope you get a chance to relax, sit by the fire, and enjoy this delicious soup this winter.
Winter Soup
Prep time: 10 minutes
Cooking time: 20 minutes
Serves: 6
2 tablespoons oil
1 cup finely chopped onion
3 cups 1-inch cubed potatoes
2 tablespoons finely chopped garlic
2 bay leaves
½ teaspoon freshly ground pepper
½ teaspoon chilli flakes, (optional)
salt to taste
3 cups chopped kale leaves, (tough ribs and stems removed)
1 (14.5 ounce) can diced tomatoes
1 (14.5 ounce) can garbanzos, rinsed and drained
4 cups vegetable stock, (check my recipe or use low sodium store-bought vegetable stock)
Heat oil in a large pot over medium heat. Add onions and potatoes. Cover and cook for four to five minutes. Add garlic, bay leaves, pepper, chili flakes, and kale. Stir and let the kale wilt. Add tomatoes, garbanzo and vegetable stock. Bring to a boil over high heat.
Once the soup starts boiling, reduce the heat to medium-low and cook for 15 minutes or until the potatoes are tender. Check for seasoning and add salt if needed.