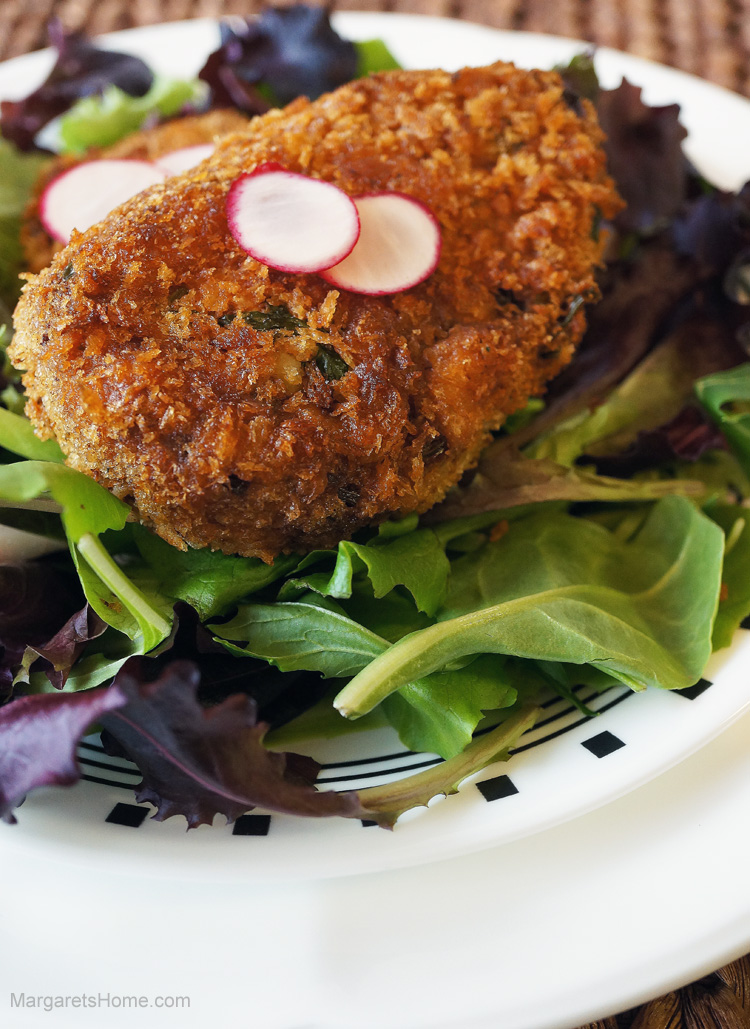 I remember going to restaurants in India many years ago and ordering chicken or vegetable cutlets and soup instead of the typical masala dosa. It was a great alternative when I didn't feel like having Indian food. It was often listed on the menu under the Western items section. Well, now we have "Indianized" the cutlet so much that it isn't considered so much of a Western item on the menu in India any more.
I often use leftovers to make cutlets and my children think I've created something new and awesome. When they were young, I would put lots of vegetables into my cutlets and they had no idea! They loved them anyway. What I'm trying to say, is that once you understand the basics of cutlet making, you don't need a recipe. You can make almost anything into a cutlet. This recipe is one of my favorites. Enjoy!
Chicken and Potato Cutlets
Prep time: 35 minutes (includes time to cook chicken)
Cooking time: 25 minutes
Makes: 15
2 large chicken breasts
½ teaspoon whole black pepper
1½ teaspoons salt
2 large potatoes, boiled and mashed
1 teaspoon cumin seeds
3 teaspoons coriander seeds
2-3 teaspoons red chilli flakes, (depending on heat and your preference)
1 tablespoon kasoori methi, crushed
1 large onion, finely chopped
1 small bunch cilantro, finely chopped
½ teaspoon freshly crushed black pepper
1 cup Panko bread crumbs
2 eggs
Oil for shallow frying
Cook chicken in three cups of water, whole black pepper, and half a teaspoon of salt. The chicken should be cooked well enough so that it falls off the bone easily. It will take about 25-30 minutes over medium-high heat. Cool, shred the meat and put into a large mixing bowl.
Lightly roast cumin and coriander seeds and crush them to a coarse powder.
Add mashed potatoes, the lightly roasted and crushed cumin and coriander powder, chilli flakes, kasoori methi, onions, and cilantro into the large mixing bowl along with the shredded chicken. Add salt and pepper. Mix well. Taste to make sure there is enough salt. Shape into cutlets – either round or oval. Line them on a baking tray.
Heat a large frying pan over medium-high heat. Add oil for shallow frying. There should be enough oil in the pan so that when you put the cutlets in, the oil should come at least half way up the sides of the cutlets.
Beat eggs in a small bowl, and spread the panko crumbs on a plate. Dip each cutlet into the egg and then coat them in breadcrumbs. Add them to the hot oil and fry until golden brown on both sides. Drain on paper towels.