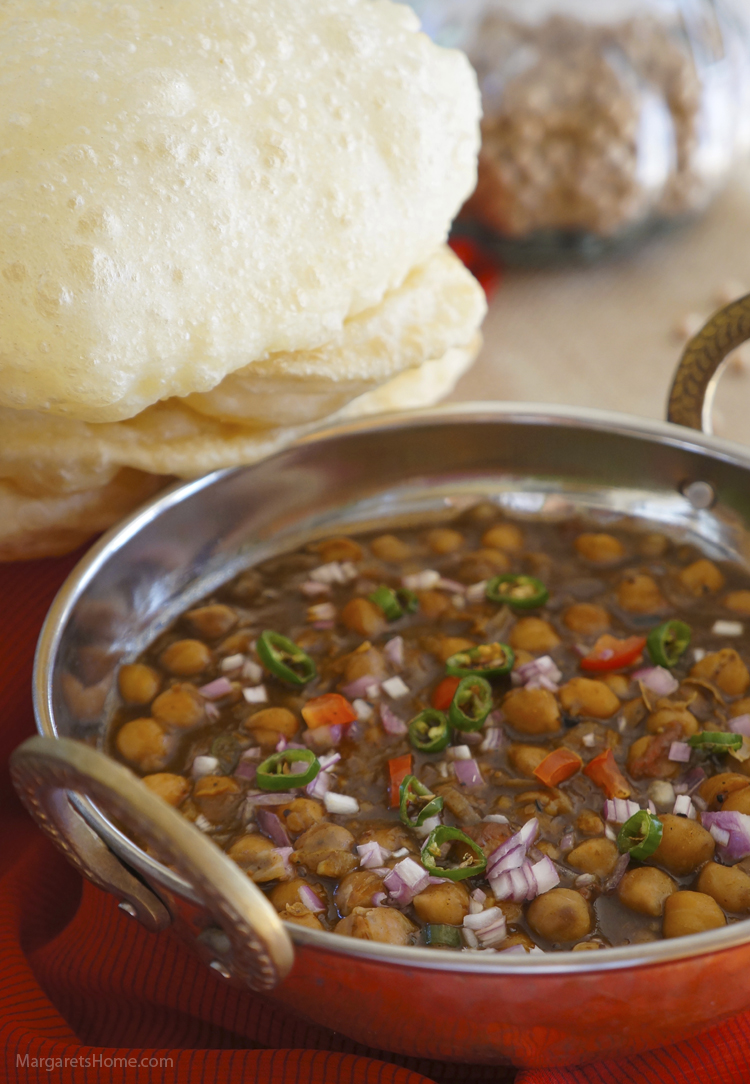 Chole and bhature are made for each other. Both of them are classic dishes from Punjab, North India, and they are eaten together for breakfast, lunch, dinner or as a snack at tea time. Chole is made with chickpeas/garbanzo. It is called Kabuli channa in Hindi. Bhature is a deep fried, leavened bread made with all purpose flour.
The recipe for chole calls for a spice mix that is unique to North Indian cuisine. If you don't normally use these spices, this is a great opportunity to learn and develop a taste for them. Many cooks use tea bags while cooking chickpeas to darken the color of this dish. I've used cocoa instead. To save time, you can use canned chickpeas. Drain them well and run cold water over them. Make the spice mix and then proceed to make chole.
I've been on a quest for the perfect bhature, using different ingredients like yeast, boiled potato, sago, yoghurt etc. to give it lightness, great taste, and texture. But this time, the compliment from my son ended my search for the perfect bhature. He said, "These bhatures are pillowy and I can't stop eating them." So try this recipe and your search might end too!
I made a large batch of chole and bhature that could feed six to eight people, but you can easily half the recipe. Make this with a side of cucumber salad and you have a complete meal.
Chole Aur Bhature
Soak the dry chickpeas: Overnight
Rest the dough for bhature: 1 hour
Prep time: 20 minutes
Cooking time: 1 hour and 20 minutes for both recipes
Serves: 6-8
If using dry chickpeas/garbanzo/Kabuli channa

3 cups dry chickpeas soaked overnight in hot water
¼ teaspoon baking soda (optional)
2 tablespoons cocoa powder (optional)
Soak the dry chickpeas overnight. Wash them in several changes of water. Put the chickpeas, cocoa and soda in a pressure cooker with enough water to cover them. Pressure cook for 20 minutes. Check on the cooking time for your particular pressure cooker. The soda is added to make the chickpeas soft, but don't add too much.
For the spice mix
3 tablespoons coriander seeds
4 black cardamoms, peel and use seeds
5 cloves
1-inch piece cinnamon stick
1 teaspoon whole black pepper
1 bay leaf, (tejpatta)
4 whole dry red chillies, (depending on heat and your preference)
2 teaspoons cumin seeds
3 tablespoons pomegranate seeds, (anardana)
In a heavy bottomed pan, over low heat, roast the above mentioned ingredients until they smell fragrant and turn a very dark brown. Cool completely and then grind to a powder in a coffee grinder. Set aside.
For the Chloe
3 tablespoons oil
2 cups finely chopped onion
2 tablespoons finely chopped ginger
1 tablespoon finely chopped green chillies, (optional)
1 cup diced tomatoes
2 teaspoons Kashmiri chilli powder
3 cups water
salt to taste
In a large heavy bottomed saucepan, over medium-high heat, add oil. When the oil begins to shimmer add the onions. When they turn translucent add the ginger and fry for a minute. Add the green chillies and tomatoes. Keep stirring until the tomatoes are well cooked and the oil begins to separate. Add the ground spice mix, Kashmiri chilli powder, and salt.
Then add the cooked chickpeas and any water left in the pressure cooker. I like gravy in my chole so I added three cups of water. If you like the Chloe a little thick then add less water. Bring to a simmer and cook for an additional 30 minutes, so the flavors can meld. Stir occasionally to make sure that it does not stick to the bottom of the pan. Remove from heat and garnish with chopped green chillies, tomatoes, red onion and lemon wedges. Serve with piping hot bhature.
Bhature – Makes 20
3 ¾ cups all-purpose flour
¾ teaspoon salt
¼ teaspoon baking soda
3 tablespoons semolina, (sooji)
1 1/3 cups buttermilk
¼ cup canola oil
3 teaspoons turbinado sugar
Oil for deep frying
In a large bowl sift flour, salt, soda, and semolina. In another small bowl whisk buttermilk, oil, and sugar until the sugar dissolves.
Make a well in the flour and add one cup of the buttermilk, oil and sugar mix. Stir to bring the flour and buttermilk together. Add the 1/3 cup of buttermilk mix, one tablespoon at a time, while you knead. Use only the amount of buttermilk you need to make a soft, smooth and pliable dough. I used the entire amount, but if you feel the dough is getting too sticky, don't use the entire amount. Knead well for at least seven minutes. Cover the dough with a damp cloth and let it rest for one hour.
Roll the dough into a long log on a lightly floured surface. With a knife cut the log into 20 equal sized portions and roll them in the palm of your hands into smooth balls. On a lightly floured board roll the balls into an oval shape, about ¼-inch in thickness.
Heat oil for deep frying in a wok. Gently slide, one bhature at a time, from the edge of the wok, into the hot oil. When it puffs up, turn and fry the other side until you see specks of gold on the surface. Drain on a paper-towel lined tray. Serve bhature with Chole.