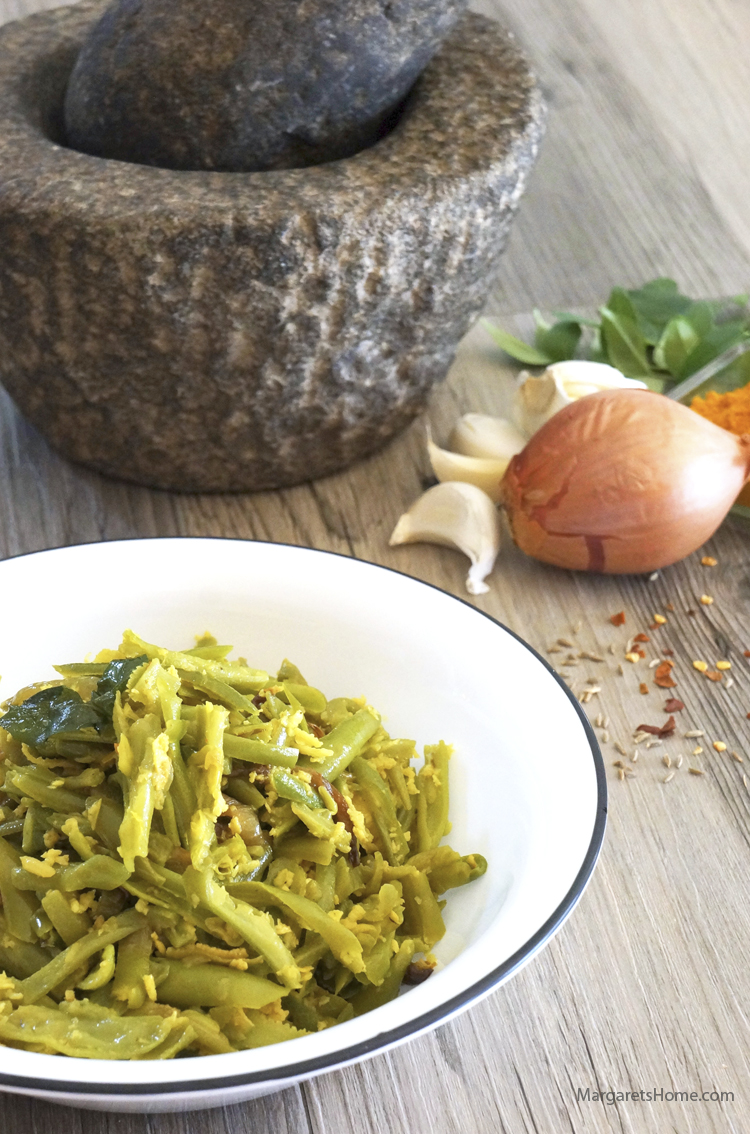 Green beans, also known as French beans, fine beans, haricot verts, and string beans are one of the healthiest vegetables you can eat. Whether you eat them raw, steamed, stir-fried or as a thoren, green beans are a great source of many nutrients, such as, vitamin K, C, and A. They are also rich in manganese.
Green Bean Thoren is a favorite with all Malayalees. Guests at my home will likely find this dish on the menu. My mother taught me how to make this dish. I remember that removing the string from these beans and chopping them finely was a tedious process. I often tried to escape from the kitchen when I knew that green beans were on the menu to avoid the extra work! Well, now in the US, I often pick up frozen French style green beans which saves a lot of time.
Making this dish is easy. The list of ingredients is short but the flavor is power-packed. It is a versatile dish that goes well with rice or chapatis. Whatever your taste may be, this is a great recipe to add to your collection.
Green Bean Thoran – Green Beans with Grated Coconut
Prep time: 5 minutes
Cooking time: 10 minutes
Serves: 4
1 packet of frozen French style green beans (16 oz or 454 g)
2 cloves of garlic
1 teaspoon cumin seeds
1 teaspoon crushed dry red chillies, (depending on heat and your preference)
2 tablespoons grated coconut (fresh or frozen)
½ teaspoon turmeric powder
Salt
2 tablespoons coconut oil
½ teaspoon mustard seeds
½ teaspoon uncooked rice (optional)
1 sprig curry leaves
1 shallot, finely chopped
In a motar and pestle crush the garlic, cumin seeds, dry red chillies, grated coconut, and turmeric.
Put the green beans in a medium saucepan. Make a well in the center of the beans and add the crushed ingredients. Cover the crushed ingredients with some of the beans. Add salt and sprinkle one tablespoon of water. Place the lid over the saucepan and cook the beans over medium-high heat for seven minutes. Open the lid, stir all the ingredients, check to see that the beans are cooked.
In a small pan, over medium heat, add oil. When the oil is hot add the mustard seeds. When they splutter add the rice and fry for 15 seconds. Add curry leaves and shallot. When the shallot turns brown pour the ingredients over the cooked beans. Stir gently and serve the green bean thoren with rice or chapatis.