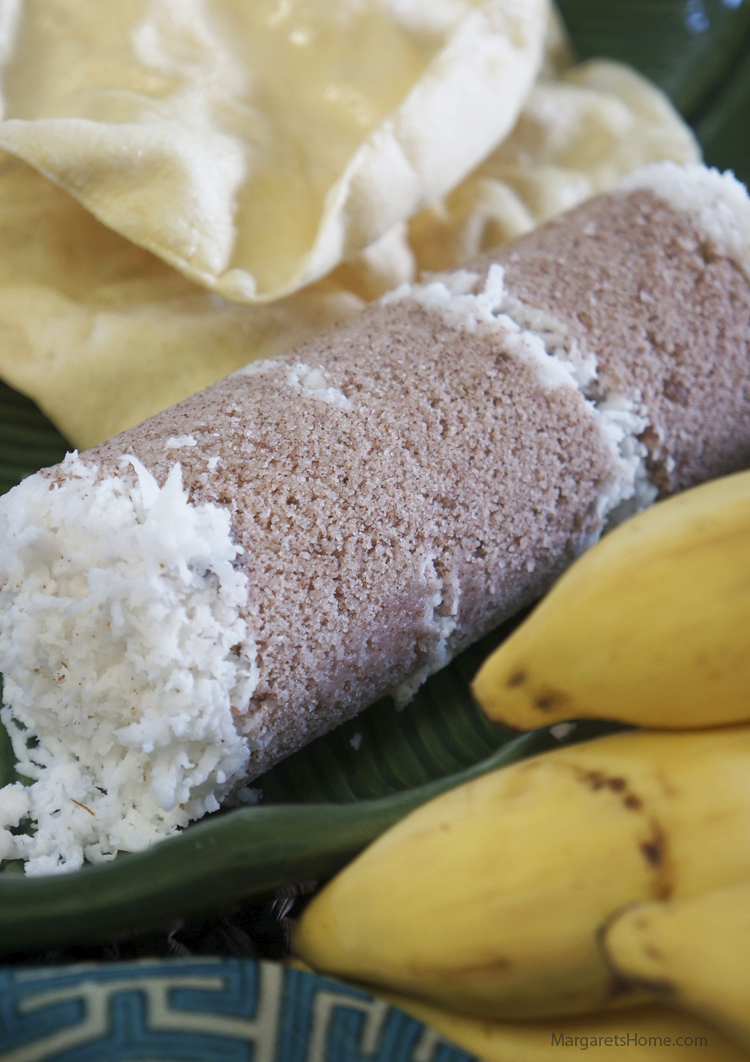 Puttu, Pazham and Pappadam – I can almost hear you say, "What an unlikely combination!" But ask any Malayalee and they will tell you that it's a breakfast made in heaven. I've been thinking a lot about my mom and the lovely Kerala specialties she made for us. A nice way for me to pay tribute to my mom and her cooking is to share these recipes with my family and friends. It also brings back beautiful memories of helping my mom in the kitchen.
Puttu is a nutritious, simple breakfast made with steamed rice flour and grated coconut. It is often eaten with a chickpea curry (kadala or black chickpeas), green gram curry (cherupayar), and with small yellow bananas (pazham), and pappadam. I remember my grandma had a puttu-maker (puttu kudam/puttukutti in Malayalam) made of bamboo. The taste of the puttu was permeated with the sweet essence that came from steaming it in the bamboo.
For this recipe I've used Chemba rice flour which you can find at your local Indian grocery store. Chemba rice comes already washed, dried, ground, and roasted. The puttu was made in a puttu-maker that was also purchased from a local Indian grocery store. Preparing this dish takes about 15 minutes. I served it with small yellow bananas, pappadam, and sugar. Enjoy!
Puttu
Equipment: Puttu kudam/Puttukutti (puttu-maker)
Preparation time: 15 minutes
Cooking time: 8 minutes
Serves: 4
2 cups Chemba rice flour
1¼ cups fresh or frozen grated coconut
½ teaspoon salt
1 cup hot water
Add salt to the water and stir until the salt dissolves. Put the rice flour into a large mixing bowl. Add one tablespoon of water, at a time, over the rice flour and mix gently with the tips of your fingers. The flour should be powdery and moist. Break any lumps that form. When you take a fistful of flour and gently squeeze it, it should hold its shape for a second, and then crumble. This test indicates that there is enough moisture in the rice flour and it is ready for steaming. Cover with cling wrap until ready to use.
Fill the puttu kudam with water up to two thirds of the way. Put the lid and let the water come to a boil.
Now fill the cylindrical tube part of the puttukutti. First put the flat disc with the holes in the bottom. This helps to keep the coconut and flour in the tube. Put two tablespoons of grated coconut, two small fistfuls of flour, two tablespoons of coconut, two fistfuls of flour and end with two tablespoons of coconut. Put the lid and place it on the puttu kudam.
Steam for eight minutes. Steam should come out of the small holes in the lid. Remove the tube from the puttu kudam, open the lid and using the handle of a thin, long wooden spoon or dowel, slowly push the puttu on to a plate. Do the same with the rest of the rice flour and coconut. Serve puttu with bananas, pappadam, and a little sugar. It's that easy.