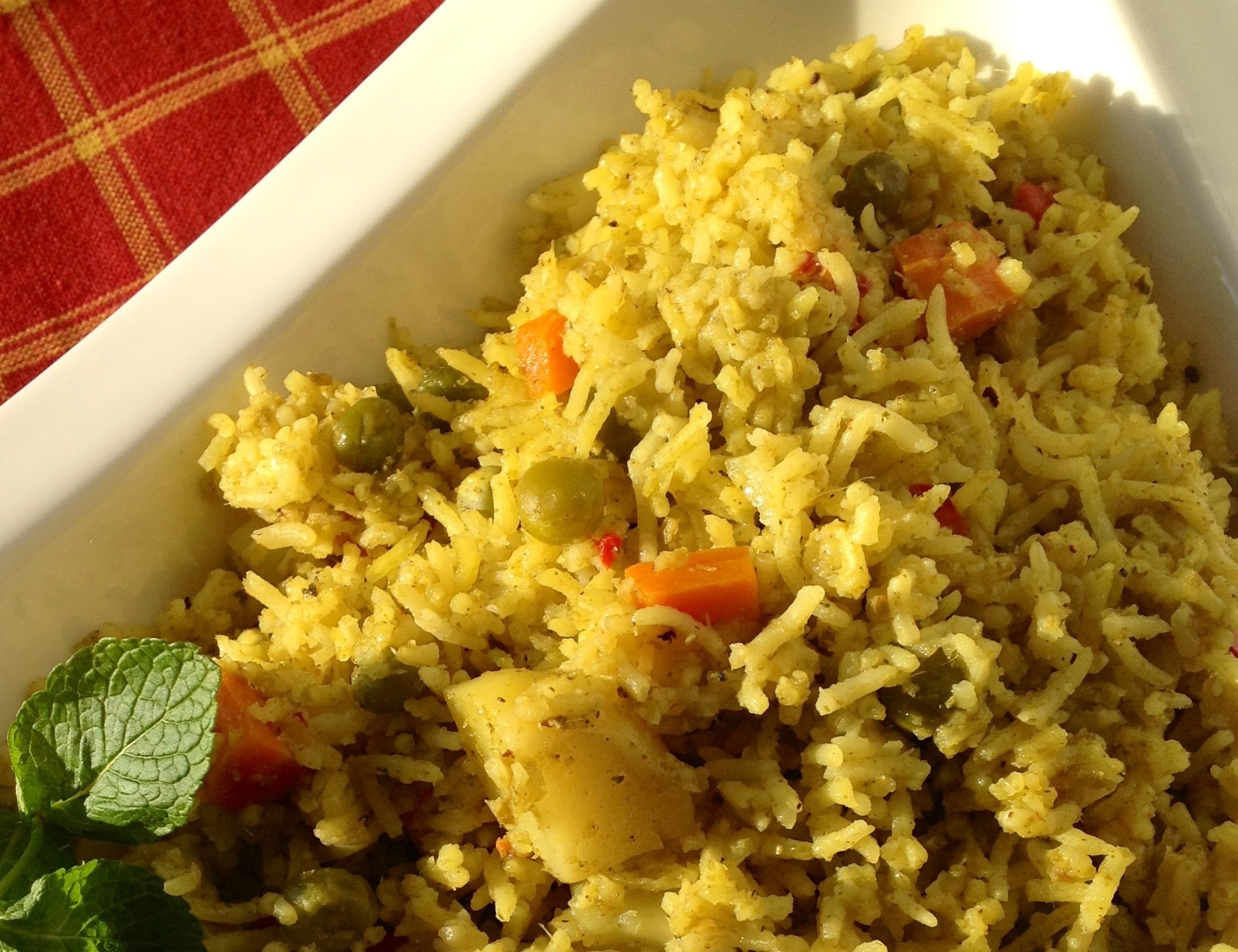 Ingredients:
For the spice blend
2 teaspoons coconut oil
2 1-inch pieces of cinnamon
5 cloves
5 cardamoms
1 cup chopped onion
1 tablespoon chopped garlic
1 tablespoon chopped ginger
2 tablespoons chopped cilantro
¼ cup grated coconut
¼ cup warm water
Heat coconut oil in a small pan on medium heat. Add the cinnamon, cloves, and cardamom. Fry for a minute, and remove from heat, and cool. Add all the ingredients to a blender with the warm water, and grind to a smooth consistency. Set aside till ready to use.
Ingredients:
For the rice
3 tablespoons coconut oil
½ cup chopped tomatoes
1 tsp turmeric
½ cup diced carrot
½ cup diced French beans
1-2 green chillies, slit in half, optional
½ cup green peas, fresh or frozen
Salt
2 cups rice
3 cups water
Rinse the rice and soak it in fresh water for 15 minutes. Strain the water and set aside.
Select "Sauté" to pre-heat the Instant Pot. When the word "Hot" appears on the display, add the oil and sauté the spice blend for 3-4 minutes. Add the tomatoes. Sauté for a minute. Add turmeric and sauté until the raw smell of turmeric disappears.
Add carrots, beans, green chillies, peas, salt, and rice. Sauté gently for two minutes. Add water. Taste to make sure there is enough salt.
Close and lock the lid. Select "Pressure Cook" or "Manual" and then use the (+) or (-) button to set 4 minutes of pressure cooking time. 
When time is up, open the lid using the "10-Minute Natural Release".
(Let pressure cooker go into "Keep Warm" mode and count up to 10 minutes. Then press "Cancel" and position the steam release valve on the lid to the "Venting" position.