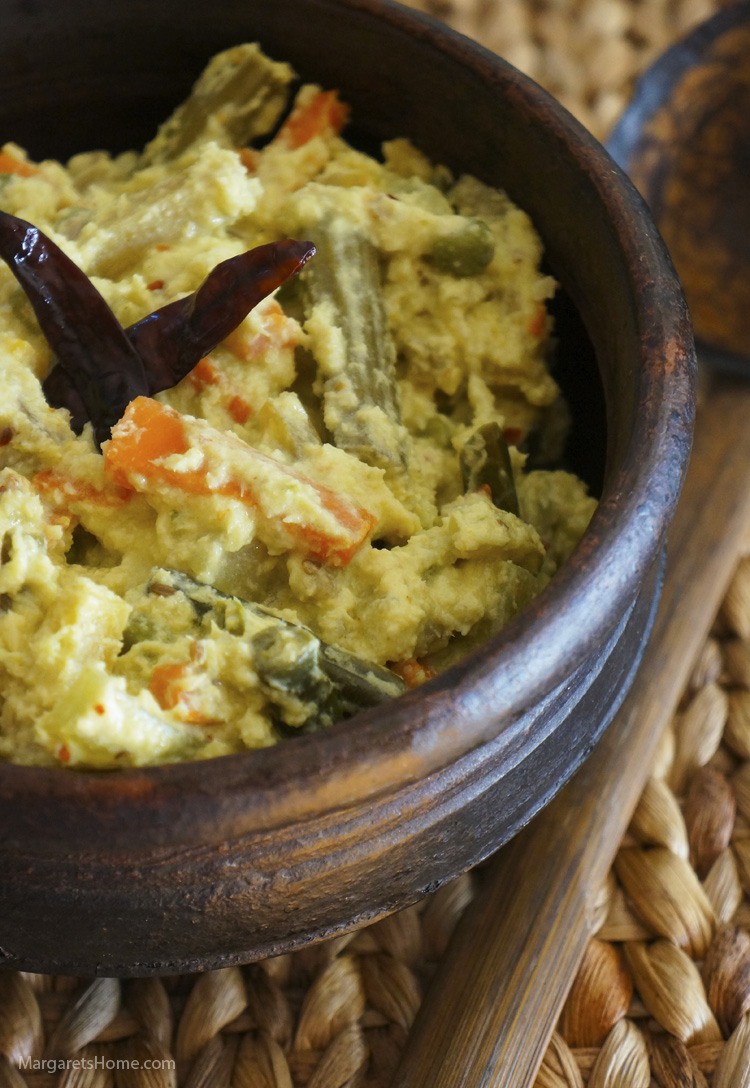 Avial, sometimes spelled Aviyal, is a curry made with several different types of vegetables, yoghurt, and coconut. It is seasoned with coconut oil, curry leaves, and dry whole red chillies. Feasts in Kerala are incomplete with this wholesome, creamy, lightly-spiced dish.
The beauty of this dish lies in the uniformly cut, colorful, medley of vegetables cooked to al dente. There are different methods that can be used in cooking the vegetables. You could steam them, adding tougher vegetables that take longer to cook, first, and then adding the rest according the the time it will take to cook them. Or you could microwave the vegetables that take the longest to cook for a few minutes, to give them a head start, and then add them to the rest of the vegetables and cook them on the stove top, like I did in this recipe.
Vegetables that are most commonly used for avial are elephant yam, raw plantain, different types of pumpkin, French beans, cucumber, drumstick, bottle gourd, carrots, eggplant, and peas. It is difficult to find fresh drumstick where I live, so I've used frozen drumstick that I found at the Indian grocery store. You can substitute green raw mango or tamarind pulp for the yoghurt.
The secret of adding flavor and aroma to avial is the final step of seasoning the dish. So follow the steps carefully and I am sure will enjoy this simple but unusual vegetarian dish from Kerala.
Avial
Prep Time: 20 minutes
Cooking Time: 15 minutes
Serves: 6-8
1 raw banana
6-8 pieces of drumsticks, (frozen)
¼ cup water + 3 tablespoons
2 small red potatoes
2 small carrots
10-12 French beans
1 small bottle gourd
½ cup shelled green peas, (fresh or frozen)
1 cup grated coconut
¼ teaspoon turmeric powder
½ teaspoon cumin seeds
½ teaspoon crushed red chillies, (depending on heat and your preference)
3 green chillies, roughly chopped (depending on heat and your preference)
Salt to taste
1 cup yoghurt
3 tablespoons + ½ teaspoon coconut oil
1 sprig curry leaves
2 whole dry red chillies
Cut the ends of the raw banana and cut it in half. If you have fresh drumstick, peel and cut into 2 inch pieces or use frozen drumstick. Put these two vegetables in a microwave safe bowl with quarter cup of water and cook for eight minutes. Set aside to cool.
Cut the rest of the vegetables uniformly, lengthwise, into two-inch long pieces. Peel and cut the banana into two inch long pieces.
In a blender or food processor coarsely grind grated coconut, turmeric powder, cumin seeds, crushed red chillies, and green chillies.
In a large saucepan, over medium-high heat, add half a teaspoon of coconut oil. Add all the vegetables and sauté for five minutes. Add three tablespoons of water, salt to taste and turn the heat to low, cover with a lid, and let the vegetables cook for another five minutes.
Add the coarsely ground coconut and cover the vegetables with it. Turn the heat to medium-high and let the vegetables and coconut cook until you see steam coming through the ground coconut. About three minutes. Do not over cook the vegetables. Remove from heat.
Beat yoghurt with a fork until smooth. Add it to the vegetables and coconut mix. Stir gently with the handle of a wooden spoon.
In a small pan, over medium-high heat, add three tablespoons of coconut oil. When the oil is hot, add curry leaves and whole dry red chillis. Turn off the heat.  Pour this seasoning over the avial. Cover the dish with a lid and let it rest until time to serve. This dish goes well with steaming hot rice or as a side dish to any grand feast!