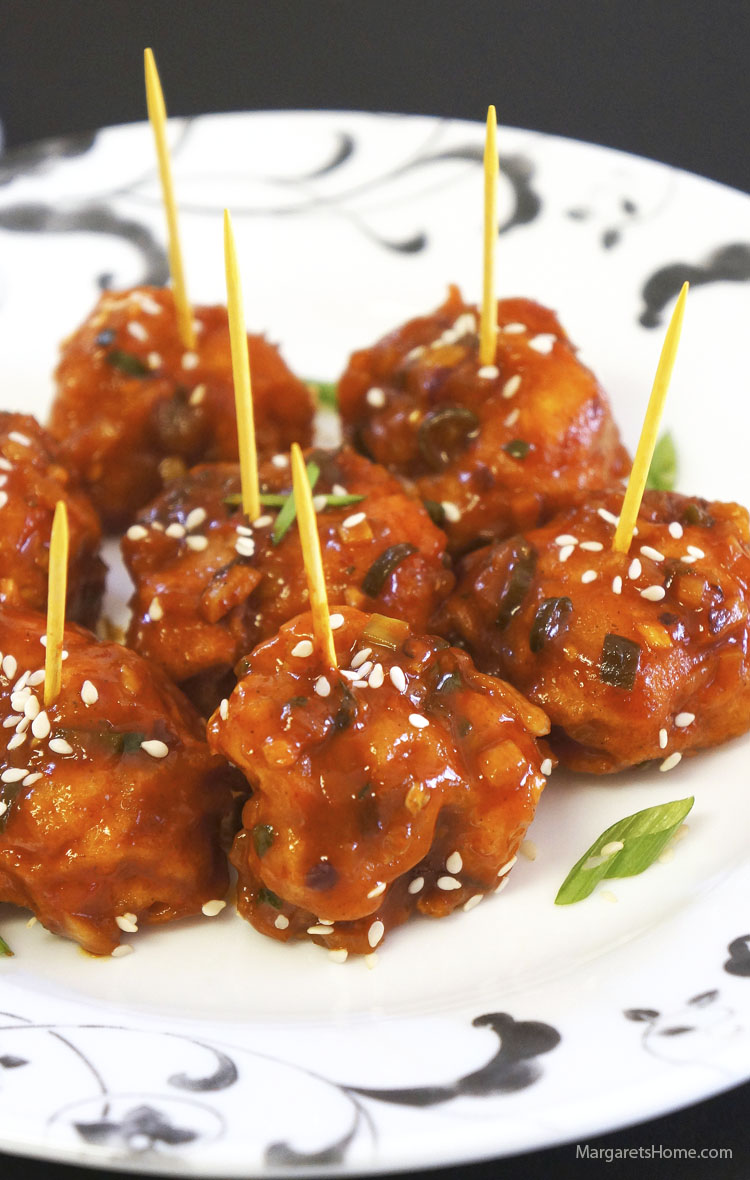 A few years ago, Cauliflower Manchurian (Gobi Manchurian in Hindi), was a dish that I always ordered when I went to a restaurant in India. It was so popular that every home cook wanted to learn how to make it, including me. So, I searched for recipes, learned some tips from my brother-in-law, and also asked restaurant chefs for their secrets to making this slightly crunchy, sweet and sour, spicy and garlicky delicacy.
Chinese seasoning and cooking techniques are used in making this dish. All the ingredients can be purchased at Indian grocery stores. You may even find them in the ethnic aisle of your major grocery store.  So, follow the recipe carefully and I am sure you will be pleased with the result. Cauliflower Manchurian is great as an appetizer or as a side dish with rotis or rice.
Cauliflower Manchurian
Prep Time: 30 minutes
Cooking Time: 30 minutes
Serves: 6-8
For the Cauliflower Manchurian
1 cauliflower (2 pounds), cut into florets
½ cup corn starch
½ cup all purpose flour
2 tablespoons rice flour, (optional)
1 teaspoon Kashmiri chilli powder
1 teaspoon pepper powder
1 teaspoon salt
6 tablespoons water + 2 tablespoons of water
Oil for deep frying
Microwave the cauliflower florets in two tablespoons of water for three minutes. Let stand for five minutes then drain and cool. Make a smooth batter with corn starch, flour, rice flour, chilli, pepper, salt, and six tablespoons of water. The batter should not be too thick or too thin, but it should be able to lightly coat the back of a spoon. Add a little more water if needed.
Heat a wok with enough oil for deep frying, about three inches. The oil is ready, when a very small dollop of batter that is put into the hot oil, comes up in a few seconds. Dip five or six cauliflower florets into the batter and fry until golden brown. Drain on a paper-towel lined tray.
For the Sauce
3 tablespoons sesame seed oil or canola oil
½ cup finely chopped shallots
1 tablespoon finely chopped garlic
1 tablespoon finely chopped green chilli, (depending on heat and your preference)
6 tablespoons chilli garlic sauce, (depending on your preference)
6 tablespoons tomato ketchup
2 teaspoons dark soy sauce
3 teaspoons Kashmiri chilli powder
¼ teaspoon salt
6 tablespoons water
2 tablespoons diagonally sliced spring onions, (green parts only)
2 teaspoons toasted white sesame seeds
In a saucepan, over medium-high heat, add oil. When the oil is shimmering, add shallots and fry until translucent. Add garlic and green chilli and sauté for two minutes. Add chilli garlic sauce, tomato ketchup, dark soy sauce, chilli powder, salt, and water.  Stir for a few seconds. Remove from heat.
Add the cauliflower manchurian to the sauce, five minutes before serving. This will keep them crisp. Garnish with spring onions and sesame seeds. Your slightly crunchy, sweet and sour, spicy and garlicky appetizer is ready to be served.