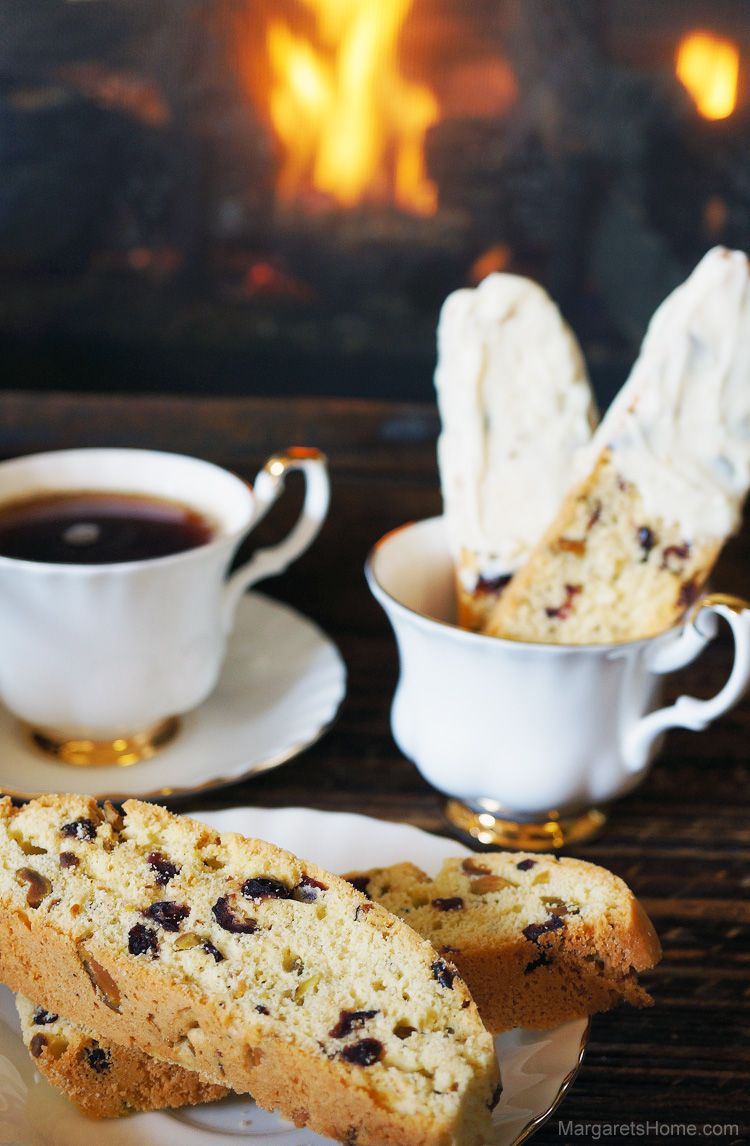 The hustle and bustle of Christmas is over. It is time to sit by the fire, relax, eat biscotti, and drink chai! Originally made in Italy, biscotti is a small, crisp, rectangular, twice-baked cookie, usually containing nuts. I've put a twist on the recipe by using the aromatic powder of green cardamom seeds. A truly delightful blend of ingredients makes these cookies one of my favorites.
Here's wishing you peace, prosperity, good health and happiness in 2014!
Pistachio, Cranberry and Cardamom Biscotti
Adapted from Giada De Laurentiis
Prep time: 25 minutes
Cooking time: 55 minutes
Makes: 24 biscotti
2 cups all-purpose flour
1½ teaspoons baking powder
½ teaspoon cardamom powder
¾ cup sugar
½ cup (1 stick) unsalted butter, room temperature
1 teaspoon grated lemon zest
¼ teaspoon salt
2 large eggs
¾ cup pistachios, coarsely chopped
2/3 cup dried cranberries
Preheat the oven to 350 degrees F.
Line a baking sheet with parchment paper or use silpat. Sift flour, baking powder, and cardamom powder into a medium bowl. Using a stand mixer, beat sugar, butter, lemon zest, and salt in a large bowl until creamy. Add eggs one at a time. Add spoonfuls of flour and beat until just blended. Stir in the chopped pistachios and cranberries.
Form the dough into a 13-inch long, 3-inch wide log and place on the prepared baking sheet. Bake until light golden. About 40 minutes. Cool for 30 minutes.
Place the log on a cutting board and using a bread knife, cut diagonally into 1/2 inch thick slices.  Arrange the biscotti, cut side down on the baking sheet. Bake the biscotti again until they are light brown, about 15 minutes. Transfer to a wire rack and cool completely.
If you like, you can dip the biscotti into melted chocolate chips. Shake off the excess chocolate and place them on a baking sheet. Refrigerate until the chocolate is firm. It takes around 30 minutes.