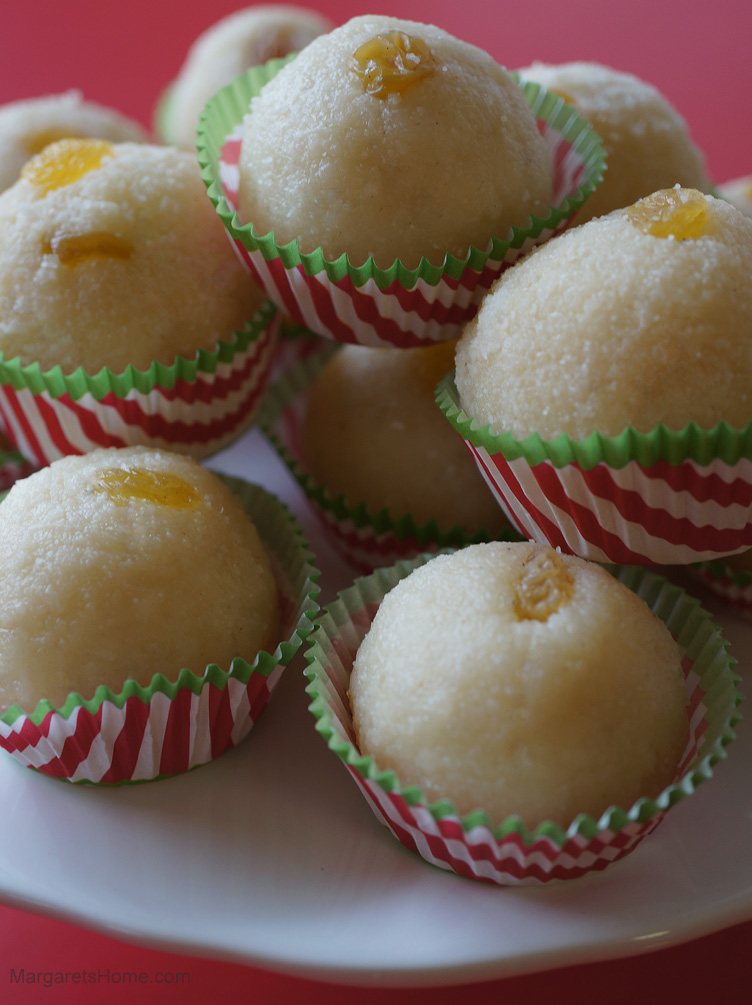 Happy Holidays to all my readers and Facebook friends! I love the month of December. It's a month of lights, snow, parties, baking, and making Indian sweets and goodies to share with family and friends. Here is an easy recipe for Raghavdas Ladoo to add to your collection. They are made out of semolina and desiccated coconut.
Last year I shared recipes for Doughnuts, Karanjis, Almond Brittle, Rose Cookies, and Namkeen. I hope you used those recipes to make your celebrations a sweet success this year.
Raghavdas Ladoos
Prep time: 20 minutes
Cooking time: 10 minutes
Makes: 25 ladoos
1 cup desiccated coconut, (or coconut powder)
2 cups fine semolina
½ cup ghee
3 tablespoons golden raisins
½ teaspoon green cardamom powder
1 cup sugar
½ cup water
Dry roast the desiccated coconut in a wok, over medium-low heat. Roast until it begins to turn light golden in color, remove from heat and transfer it to a bowl. Make sure that the coconut doesn't turn brown.
Let the wok cool down and then wipe it clean with a paper towel. Heat the wok over medium heat. Add ghee and the semolina. Cook till light pinkish and fragrant. You don't want the semolina to turn brown. Remove from heat and add coconut, two tablespoon of raisins, and the cardamom powder. Mix well. Keep the rest of the raisins to decorate the ladoos.
Place a non-stick pan on medium heat. Add sugar and water and cook until it turns to a syrup of one-thread consistency. You have to watch and test the syrup frequently. Turn off the heat and pour the hot syrup into the wok with the semolina, coconut and cardamom powder. Mix well. Cover with a lid and let it rest for 15 minutes. The semolina will cook and the mixture will cool down. If it hardens, don't panic, just sprinkle a tablespoon or two of hot water over the mixture.
Start making the ladoos while the mixture is still warm. Grease your palms with a little ghee. Take a lemon size portion of the mixture and shape them into ladoos. Garnish each ladoo with a raisin. As you make them, line them in a tray and let them cool. You can go back and make them perfectly round. Cool completely before you store them in an air tight container. They are fun and easy to make.