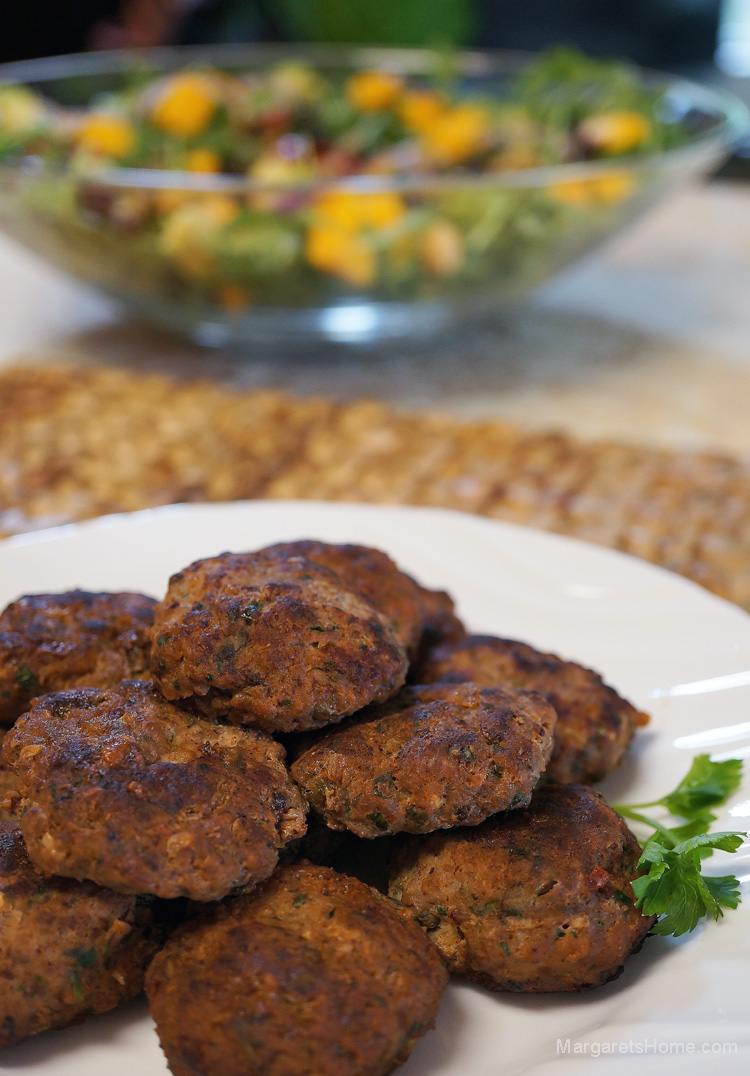 Isn't it wonderful to have friends that readily share their recipes with you? Hannah, is one such friend, and we have a wonderful time cooking together and sharing recipes. Thank you, Hannah, for teaching me how to make these wonderful herbed turkey patties. It was great picking fresh herbs from your garden and using them in the recipe. I was so inspired by your garden, that I've started my own little herb garden on my deck.
I've modified Hannah's recipe by changing the shape and served them for breakfast. Its a glorious fusion of herbs and spices – shallots, sage, flat leaf celery, cilantro, thyme, oregano, mint, and chilli flakes. The oyster mushroom sauce added another dimension to the complex flavor in these herbed patties. My family enjoyed every bite.
I made them for breakfast, but you can make them into meatballs as well and serve them for lunch or dinner with spaghetti and marinara sauce. They also serve as great little appetizers. Stick a toothpick into them and serve them with a dipping sauce of your choice. I even enjoyed them as a snack at tea time with sriracha on the side. You can use all the herbs or only those that you prefer. Have fun making this recipe your own.
Herbed Turkey Patties
Prep time: 10 minutes
Cook time: 15 minutes
Makes: 15
Ingredients:
3 tablespoons vegetable oil
1 lb minced turkey
1 tablespoon finely minced shallots
1 tablespoons finely minced sage leaves
1 tablespoon finely minced flat leaf celery
1 tablespoon finely minced cilantro leaves
2 teaspoons finely minced thyme
1 teaspoon finely minced oregano leaves
1 teaspoon finely minced mint leaves
1 teaspoon chilli flakes
2 tablespoons oyster mushroom sauce
1 teaspoon salt, (depending on your preference)
Directions:
In a small bowl, add the minced turkey, shallots, sage, celery leaf, cilantro, thyme, oregano, mint, chilli flakes, oyster mushroom sauce and salt. Mix it well. Wet the palm of your hands and make small lime sized turkey balls and put them on a plate.
Heat a small non-stick frying pan over medium heat. Add 2 teaspoons of oil. Add the turkey balls, as is, or flatten them to about two-inch patties. Put about five at a time in the pan. Keep the heat on medium and fry the patties for two minutes per side or until the patties cook and turn light brown. Remove on to a paper-towel lined plate. Repeat with the rest of the minced turkey mix. If the pan collects a lot of grime, wash and dry it before you fry the final batch of patties. These taste amazing, if you like fresh herbs.