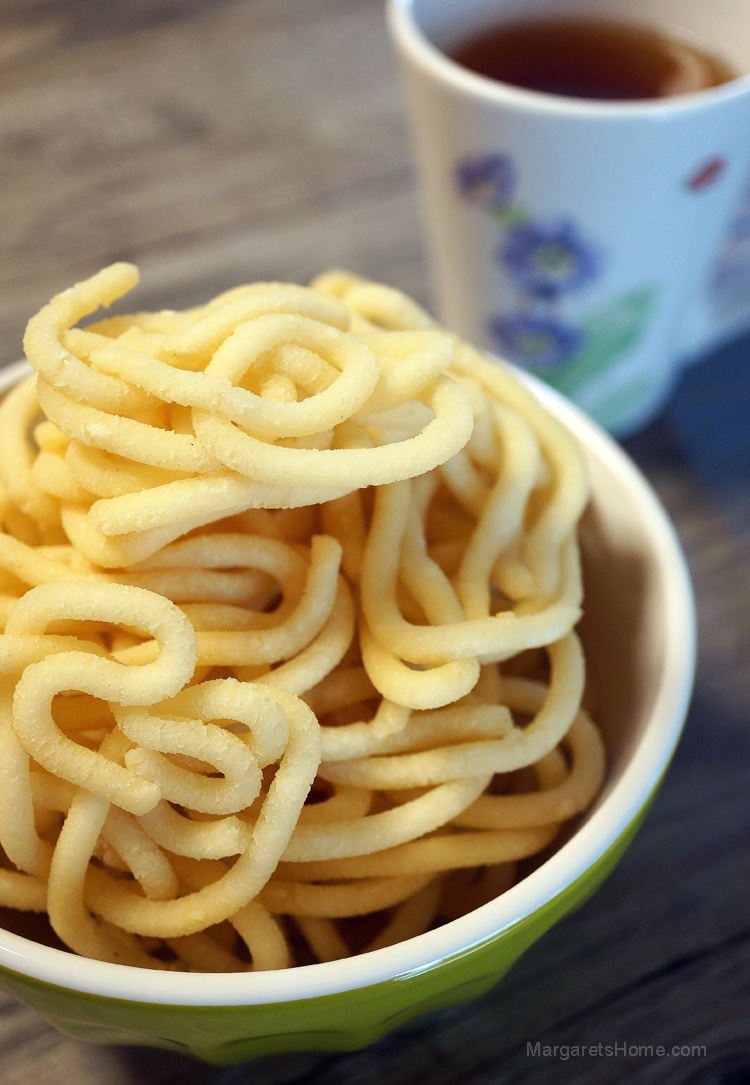 True confession – I love Indian snacks and I can live on them. I would rather snack all day than eat my regular meals! Murukku, also known as chakali in Hindi, is a traditional snack from Tamil Nadu. It is most often made by mixing rice flour, black gram flour (urad dal flour), water, salt, and either sesame seeds or cumin seeds. The ingredients are mixed together into a dough and then shaped into spiral or coil shapes by hand or by using a mould. They are then deep fried in oil. There are a number of varieties and it seems like every household has their own secret recipe.
My recipe is fairly easy and if you follow the measurements carefully, making these light, crunchy, salty treats is easy. They last for weeks if they are kept in an airtight container. However, if you are making murukku for the first time, I suggest you start by making only half the recipe. I bought the rice flour and black gram flour from the Indian grocery store and they work beautifully.
I used the murukku mould with its three-hole disc to make these murukkus. The murukku mould that I used was handed down to me by my mother. I've included a picture at the bottom of this page. Back in those days, it was made from brass. I remember one of the handles broke and my mom had to have the handle welded back into place. It is now one of my antique kitchen treasures. Do any of you have kitchen treasures that were handed down to you? Please share your comments with us.
Murukku
Prep time: 8 minutes
Cook time: 40 minutes
Makes: 40

Ingredients:
4 cups fine rice flour
½ cup black gram flour, (urad dal flour)
¼ teaspoon asafoetida powder
1 tablespoon sesame seeds
1½ teaspoons salt, (depending on your preference)
6 tablespoons melted butter
1½ cups water (approximately)
Oil for deep frying
Directions:
Put the rice flour, black gram flour, asafoetida powder, sesame seeds, and salt into a large bowl. Use a whisk or your fingers to mix all the ingredients. Add the melted butter and mix again with your finger tips so the butter and flour turn crumbly. To make the dough, I used approximately one and a half cups of water. Use your judgement and add just enough water slowly to make a smooth dough. The dough should not be sticky and there should not be any cracks in the dough.
Heat enough oil for deep frying in a wok (kadai). Use the murukku mould and the three-hole disc to make these murukkus. Make a small ball from the murukku dough that will fit into the murukku mould. Keep the rest of the dough covered with a damp paper towel so the dough will not dry out. I first made about six murukkus on a large zip lock bag and then picked them up one by one and put them into the oil. That way the shape of the murukkus turn out better and you don't have to hold the mould over hot oil.
Fry the murukkus, on both sides over medium heat, until the sizzling stops. Drain them on paper towels. Let them cool completely before you store them in an airtight container. Have fun snacking!