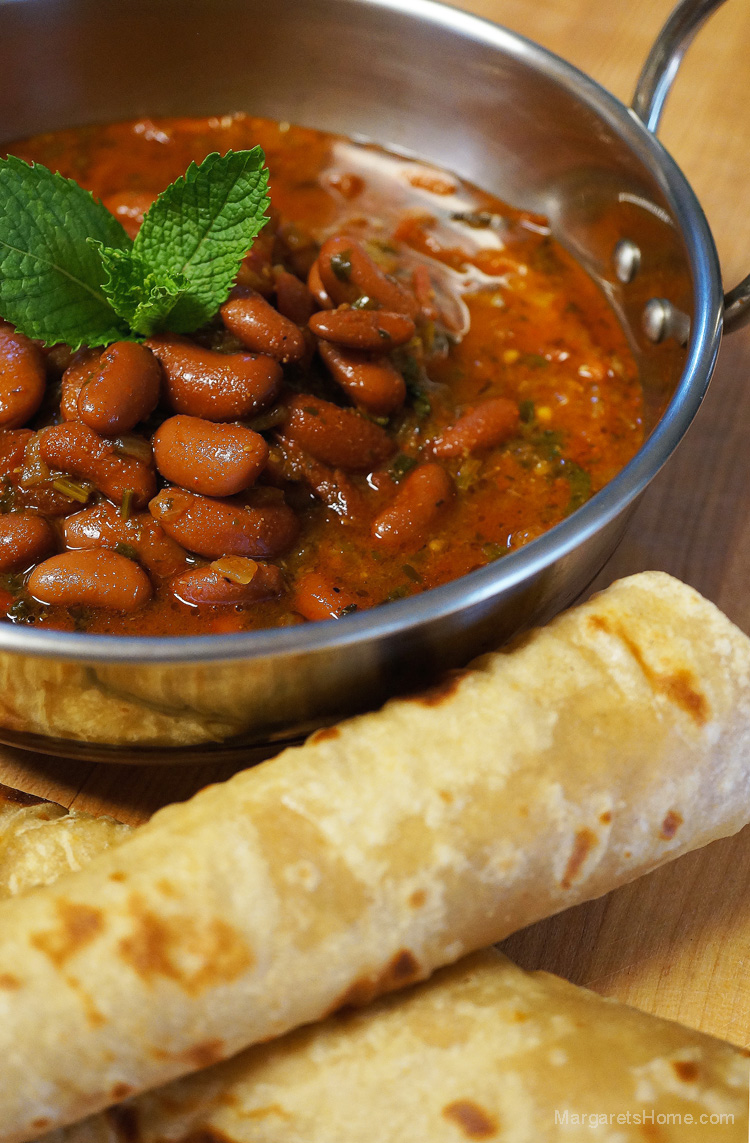 Mea culpa! On Sunday, my trigger happy finger clicked the Publish button by mistake and my subscribers received a unintentional sneak preview of the pictures for Tuesday's blog post. I hope it built up the anticipation for today's recipe!
Red kidney bean curry, which is called rajma in Hindi, is a traditional dish prepared in almost every home in India. It is served with rice or whole wheat bread. Red kidney beans are naturally gluten free, nutritious, and well suited for those on a vegan or vegetarian diet. It is a great source of protein and good for lowering cholesterol because of its fiber content.
This recipe is ideal for a quick weeknight meal since you'll be using canned kidney beans and spices that are already on your kitchen shelves. You can also make this dish with dried red kidney beans, but you'll need to soak the beans overnight and then cook them in a pressure cooker the next day.
Please note that you can adjust the heat level of any recipe that I share with you, by lowering or raising the amount of green chillies, crushed red pepper flakes, black pepper, garam masala powder, or red chilli powder. The recipe below has a higher heat level, so you may wish to adjust the level to suit your family.
I wanted to take this opportunity to thank all of you that take the time to comment and "like" my blog. You inspire me to learn, teach, and share.
Red Kidney Bean Curry
Prep time: 8 minutes
Cooking time: 25 minutes
Serves: 4
Ingredients:
1lb 13 oz (822 grams) red kidney beans
3 tablespoons vegetable oil
1 bay leaf, (tej patta)
2 black cardamoms
1-inch piece cinnamon
2 cups finely chopped onion
salt
2 tablespoons ginger-garlic paste
2 cups diced tomatoes
3 green chillies, (slit down the center – adjust depending on heat and your preference)
1 teaspoon whole cumin seeds
½ teaspoon turmeric powder
2 teaspoons Kashmiri chilli powder, (depending on heat and your preference)
1 teaspoon crushed red chilli flakes, (depending on heat and your preference)
1 tablespoon coriander powder
2 teaspoons garam masala, (depending on your preference)
3 teaspoons kasori methi, (crushed in your palm)
1 cup warm water
¼ cup finely chopped cilantro
3-4 mint leaves, (torn into bits)
Directions:
Heat a heavy bottomed pot on medium-high heat. Add oil and when it shimmers add the bay leaf, black cardamoms, and cinnamon. After 30 seconds add the chopped onion and salt. Fry until the onion turns light brown. Lower the heat to medium and add the ginger-garlic paste. Fry until the raw smell of ginger-garlic disappears, then add the tomatoes and green chillies. Cook until you see the oil separate from the tomato-onion mixture.
Add cumin seeds, turmeric powder, chilli powder, crushed red chilli flakes, coriander powder, garam masala powder, and kasori methi. Cook for 30 seconds and then add the canned red kidney beans along with the liquid in the can and one cup of warm water. Turn the heat to high and let the beans come to a boil. Once it comes to a boil, turn the heat to low, and let the beans simmer for 15-20 minutes. Garnish with cilantro and mint. Serve with plain steamed rice or rotis.