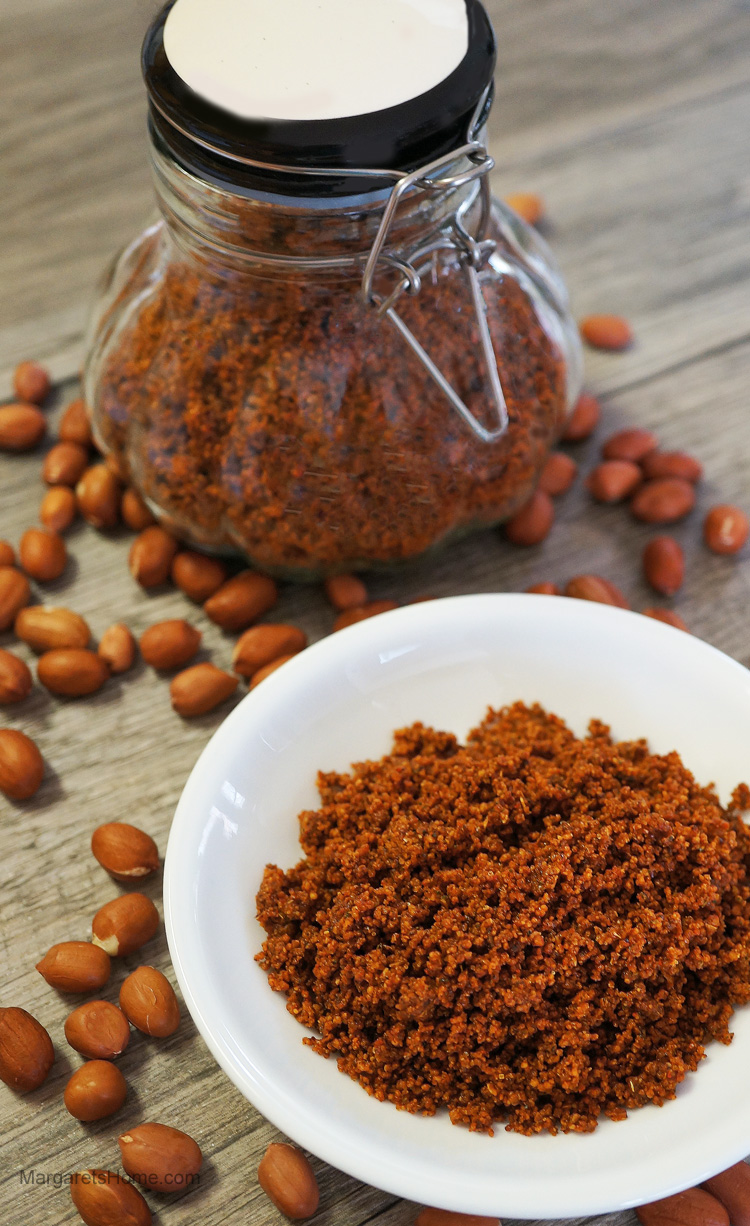 Having grown up in the peanut growing state of Maharashtra, India, I have eaten my fair share of a variety of peanut chutneys. Some of the most popular ingredients that go into making peanut chutney are fresh or dry grated coconut, garlic, dry red chillies, sesame seeds, tamarind, and whole garam masala.
You can easily make this recipe your own by changing the quantity of the ingredients to suit your taste. I love all the different peanut chutneys I learned to make when I lived in Maharashtra. Peanut chutney goes well with plain rice, dal, and a vegetable fry. I hope you will try it out.
Pune Peanut Chutney
Prep time: 10 minutes
Cook time: 10 minutes
Serves: 3-4
Ingredients:
1 cup roasted peanuts, (salted or unsalted)
¼ cup freshly grated coconut, (or frozen grated coconut)
2 tablespoons sesame seeds
5 dry red chillies, (depending on heat and your preference)
2-4 garlic cloves, (depending on your preference)
1 tablespoon coriander seeds
1 teaspoon cumin seeds
1 teaspoon tamarind pulp
1 teaspoon Kashmiri chilli powder
1 teaspoon sugar
salt
Directions:
Place a non-stick pan, over medium-low heat. Add the coconut and roast until it turns light brown. Transfer to a plate and cool. Next, add the sesame seeds, chillies, garlic, coriander seeds, and cumin seeds to the pan. Roast until the sesame seeds pop and the rest of the ingredients are fragrant. Transfer them to the plate with the coconut. Let the ingredients cool for about five minutes.
Grind all the ingredients to a coarse powder in a food processor, or blender. Use very little salt, if you are using salted peanuts. Make sure you don't turn the chutney into peanut butter! Store in a small bottle or jar. Peanut chutney is a great accompaniment to any meal.