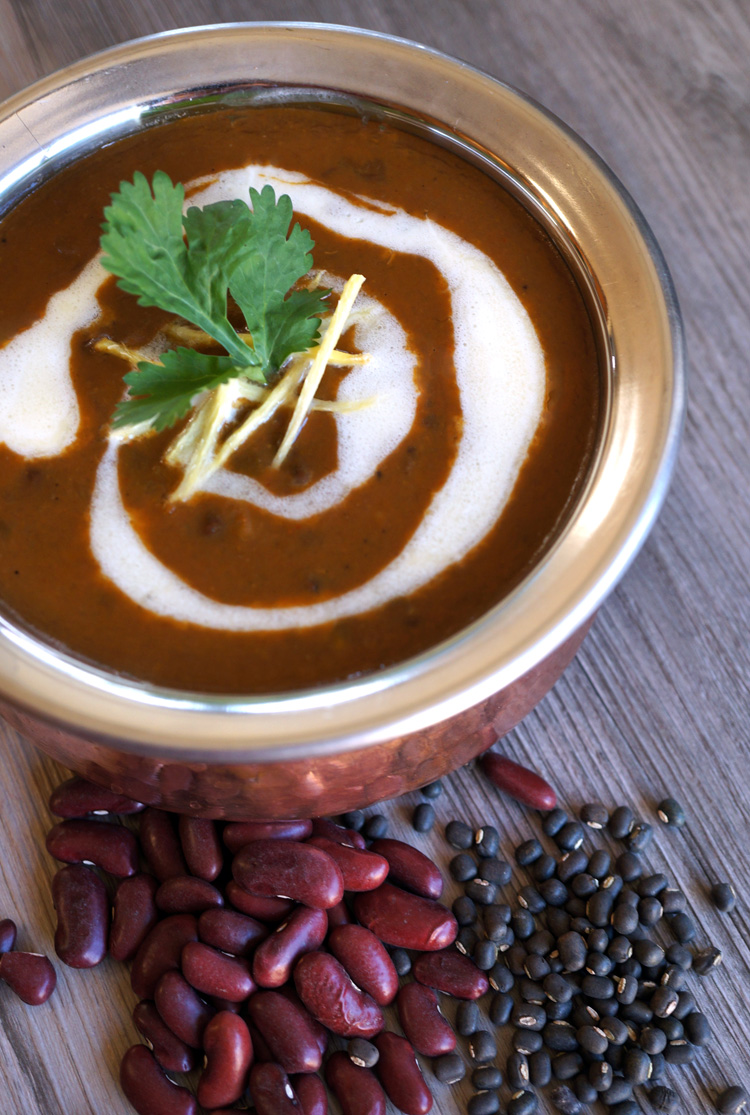 I was cleaning my kitchen cupboards and noticed that I had over ten different dry lentils and beans on the shelves. Some of them I used often and others only for specific recipes. I was reminded of the classic Punjabi dish, dal makhani, when I saw the black lentils and kidney beans sitting next to each other. Makhani, in Punjabi, means buttery. You will find this dish on the menu of almost every Indian restaurant.
Dhabas, small restaurants found along the highways in North India, serve the best dal makhani.  Black lentils and kidney beans are soaked for eight hours. Then, before the cooks go home for the night, it is place in a large pot over the residual heat of a tandoor (clay oven) and cooked until they return in the morning. It is seasoned lightly and finished with lots of fresh butter and cream. The subtle taste and smooth, velvety texture of dal makhani is absolutely glorious!
A slow cooker would have been the ideal appliance to cook this dish. But since I didn't have one, I experimented with cooking the dal makhani in a pressure cooking for a long period of time over very low heat.
Dal makhani is not a dish you would eat every day! It is high in calories and loaded with butter and cream. However, you can add as much or as little butter and cream as your conscience will allow. As much as I love dal makhani, it is definitely an occasional indulgence!
Dal Makhani
Prep time: 15 minutes, (does not include time for soaking)
Cook time: 60 minutes
Serve: 4
Ingredients:
1 cup whole black lentils, (urad dal)
2 tablespoon red kidney beans, (rajma)
6 cups water, (3 cups to soak and an additional 3 cups to pressure cook)
1/8 teaspoon baking soda
1 teaspoon salt, (plus more depending on your preference)
1 cup roughly chopped onion
1 tablespoon roughly chopped ginger
2 cups roughly chopped tomato
2 green chillies, optional
3 tablespoons ghee
1 bay leaf
2 cloves
2 black cardamoms
½ teaspoon cumin seeds
1/8 teaspoon asafoetida powder
¼ teaspoon turmeric powder
1 teaspoons Kashmiri chilli powder
2 teaspoons coriander powder
1 teaspoon garam masala powder
2 teaspoons kasoori methi
2 tablespoons unsalted butter
2 tablespoons heavy cream
1 tablespoons finely chopped cilantro
2 tablespoons julienned ginger
Directions:
Wash the who black lentils and red kidney beans four times, changing the water each time. Cover with three cups of water and soak overnight. Put the lentils and kidney beans, along with the water that it was soaked in, into a pressure cooker. Add the baking soda, salt, and three more cups of water. Stir, cover with pressure cooker lid, and add the weight. Bring to full cooking pressure on maximum heat. Then reduce heat to lowest point on your stove. Cook for 35 minutes. Turn off the heat and let the pressure cooker cool gradually before opening.
Use a blender to puree the onion and ginger. Remove into a small bowl and set aside. Put the tomato and chilli into the blender next and puree. Remove into another bowl and set aside.

 Use a potato mashed to gently mash a small portion of the lentils that are in the pressure cooker.
Place a large saucepan over medium-high heat and add ghee. When it sizzles add bay leaf, cloves, cardamoms, cumin seeds, and onion-ginger puree. Cook, stirring intermittently, for 7-10 minutes or until the raw smell of the ginger disappears. Turn heat to low and add asafoetida, turmeric, chilli, coriander, and garam masala. Immediately add the tomato puree and crushed kasoori methi. Stir well, cover and cook on medium heat for 10 minutes or until the oil separates.

 Add the cooked lentils. Stir well to combine all the ingredients. Add salt to taste, half of the julienned ginger, and butter. Cook for five minutes. Garnish with cilantro, the remaining julienned ginger, and cream. Serve immediately. This dal thickens if you keep it in the refrigerator. So add some water while re-heating. Tastes great with rice, roti, paratha, and naan.