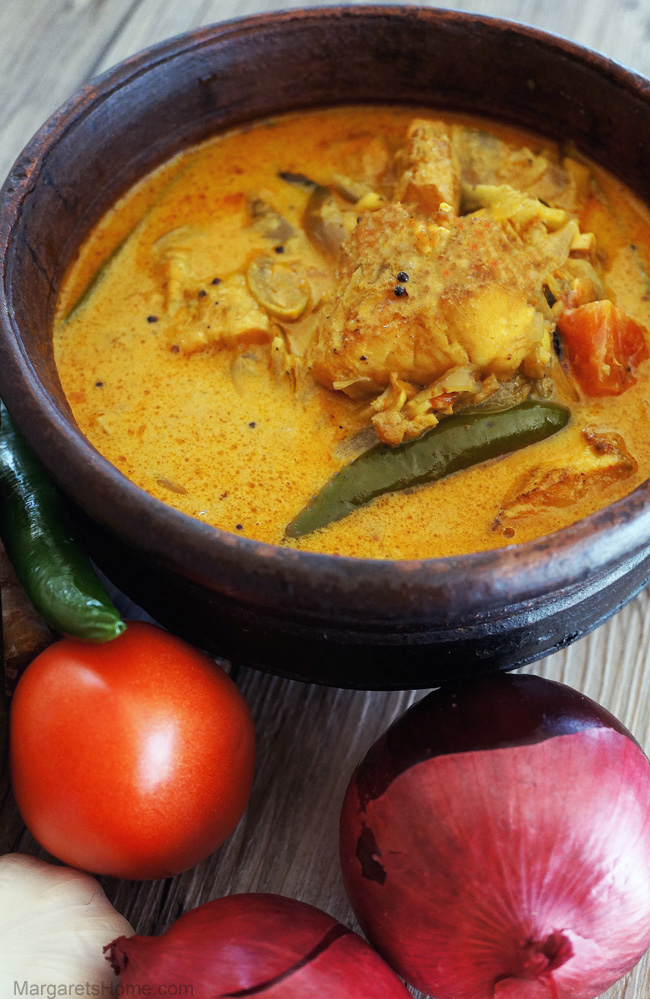 Fish Molee, also called Meen Molee in Malayalam, can be found on the menu at almost all wedding receptions and family celebrations in Kerala. It is a fresh fish curry, mildly spiced, and cooked in a coconut milk gravy. Definitely, one of my all-time favorite fish dishes. The recipe is simple and straightforward, with no exotic spices.
My variation of Fish Molee will give you a true taste of Kerala. I use fresh coconut milk and coconut oil, which brings out the authentic taste of this dish. But, if you have to use canned coconut milk, buy the best quality. Don't shake the can before you open it. Use the thick top layer formed as the first extraction and the dilute coconut milk in the bottom of the can as the second extraction. Whisk both, the top layer and the bottom layer, with three-quarter cups of water for this recipe. I find that canned coconut milk from Thailand works well for my recipes. I've use Tilapia fish for this recipe, but you can also use other boneless, skinless fish.
Fish Molee is one of the most flavorful Kerala delicacies. Eat it with steamed rice, appams or rotis and you'll understand why Kerala is called "God's own country!"
Fish Molee
Prep time: 15 minutes
Cook time: 20 minutes
Serves: 3-4
For the Marinade
3 Tilapia fish fillets, each cut into 3 pieces
3 teaspoons lime juice
¼ teaspoon turmeric powder
½ teaspoon chilli powder
Salt
For the Gravy
3 tablespoons coconut oil to fry fish + 3 tablespoons coconut oil for the curry
½ teaspoon mustard seeds
1 sprig curry leaves
2 cups thinly sliced red onion or shallots
5 green chillies, slit down the center, (adjust depending on heat and your preference)
1 tablespoon finely chopped ginger
1 tablespoon finely chopped garlic
2 tablespoons coriander powder
1 teaspoon chilli powder
½ teaspoon turmeric powder
1 cup first extract (thick) coconut milk
1 cup second extract (thin) coconut milk
Salt
2 Roma tomatoes, quartered
1 teaspoon freshly ground pepper
Rinse the fish pieces thoroughly, drain off excess water, pat the pieces with a paper towel, and add the lime juice, turmeric, chili, and salt. Marinate for 20 minutes. Heat three tablespoons coconut oil and shallow fry fish on both sides until lightly brown. The fish does not need to be cooked as it will cook in the gravy. Remove and set aside.
Place a small saucepan over medium-high heat.  Add three tablespoons of coconut oil. When the oil shimmers, add mustard seeds. After the mustard seeds crackle, add curry leaves and onion. Sauté for two minutes and then add the green chillies, ginger, and garlic. Fry all the ingredients until the onion turns translucent. Next, add the coriander, chilli, and turmeric powder. Turn the heat to medium and pour in the thin extract of coconut milk. Add lightly fried fish pieces and salt. Bring to boil. Cook for seven minutes or until the fish is cooked. If you use fish other than Tilapia fillets, it may take a few minutes longer to cook.
Next, add the thick second extract of coconut milk, tomatoes, and freshly ground pepper. Turn the heat to low and let the curry simmer for a minute. Do not bring the curry to boil once the thick extract of coconut milk has been added, because it may curdle. Turn off the heat. Let the Fish Molee rest for 15 minutes before you serve it with steaming hot rice, appams or rotis.