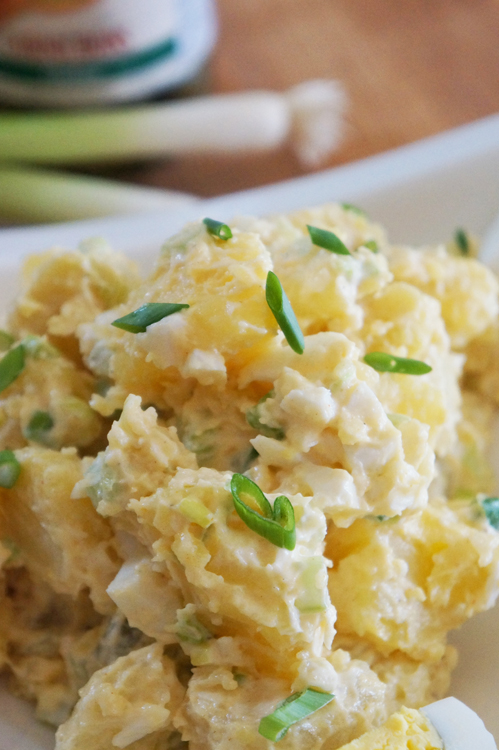 America's independence day is around the corner and one of our family favorites for 4th of July celebrations is potato salad. I usually use Russet potatoes for my salad but this time I experimented with Yukon gold potatoes instead. I'm happy to report that I really liked the flavor and texture it added to my otherwise simple recipe. The smoked paprika also added great depth of flavor. Try it and let me know if you feel the same as I do.
Happy 4th of July.
Potato Salad
12 medium Yukon gold potatoes (about 3 lbs)
5 eggs
6 cornichons (small pickled gherkins), chopped
3 whole green onions, chopped (use white and light green parts only)
2 stalks celery, chopped
1¼ cups mayonnaise
1 teaspoon kosher salt
½ teaspoon smoked paprika
½ teaspoon black pepper
Wash and boil potatoes in salted water until they are tender when tested with a fork. Drain, cool, peel and chop into bite sized cubes.
Place the eggs in a pot and cover them with cold water. Once the water comes to a boil, cover the pot with a lid and turn off the heat. Let it sit for 15 minutes. Cool, peel and chop them into bite size pieces.
In a large bowl, combine the potatoes, eggs, cornichons, green onion and celery. Add mayonnaise, salt, paprika, and black pepper. Gently stir so that it coats the potatoes, eggs and other ingredients evenly. Refrigerate for at least three hours to allow the flavors to blend. Serve cold or at room temperature.