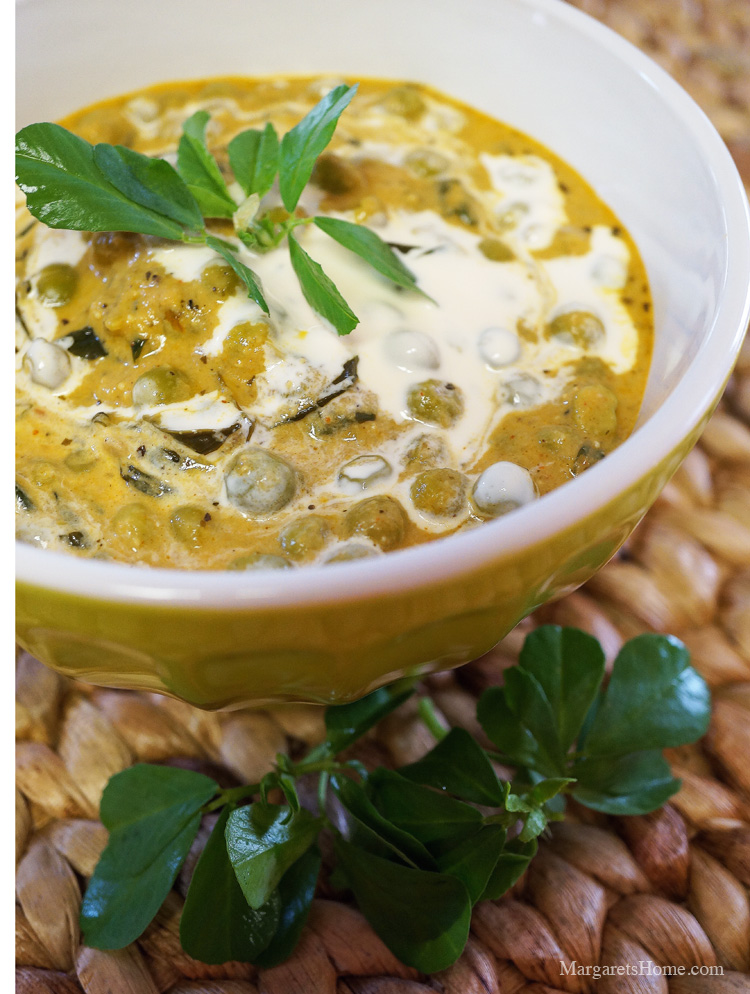 Fenugreek leaves, also called methi in Hindi, is used as an herb and as a spice in Indian cooking. I use the fresh leaves in dals, vegetables dishes, and to make methi paratha. I use fenugreek seeds in pickles, sambars, and to make different powdered spice mixes or pastes. Several of my recipes call for dried fenugreek leaves, which is called kasuri methi in Hindi. The fresh fenugreek leaves have a slightly bitter taste which becomes more prominent when dried. I use dried fenugreek leaves (kasuri methi) in small quantities to flavor my dishes. Amber in color, fenugreek seeds are an essential ingredient to the Bengali five-spice mix, which is call panch phoron. I'll post a recipe using fenugreek seeds soon.
In one of his shows, Dr. Oz talked about how fenugreek helps boost energy and level your blood sugar. The seeds have been used in India for centuries as a natural remedy for many problems, such as, acid reflux, heartburn, reducing cholesterol, and soothing soar throats.
If you haven't tried using fenugreek leaves before, here is a recipe to help you get started. You can buy fenugreek leaves at the Asian market or at an Indian grocery store. Use the young, fresh leaves as they have less of a bitter taste.
Creamy Fenugreek leaves and Green Peas
Prep time: 15 minutes
Cook time: 20 minutes
Serves: 4
Ingredients:
2 tablespoons ghee
2 tablespoons oil
½ teaspoon cumin seeds
½ cup tomato purée, (2 Roma tomatoes, blanched, skin removed and puréed)
1/2 teaspoon turmeric powder
1 teaspoon Kashmiri chilli powder
1 cup frozen/fresh peas
2 bunches fenugreek leaves, (methi)
1 cup heavy cream, (you can use milk for a lighter version)
¼ cup cream, (malai)
½ teaspoon sugar
salt
2 teaspoons garam masala
2 teaspoons kasuri methi, (optional)
Grind to a paste:
1 cup roughly sliced onion
1 tablespoon roughly chopped garlic
1 tablespoon roughly chopped ginger
3 green chillies, (depending on heat and your preference)
8 cashew nuts (soaked in hot water for 15 minutes and drained)
1 tablespoon poppy seeds
2 cardamoms, (use seeds only)
1 clove
½-inch piece cinnamon, (broken into bits)
¼ cup water
Directions:
In a blender, grind the onion, garlic, ginger, chillies, cashew nuts, poppy seeds, cardamom seeds, clove, cinnamon, and water to a smooth paste. Set aside.
Pick the fenugreek leaves and discard the stems. Wash the leaves in several changes of water and soak them in hot water for five minutes. Drain and chop them roughly.
Heat ghee and oil in a heavy bottomed saucepan over medium-high heat. Add the cumin seeds. When they splutter, add the ground ingredients. Stir constantly and cook until the raw smell of ginger and garlic is gone. About three minutes. Add the tomato purée and cook until you see the oil separate. Add the turmeric, Kashmiri chilli powder, peas and fenugreek leaves. Stir well, cover with a lid, and cook for five minutes. Turn the heat to medium-low and stir in the heavy cream, two tablespoons of cream, sugar, salt to taste, and garam masala. Crush the kasuri methi in your palm and add it to the creamy gravy. Let it cook for another ten minutes. Do not let it come to a boil. If the gravy is too thick, you can add two or three tablespoons of milk. Turn off the heat, and garnish the dish with the remaining two tablespoons of cream. Serve with chapati, naan or rice.