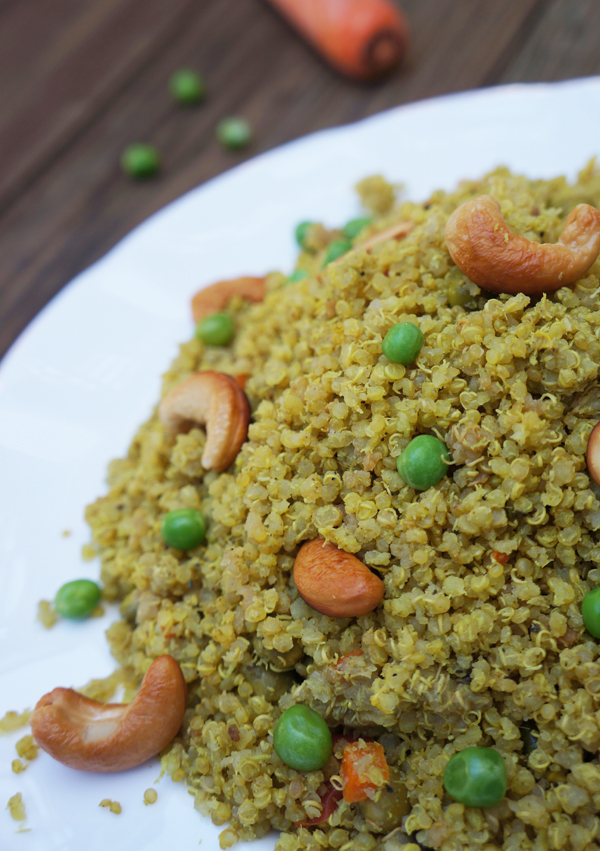 The UN declared 2013 as the "International Year of Quinoa" in recognition of ancestral practices of the Andean people, who preserved quinoa as food for our generation and for generations to come.
I found quinoa at my local Costco and thought I would feature this grain-like seed in my blog today. Quinoa is considered a superfood and valued for it high protein content. It is a good source of dietary fiber and calcium and thus great for vegans who are lactose intolerant. It is also gluten-free.
Wash the quinoa in several changes of water and soak it for 20-30 minutes before you cook with it. It cooks really well in a rice cooker and I use a ratio of one cup quinoa to one and a half cups of water.
Vegetable Biriyani with Quinoa
For the masala mix
2 teaspoons coconut oil
1 inch piece cinnamon, broken into small bits
4 cloves
2 cardamoms
½ cup grated coconut
1 large red onion, roughly chopped
10 cloves of garlic, roughly chopped
2 tablespoons roughly chopped ginger
3 green chillies, roughly chopped
½ cup coriander leaves, roughly chopped
For the quinoa
3 tablespoons coconut oil
1 teaspoon turmeric
2 teaspoons salt
2 cups quinoa, washed in several changes of water
, soaked for 30 minutes and drained
1 medium carrot, cubed
1 small red capsicum, cubed
1 cup fresh or frozen green peas
3 cups chicken or vegetable stock
2 tablespoons fresh lemon juice
¼ cup cashew nuts, fried in a little oil
For the masala mix
In a small frying pan, over medium-high heat, add coconut oil and lightly fry cinnamon, cloves and cardamom. Remove and cool. Grind the fried spices and the rest of the ingredients for the masala mix in a blender. Set aside.
For the quinoa
Heat coconut oil in a large pot. Add the masala mix and fry for about five minutes. Add turmeric and the quinoa and fry for another three minutes. Add the vegetables, salt and water and bring to a boil. Once the water boils, turn heat to low. Cover and cook for 15 minutes. Fluff up the quinoa with a fork. Add lemon juice, garnish with fried cashew nuts and serve. Alternately, you can cook the quinoa in a rice cooker.