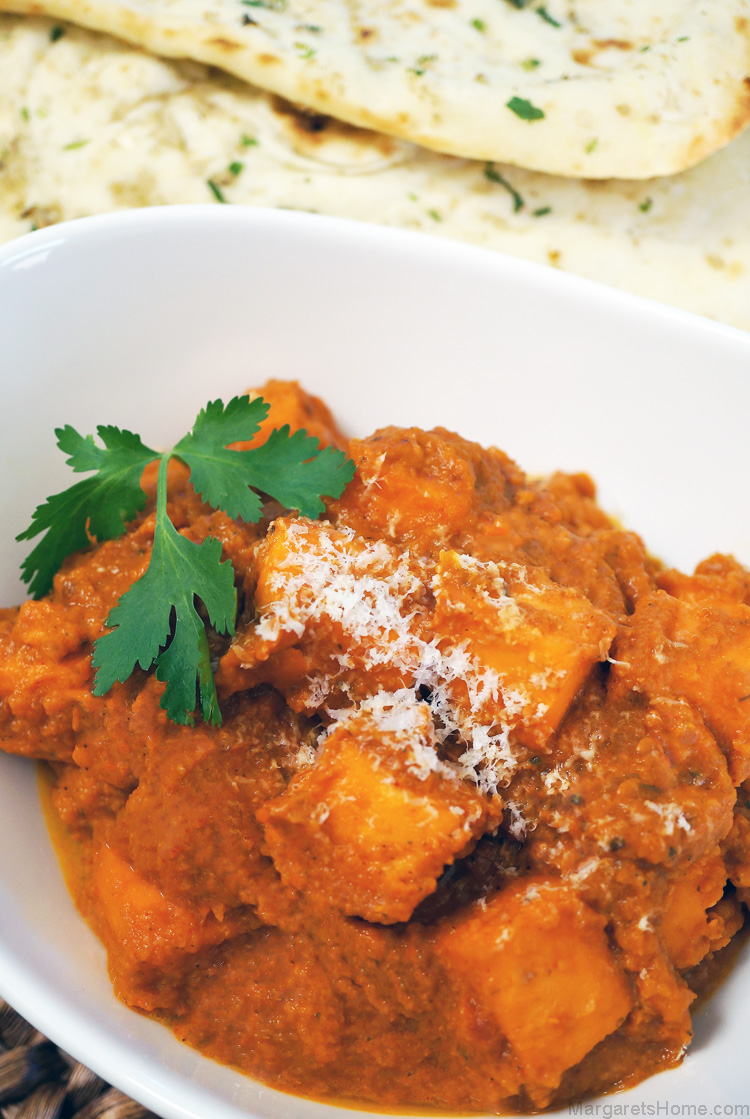 Have you ever been to a restaurant and eaten a dish that you really liked and you wanted to make that dish at home? Well, this is one of those dishes that I really enjoyed in a restaurant in India and wanted to replicate at home. With every bite that I took, I tried desperately to detect what went into it. I also tried many recipes from cookbooks and finally came up with this version of paneer makhani which I felt matched what I tasted at the restaurant.
I recently made this dish for a potluck with my friends and was pleased when they asked me to post the recipe on my blog. The restaurant version had a lot of makhan (butter) floating in it, but I didn't use as much as they did. Of course, adding an extra pat of makhan just before finishing the dish makes it richer and yummier. But I'll let you be the judge of whether that is necessary or not when you taste my version.
There is a bit of prep work that goes into making this dish. The paneer needs to be cut into cubes, lightly fried and soaked in hot water. The onions need to be boiled and puréed. The tomatoes need to be blanched, the skin discarded, and then puréed. The ginger-garlic paste can be bought from an Indian grocery store or you can make it at home. I've described how to do that in the directions. Cashew nuts need to be soaked in hot water for 30 minutes and then puréed in a blender. Once all the prep work is done and you have all the other ingredients measured and ready to be used, it is easy to put the paneer makhani together. Please note that I made this dish for a large group so it is a larger quantity than I usually make. I hope you will enjoy this dish as much as I do. Happy cooking!
Paneer Makhani
Prep time: 20 minutes
Cooking time: 40 minutes
Serves: 10
Ingredients:
3 cups water
2 14 ounce (400 grams) packets of paneer, cut into cubes
2 tablespoons oil
2 large onions, (quartered, boiled, drained and puréed – 2 cups onion purée)
4 large tomatoes, (blanched, peeled, and puréed – 3 cups tomato purée)
5 tablespoons butter, plus 2 teaspoons oil
2 tablespoons ginger-garlic paste
2 teaspoons Kashmiri chilli powder
1 teaspoon hot red chilli powder
2 teaspoons coriander powder
2 teaspoons cumin powder
¼ teaspoon turmeric powder
3 teaspoons garam masala powder
salt
2 tablespoons tomato paste
1/8 teaspoon red food color, (optional)
2 teaspoons kasoori methi, (dry fenugreek leaves)
20 cashew nuts, (soaked in water for 30 minutes and puréed)
¼ cup whipping cream
2 cubes grated fresh paneer, for garnishing
Directions:
In a medium-sized saucepan, bring three cups of water to a boil, over high heat. Once it comes to a boil, turn the heat off, and set it aside. You will use this to soak the fried paneer.
Set two cubes of paneer aside to be used for garnishing this dish. Fry the paneer cubes in two batches. Add one tablespoon of oil to a non-stick frying pan and place over medium-high heat. Swirl the oil so that it coats the bottom and sides of the pan. Add half the paneer cubes and fry until very lightly colored. Remove and put them into the hot water that you set aside for this purpose. Add another tablespoon of oil to the frying pan and fry the rest of paneer cubes until light brown. Remove and put them also into the hot water. Let the paneer soak until you need to add them to the gravy, and continue with the rest of the prep work.
Cut the onions into quarters, boil them in one cup of water until they turn translucent, drain and save the water as you will use some of it in the gravy. Cool the onion and purée. You should have two cups of onion purée. Set aside. Next blanch the tomatoes in hot water, drain, cool, remove the skin, and purée the tomatoes. You should have three cups of tomato purée. Set aside. If you are making the ginger-garlic paste yourself, clean and chop a two-inch piece of ginger and eight cloves of garlic. Add them to a blender along with one tablespoon of water. Blend until a paste is formed. Set aside. Soak cashew nuts in hot water for 30 minutes and then purée in a blender until smooth. Set aside until you are ready to use it in the paneer makhani.
Heat a large heavy bottomed saucepan over medium-high heat. Add two teaspoons oil and the butter. The oil is being added so that the butter does not burn easily. When the butter melts add the ginger-garlic paste. Fry for three minutes or until the raw smell of ginger-garlic disappears. Add puréed onion. Sauté for eight minutes. Make sure that it does not burn or catch to the bottom of the dish. Turn the heat to medium-low if needs be.
Next, add Kashmiri chilli powder, hot chilli powder, coriander powder, cumin powder, turmeric powder, garam masala powder, and salt. Sauté for a minute and add quarter cup of the water in which the onion was boiled (if you remembered to save it or you can just add water). Sauté again till the water evaporates. Add tomato purée, tomato paste and food color. If you are using powdered food color, first dissolve it in a few drops of water and then add it. Stir, cover with a lid, and cook on medium-low heat for 15 minutes.
Add the cashew paste and crushed kasoori methi. Stir well, cover and cook for another five minutes. Use a slotted spoon to drain the paneer that is soaking in hot water and add them. You don't need to squeeze the water out of the paneer pieces. Add whipped cream. Stir gently so paneer pieces are coated with the creamy gravy and cook on low heat for five minutes. Dish out into a serving bowl. Grate the two cubes of fresh paneer, that you saved to garnish the dish, and sprinkle on top. There you have it, a restaurant style Paneer Makhani.