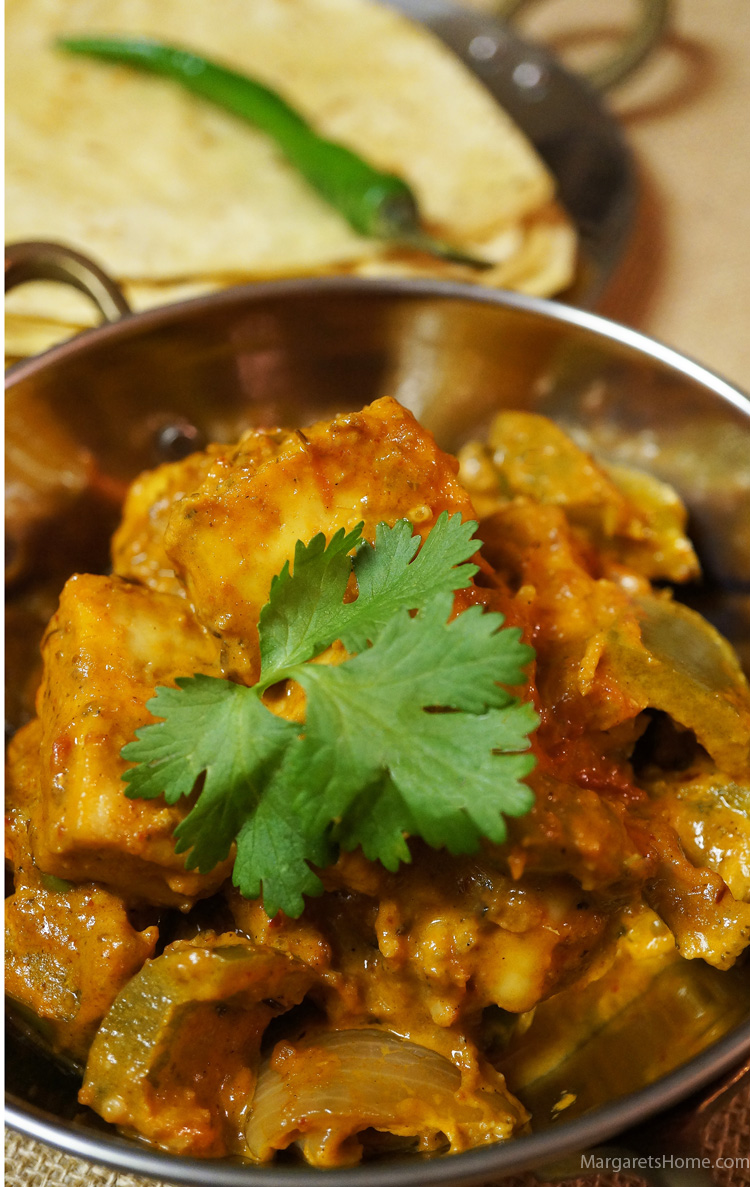 A kadai, sometimes spelled karahi, is a must in every Indian kitchen. In fact, most homes have several. One to cook vegetables in, one to cook sweets in, and one for deep frying. A kadai is a thick, circular, deep cooking vessel, traditionally made from cast iron or copper. It is used in kitchens in India, Pakistan, Bangladesh, and Nepal. It looks like a wok but it has steeper sides with two handles. Dishes typically made in a kadai have Afghan and Persian origins.
Don't worry if you don't own a kadai, you can still make this dish in a regular non-stick pot or wok. The paneer I buy is not as fresh and soft as the paneer we get in India. Hence, the extra step of soaking the pieces of paneer in hot water. If you get fresh paneer or if you make your own, you can skip this step. Kasoori methi is dry fenugreek leaves, which you can buy at an Indian grocery store. North Indians like the slight crunch of the kadai spice mix, but if you are not used to that, you can grind the spices to a powder. What makes my Kadai Paneer distinct is the kadai spice mix. Try it out once, and I think you'll be hooked.
Kadai Paneer – Paneer, Bell Pepper, and Onion cooked in a Kadai
Prep time: 8 minutes
Cooking time: 25 minutes
Serves: 6
4 whole dry Kashmiri red chillies
1 teaspoon fennel seeds
2 teaspoons cumin seeds
4 tablespoons coriander seeds
1 teaspoon whole black pepper corns
14 ounces paneer, (400 grams)
3 cups water
3 tablespoons oil
1-inch piece ginger, grated
6 cloves of garlic, grated
8 Roma tomatoes, diced
2 tablespoons tomato paste
Salt
1 small onion, cut into wedges and petals separated
1 green bell pepper, cut into large cubes
1 teaspoon kasoori methi, (dry fenugreek leaves)
1 teaspoon garam masala, (preferably my garam masala)
3 tablespoons heavy whipping cream
1 green chillie, finely sliced, (optional)
1 tablespoon cilantro, finely chopped
To make the special kadai spice mix, roast dry Kashmiri red chillies, fennel seeds, 1 teaspoon cumin seeds, coriander seeds, and whole black pepper in a small non-stick frying pan over low heat, until they smell fragrant. Cool and grind to a coarse powder. I use a coffee grinder to do this. You could also use a mortar and pestle.
Cut paneer into pieces. For this recipe, I cut my paneer into small rectangular pieces. Heat three cups of water in a saucepan.  When the water boils, off the heat, and put panner pieces into the hot water. Allow it to soften while you continue with the next step. If you are using fresh or home-made paneer you can skip this step.
Heat oil in a kadai or wok over medium-high heat. When it shimmers, add one teaspoon of cumin seeds and wait until they splutter. Next add the grated ginger and garlic. Sauté for five seconds and then add tomatoes, tomato paste, and salt. Let the tomatoes cook for six to seven minutes or until the oil separates. Drain the paneer pieces and then add them to the dish. Reserve the water. Add one tablespoon of the ground kadai spice mix, capsicum, and onion. Mix well, add quarter cup of the reserved water, and let the vegetables cook for two minutes. You want the bell pepper and onion to have a crunch to them. Add crushed kasoori methi, the rest of the ground kadai spice mix, garam masala, and cream. Stir gently so paneer and vegetables are well coated with the creamy-tangy sauce. Garnish with sliced green chillies and chopped cilantro. Kadai paneer goes well with naan, roti or rice.