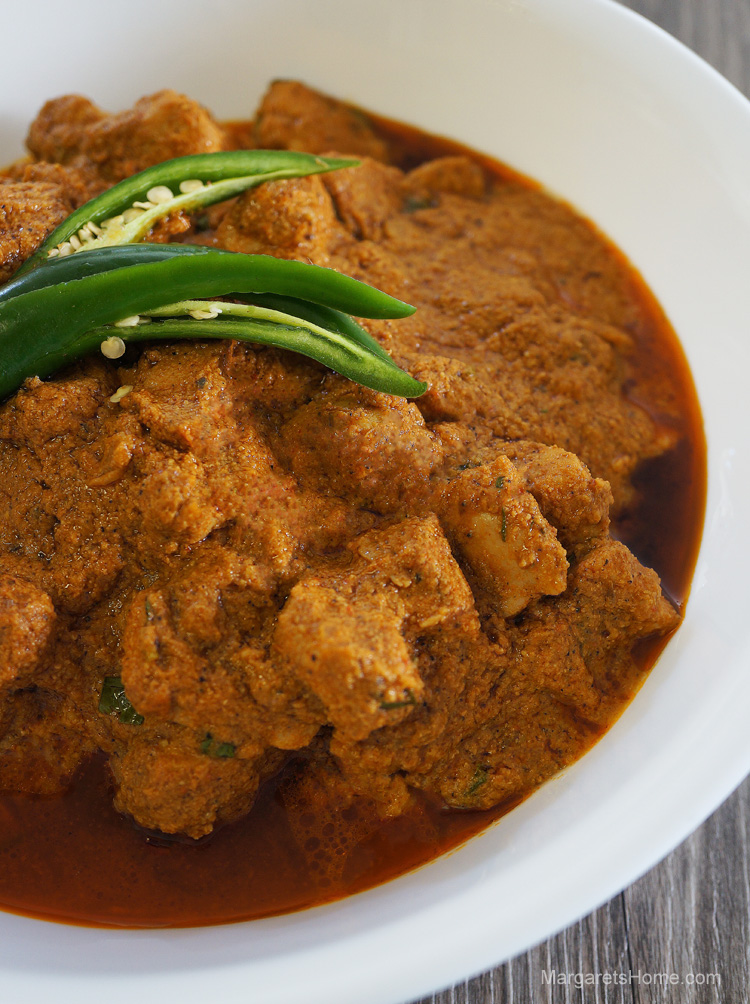 By now, all of you know that I love Maharashtrian food. Kolhapur is a city situated in the south west corner of Maharashtra and it can boast that it has one of the areas best cuisines. I featured their famous misal pav in one of my blog posts and I hope you had an opportunity to try it. The city is also known for their traditional leather sandals, called Kolhapuri chappal, and their antique jewelry.
The Kolhapuri chicken curry that I am featuring today is one of my favorites. Adjust the spice level to your taste. I added two types of chillies for this recipe. One to add heat and the other to give the curry its brilliant red gravy. I hope you will enjoy this dish as much as I do.
Kolhapuri Chicken Curry
Prep time: 20 minutes
Cook time: 30 minutes
Serves: 6-8
Ingredients:
½ cup grated dry coconut, (copra)
4 dry red chillies, (depending on heat and your preference)
5 Kashmiri dry chillies, (for color)
1-inch piece cinnamon stick
4 green cardamoms
2 black cardamom
2 teaspoons cumin seeds
1 tablespoon coriander seeds
2 petals of star anise
5 cloves
1 blade mace
1 tablespoon poppy seeds
1 tablespoon sesame seeds
8 black peppercorns
2 pounds chicken, cut into medium sized pieces
2 tablespoons lemon juice
½ teaspoon turmeric powder
salt
¼ cup oil
3 cups finely diced onion
2 tablespoons garlic paste
1 tablespoon ginger paste
½ teaspoon grated nutmeg
¼ cup chopped cilantro leaves
2 cups water
Directions:
For the Kolhapuri Masala:
In a small frying pan, over medium-high heat, roast the grated dry coconut until it turns light brown. Remove and put it into a small bowl. The the same pan, roast the dry red chillies for two minutes. Put them into the bowl. Next, to the same pan, add the cinnamon, green cardamom, black cardamom, cumin seeds, coriander seeds, star anise petals, cloves, mace, poppy seeds, sesame seeds and peppercorn. Roast until fragrant. Add the spices into the small bowl and cool all the ingredients for 10-15 minutes. Then grind to a coarse powder.
For the Kolhapuri Chicken Curry:
Marinate the chicken in one tablespoon of the Kolhapuri masala, lemon juice, turmeric powder and salt for fifteen minutes.
Place a large non-stick pan over medium-high heat. Add oil and the chopped onion. Fry until the onion turns light brown. Add the ginger and garlic paste. Fry for two minutes or until the raw smell of ginger-garlic disappears. Add the marinated chicken and roast until you see brown spots on the pieces of chicken. Add the rest of the Kolhapuri masala, grated nutmeg and coriander leaves. Roast for one minute and then add water. Stir and bring to a boil. Turn the heat to medium-low, cover with a lid and cook for 20-25 minutes or until the pieces of chicken are well cooked and the gravy thickens. Taste and adjust the salt, if needed, and turn off the heat. Serve Kolhapuri chicken curry with steaming hot rice. This is a spicy dish but you can adjust the heat level to suit your taste.