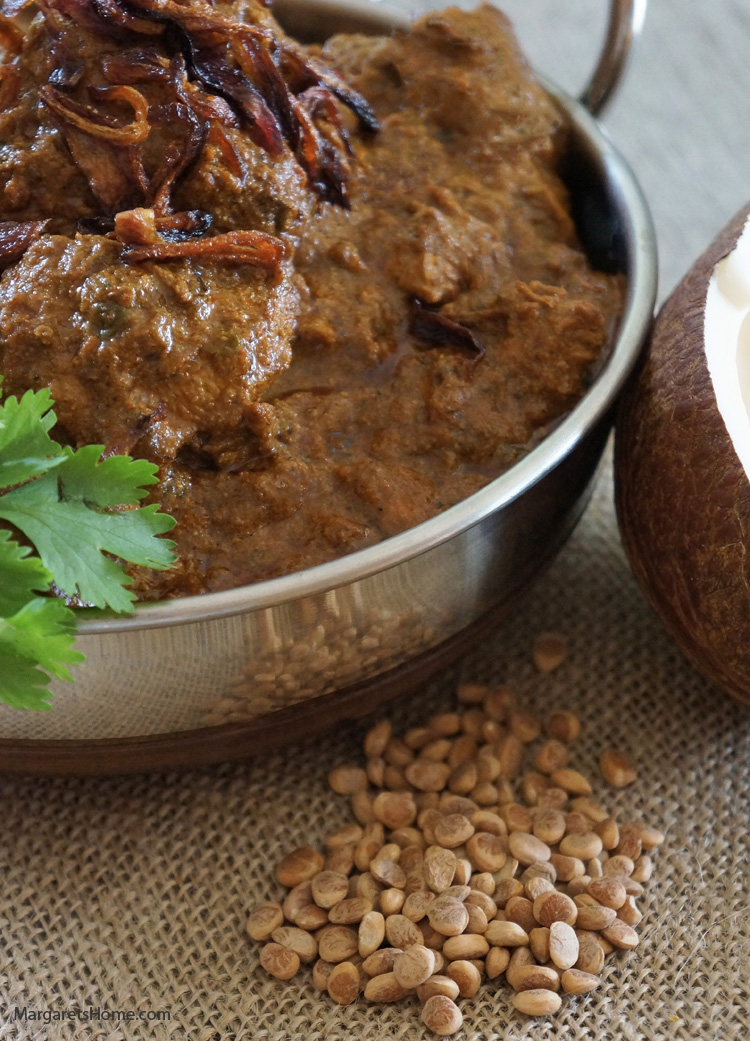 The wide, heavy-bottomed Indian pot called a lagan ensures evenly cooked meat, lentils and vegetables. It is the perfect utensil to cook the famous Hyderabadi Mughlai dish called, "Lagan ka Murgh." However, if you don't own a lagan, cook this dish in a wide, heavy-bottomed pot.
I have used chironji (charoli in Hindi) and dry coconut (copra in Hindi) in this recipe. Chironji are kernels of a fruit that has a nutty, musky flavor. Chironji, dry coconut, and ghee are available at Indian grocery stores. Some of my recipes tend to appear lengthy, because I choose to use freshly ground whole spices instead of store-bought, ready-made, spice mixes. You could use store-bought regular garam masala powder instead of the spice powder in this recipe.
Hyderabadi Lagan ka Murgh
Prep time: 15 minutes
Cooking time: 25 minutes
Serves: 6-8
For the ground paste
¼ cup grated dry coconut, copra
5 cashew nuts
2 tablespoons poppy seeds
2 tablespoons chironji
In a small pan, over low heat, roast dry coconut, cashew nuts, poppy seeds and chironji. When the dry coconut turns light brown, remove from heat. Cool completely and add just enough water so you can grind all the ingredients to a smooth paste.
For the spice powder
3 cloves
3 green cardamoms
2 black cardamoms
1 one-inch piece cinnamon
¼ teaspoon caraway seeds, shah jeera
1 teaspoon cumin seeds
3 teaspoons coriander seeds
In a small pan, over low heat, lightly roast the cloves, cardamom, black cardamoms seeds, cinnamon, caraway, cumin, and coriander seeds until they smell fragrant. Cool, and using a coffee grinder, powder all the ingredients.
To make the Lagan ka Murg
½ cup ghee
2 cups finely sliced onion
2 tablespoons ginger-garlic paste
2 cups tomato puree
3 tablespoons Kashmiri chilli powder
2 crushed green chillies, (depending on heat and your preference)
½ cup finely chopped coriander leaves
¼ cup finely chopped mint leaves
1½ cups yoghurt, beaten until smooth
2 pounds chicken, cut into small pieces
2 cups water
Salt to taste
Place a heavy bottomed pot or a lagan over medium-high heat. Add ghee and the sliced onions. Fry until they turn golden brown. Drain on a paper towel and set aside two tablespoons to garnish the dish.
Add the ginger-garlic paste and sauté for two minutes, make sure it does not stick to the bottom of the pot, and turn brown. Add the ground paste and fry for three minutes. Crush the fried onions and add it to the rest of the ingredients in the pot. Then add the tomato puree, Kashmiri chilli powder, green chillies, coriander, mint, yoghurt, chicken, water and salt. Mix well, cover with a lid, and let the chicken cook on medium-high heat for five minutes. Sprinkle the spice powder and turn the heat to medium-low.  Let the Lagan ka Murgh simmer for 20 minutes. Garnish with fried onions and coriander leaves. Serve with rice, naans or rotis.