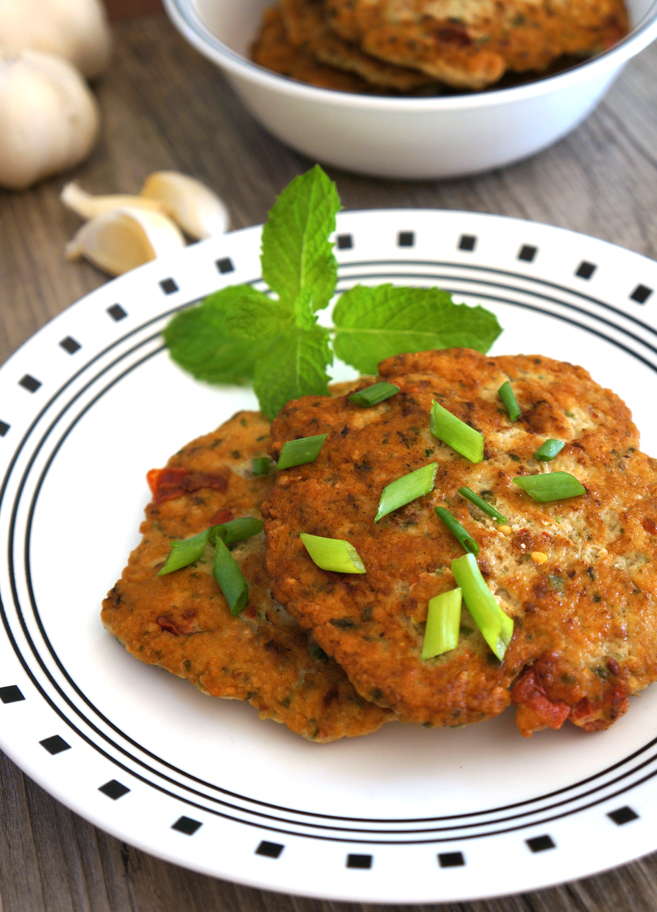 Chicken Chapli Kababs are a great alternative to the all time favorite American burger. I first tasted Chapli Kabab in a Pakistani restaurant in Washington, D.C. You can use minced beef, lamb or chicken to make these spicy and delicious kababs.
This recipe makes about 40 chapli kababs but you can easily halve the recipe. I was cooking for a large crowd and hence the larger amount. I bought two pounds of boneless, skinless chicken thigh meat and two pounds of chicken breast meat and put it in the freezer for about an hour before I minced it in a food processor. Using dark and white meat kept the kababs moist. You can also buy minced chicken at the grocery store. I used gram flour in this recipe which is called "besan" in Hindi. Besan is made from ground, dried chickpeas, a legume known as chana dal in India. The gram flour can be purchased from an Indian grocery store.
I was lucky to have my daughter in the kitchen helping me fry the chapli kababs, while I formed the balls, flattened them, and put them in the pan. Since I had help, we put three pans on the stove and that made the job of frying the kababs much faster. You might also want to enlist some help when you make them. The chapli kababs freeze well and all you need to do is microwave them for a few minutes before serving. Try them on buns or sandwich thins with a little mayo. That's how my kids like to eat them.
Chapli Kababs
4 pounds minced chicken
2 cups roughly chopped spring onion (white and green parts)
2 tablespoons grated garlic
2 tablespoons roughly chopped ginger
2 tablespoons roughly chopped green chillies (optional)
2 roughly chopped roma tomatoes
½ cup roughly chopped cilantro
2 tablespoons chilli flakes (optional)
2 tablespoons roasted and crushed coriander seeds
3 teaspoons gram flour (besan)
Kosher salt to taste
Oil for shallow frying
In a small pan, over low heat, roast the coriander seeds. Crush them in a motar and pestle and set aside.
Put the spring onions, garlic, ginger, chillies, tomatoes, cilantro, and chilli flakes into a food processor and blend until they are finely chopped.
In a large bowl, put minced chicken, the chopped ingredients, the gram flour, the roasted and crushed coriander seeds, and salt. Using your hands mix until just combined. Make 40 balls and place them on two parchment lined trays. Refrigerate for 15 minutes. (I found that using a bowl of water and dipping my hands in them made it easier to make the balls and also in flattening them. You might want to try that.)
Heat a large non-stick pan over medium-high heat. Once the pan is hot add two tablespoons of oil and gently swirl the oil in the pan so that it coats the whole surface of the pan. Flatten each ball into a large, thin cutlet or chapli kabab – as thin as you can make them. Fry in batches. Put only two or three kababs at a time in the pan. Fry each side for about three minutes or until they get nicely browned and then turn them over and fry the other side as well. Remove them on to paper towel lined trays. Make the rest of the chapli kababs in the same manner. Garnish the chapli kababs with coriander and mint leaves, spring onions and lemon wedges. Serve them with wheat thins, mayo or cilantro and mint chutney. The recipe for the cilantro and mint chutney can be found at the bottom of the Bangalore Vadais post.