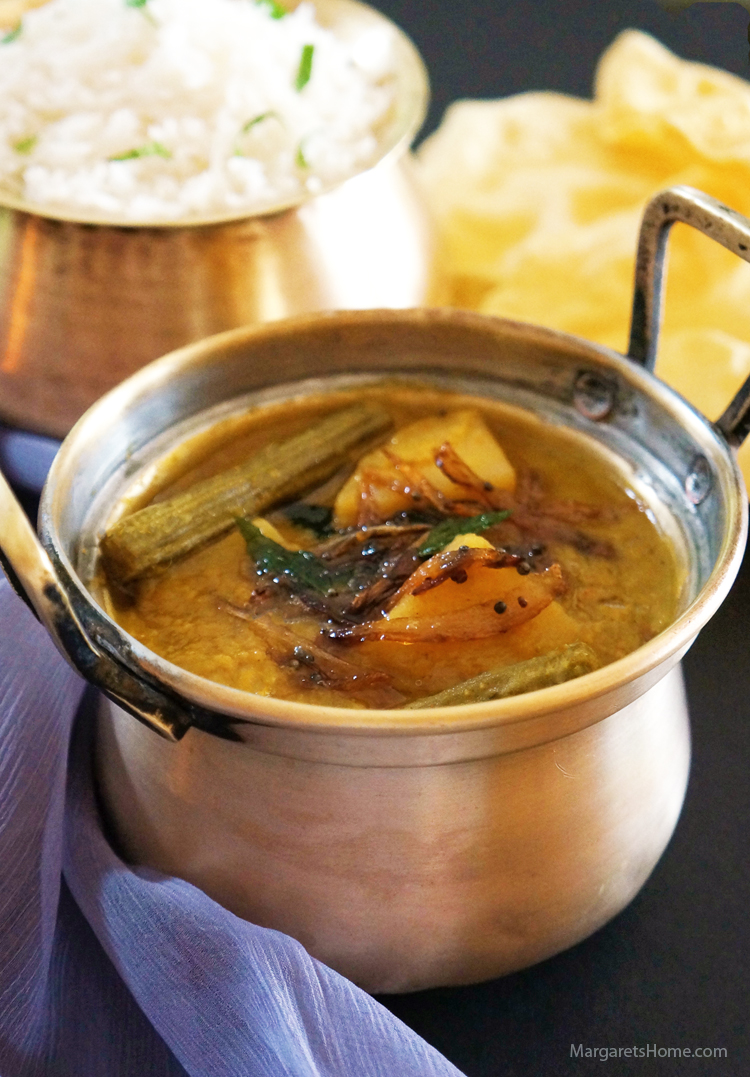 I have a large collection of sambar recipes, but I am sharing the one that I make most often. I like this recipe because it uses freshly roasted and ground sambar powder. You will find that making the sambar powder takes just a few minutes but the flavor it adds is well worth the effort.
The vegetables that I've added are drumstick, potatoes, and shallots. I use frozen drumstick from the Indian grocery store as fresh drumstick is hard to come by in the U.S. I find that the frozen drumstick takes longer to cook so I microwave them for three minutes before I add them to the rest of the vegetables. If you can get fresh drumstick, that is much better and you will not have to microwave them. Other vegetables that are commonly used are eggplant, radish, french beans, pumpkin, okra, and carrots. This recipe is hard to beat so give it a try and let me know if you agree.
Sambar – Spicy Lentils with Drumstick
Prep time: 15 minutes
Cooking time: 30 minutes
Serves: 6
For the Sambar Powder
2 tablespoons whole coriander seeds
6 dry red chillies, (depending on heat and your preference)
½ teaspoon whole black pepper
¼ teaspoon fenugreek seeds
1 teaspoon cumin seeds
In a small pan, over low heat, add coriander seeds. Stir constantly while you roast them until the color changes to brown. Add the rest of the ingredients and roast for another two minutes. Remove and let the spices cool completely. Put the spices in a coffee grinder and powder. I have a coffee grinder that is used only to powder spices.
For the Dal
1 cup toor dal/arhar dal, (split, yellow pigeon peas)
2 cups water
2 cloves of garlic, crushed
1 tsp turmeric powder
1 tsp coconut/canola oil
Wash the dal in several changes of water and cook in a pressure cooker with two cups of water, garlic, turmeric, and oil. I used my old Hawkins pressure cooker and the dal was done after three whistles. About five minutes. The time will vary depending on your pressure cooker.
For the vegetables
12 pieces of frozen drumsticks, (microwave with 3 teaspoons of water for three minutes)
1 large shallot, cut into eight pieces
1 large potato, cut into twelve pieces
2 green chillies, slit down the middle, (optional)
2 cups water
2 tablespoons tamarind, (soaked in 1 cup warm water)
3½ teaspoons salt
Soak the tamarind in one cup of warm water for about 10 minutes. Extract the tamarind juice, strain and set aside.
In a large pot, over medium-high heat, add the partially cooked drumstick, shallot, potato, green chillie, two cups of water and one cup of tamarind juice. Cook until the vegetables are done. Add the fresh sambar powder, the cooked and mashed dal, and salt. Stir gently. If the sambar is thick add one cup of water, bring to a boil, and simmer for five minutes.
For tempering
1 tablespoon coconut/canola oil
½ teaspoon black mustard seeds
¼ teaspoon asafoetida powder, hing
1 sprig curry leaves
1 shallot, sliced
Add coconut or canola oil in a small pan and place it over medium heat. When the oil is hot, add mustard seeds. Be careful because they will pop and splutter. Then add asafoetida, the curry leaves and sliced shallot. Fry until the sliced shallot turns golden brown. Add this seasoning to the sambar and stir. Garnish with chopped cilantro and serve with steaming hot rice and papadam.You can also have sambar with South Indian dishes like dosa and idli.