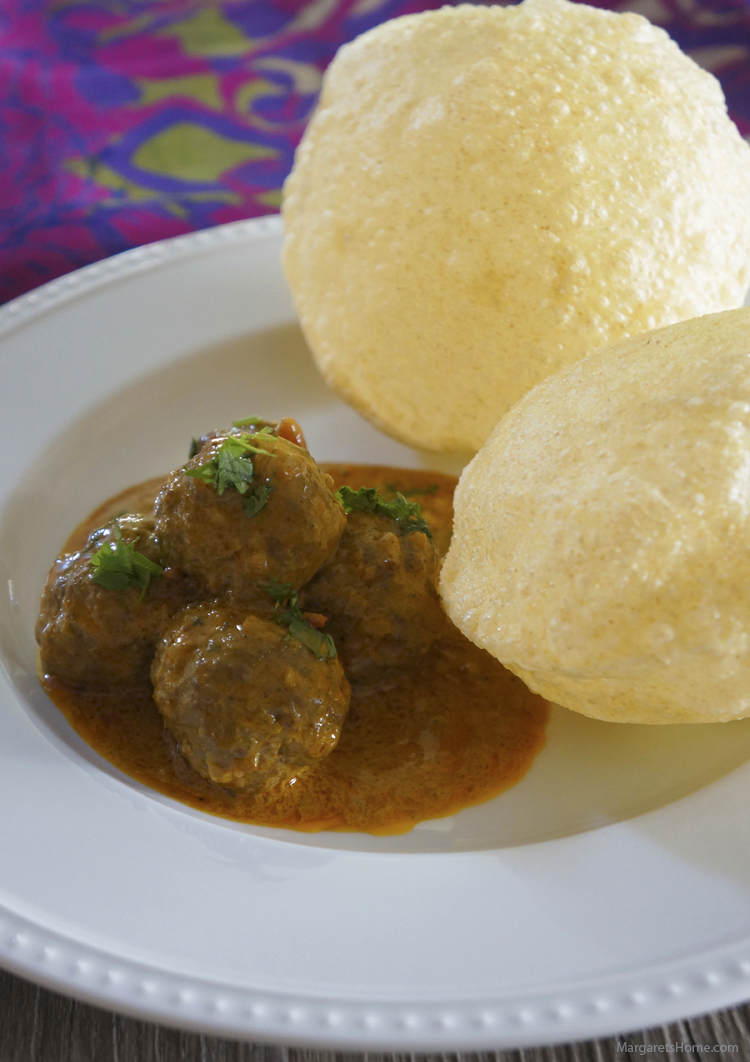 Spicy meatballs in a tantalizing gravy, is the best way I can describe this kofta curry. The koftas (meatballs) are full of flavor and the lightly spiced coconut curry takes it to a completely different level. The koftas can be made with minced beef, lamb or chicken.
You can make this dish well ahead of time as the koftas soak in the curry and just keep getting better. It is full of flavor and steals the show. So if you're looking for a crowd-pleaser for your next party – this is it. Serve this kofta curry with rice, naan or puri.
Kofta Curry – Meatballs in a Spicy Coconut Gravy
Prep time: 20 minutes
Cooking time: 30 minutes
Serves: 6-8
For the meatballs:
2 pounds ground beef
6 green spring onions, roughly chopped
4 green chillies, roughly chopped
2 tablespoons roughly chopped cilantro
5 cloves of garlic, roughly chopped
1 tablespoon chilli flakes, (depending on heat and your preference)
Kosher salt
In a food processor finely chop green spring onion, chilli, cilantro, and garlic. In a large bowl add the ground beef, chilli flakes, and salt. Then add the finely chopped ingredients and mix until combined. Line a baking tray with parchment paper. Makes 35 small balls, the size of lemons, and keep them on the tray. Refrigerate until ready to use in the curry.
For the ground spice mix:
3 tablespoons whole coriander seeds
3 dry red chillies
2 teaspoons cumin seeds
1-inch piece of cinnamon
2 cloves
2 teaspoons cumin seeds
2 petals of star anise, (optional)
1 black cardamom
In a small pan, over low heat, roast the above ingredients until they smell fragrant. Cool completely. Remove the outer cover of the cardamom and use only the seeds. Put all the ingredients into a coffee grinder and powder.
For the curry:
3 tablespoons coconut/canola oil
1 teaspoon mustard seeds
1 cup roughly chopped onions
5 cloves of garlic, roughly chopped
1-inch piece of ginger, roughly chopped
1 teaspoon turmeric
2 teaspoons Kashmiri chilli powder
1 cup finely diced tomatoes
2 cans coconut milk, (14 fl oz each)
Kosher salt
2 tablespoons finely minced cilantro
3 teaspoons lime juice
In a blender, grind onion, garlic, and ginger. Set aside
In a large saucepan over medium heat, add coconut oil. Add the mustard seeds and when they splutter add the ground onion, garlic, and ginger. Fry until it turns light brown. Add the ground spices, turmeric, and Kashmiri chilli powder. Fry for two minutes and then add the tomatoes. Cook until they turn soft. Shake the cans of coconut milk well before you open them. Add coconut milk and salt and bring the curry to a simmer. If the coconut milk is thick, add half a cup of water. Gently add the meatballs, one by one. Let them cook for ten minutes. Then stir and let the meatballs simmer for another 10 minutes so they can cook completely. Turn off the heat and add lime juice.
Garnish with cilantro and serve with rice, naan or puri.