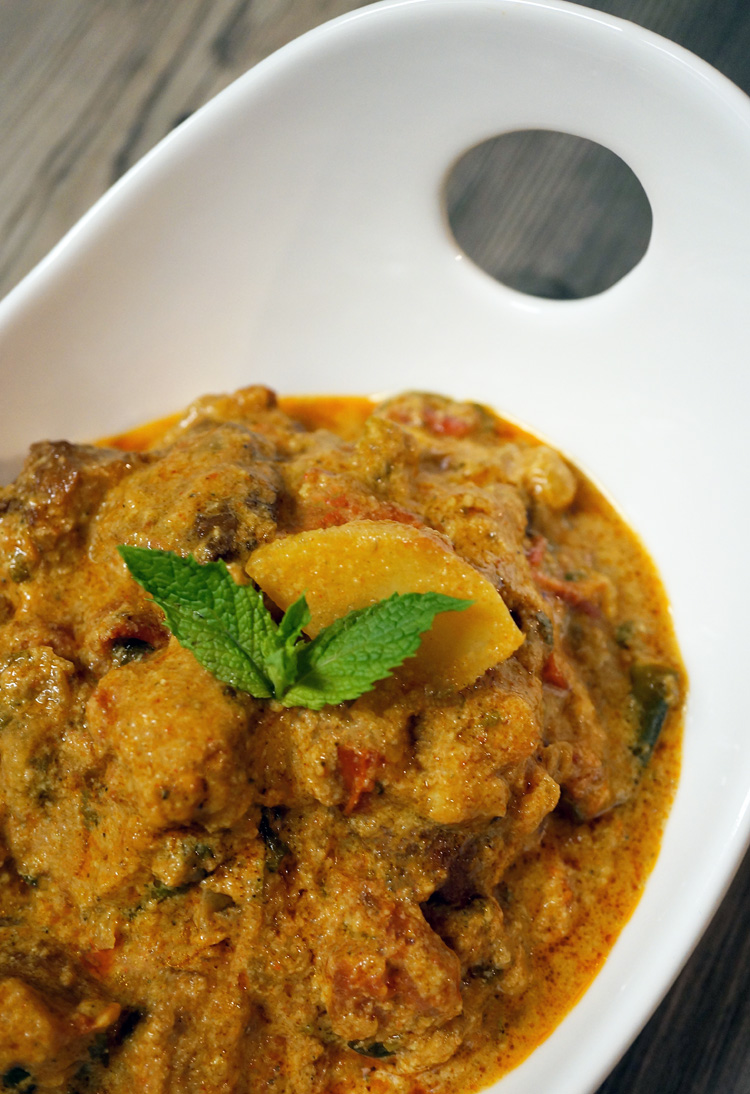 Taste this FriChik Curry and it will be easy to give up chicken! This is by far one of the best meatless meat curries I've learned to make. Credit for teaching me how to make this dish goes to my friend, Hannah. Thank you for sharing some of your best recipes with me. I'm certain that many of my vegetarian friends will appreciate this recipe as much as I do.
In my recipes, I often tell you to use chilli, "depending on heat and your preference." It means that you can decide on the amount of chilli you use depending on how hot the chilli is and how much of it you can tolerate. Remember, that the heat level of chilli powder/green chillies/dry red chillies, differ. Many times I use Kashmiri chilli powder in my recipes because it is mild. So, adjust the chilli to suit your taste.
You can buy FriChik at the Potomac Adventist Book & Health Food Store in Silver Spring, Maryland. You can also buy it on line from Amazon.com. I know how difficult it is to come up with tasty, vegetarian dishes so you will want to bookmark this page.
FriChik Curry
Prep time: 15 minutes (does not include time for soaking nuts)
Cooking time: 30 minutes
Serves: 6
Ingredients:
¼ cup oil
2 cups finely chopped onion
2 teaspoons ginger-garlic paste
1 teaspoon whole cumin seeds
2 teaspoons Kashmiri chilli powder, (depending on heat and your preference)
½ teaspoons turmeric powder
2 teaspoons coriander powder
1 tsp garam masala
2 cups blanched and diced tomatoes
2 medium potatoes
2 cups water
Salt
2 cans (12.5oz/354g) Worthington FriChik original
2 tablespoons finely chopped cilantro
For the wet spice paste:
3 sprigs of curry leaves
½ teaspoon cardamom seeds
1 teaspoon fennel seeds
2 tablespoons grated coconut, (fresh or frozen)
2 tablespoons chopped cilantro
10 cashew nuts
10 almonds
Directions:
Add the cashew nuts and almonds to a small bowl. Cover them with half a cup of hot tap water and let them soak for 15 minutes. After the 15 minutes are up add the cashew nuts, almonds along with the water they were soaking in, into a blender. Add the rest of the ingredients for the spice paste – curry leaves, cardamom, fennel, coconut, and cilantro. Blend to a smooth paste. Set aside until you are ready to use it in the curry.
Place a heavy bottomed saucepan over medium-high heat. Add oil and when it shimmers, add the onion. When the onion turns translucent add the ginger-garlic paste. Stir constantly and cook for two minutes or until the raw smell of the ginger-garlic disappears. Add the cumin seeds, chilli, turmeric, coriander, garam masala, and tomatoes. Stir occasionally and cook until the oil separates.
Next, peel and wash potatoes. Cut each into eight pieces. Add the potatoes, water and salt. Cover the dish and cook for five minutes. In the meantime, drain the FriChik and discard the gravy. Cut each chunk into four. Add the FriChik and the ground wet spice paste. Stir so everything is mixed well. Then cover the saucepan and cook on medium-low heat until the potatoes are done, about 15-20 minutes. Garnish with chopped cilantro. FriChik curry goes well with plain rice or rotis.