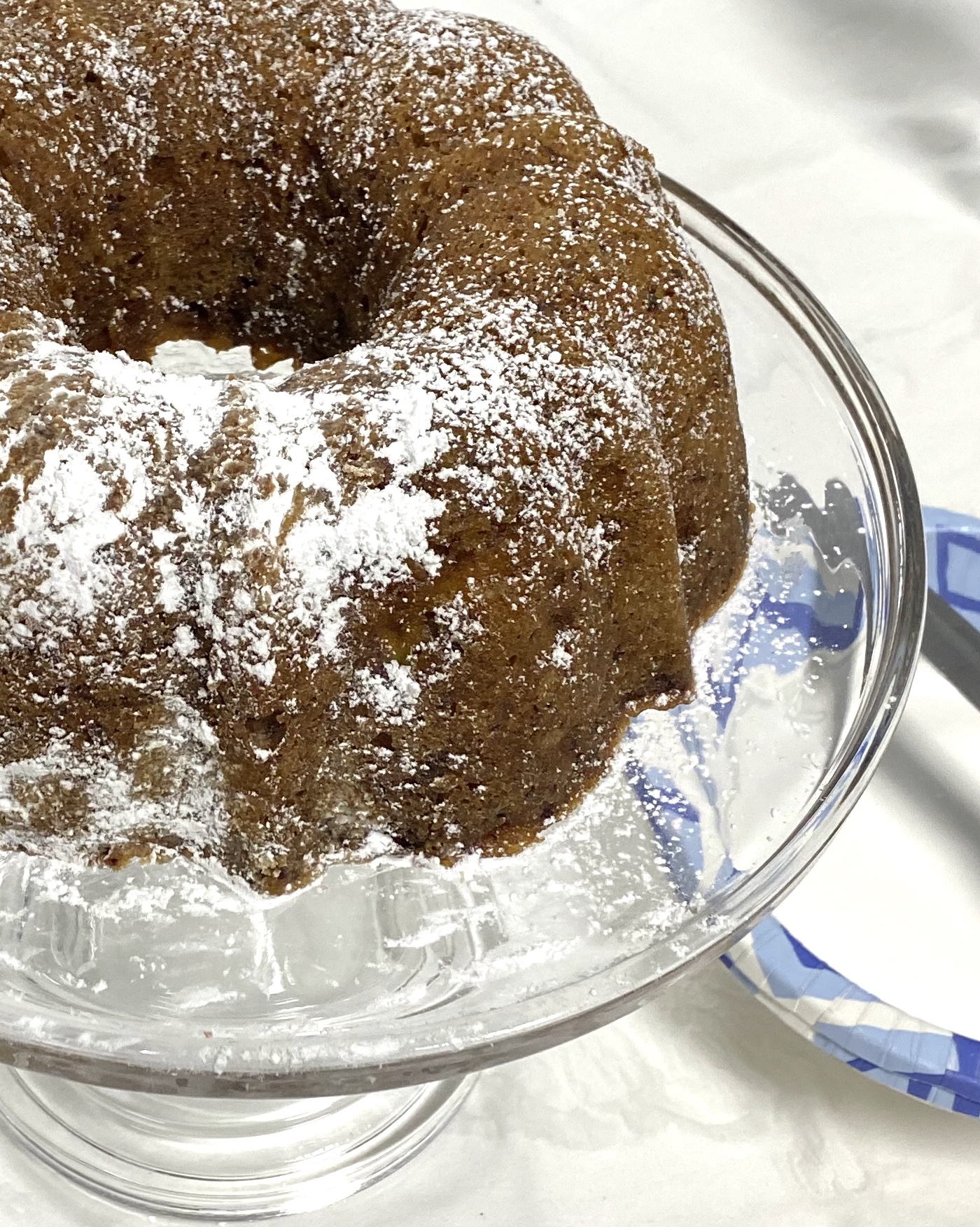 Recipe by Chop Secrets with slight modifications
Ingredients:
1 teaspoon baking soda
½ cup sour cream
1 cup sugar
1 stick butter
2 eggs
1 teaspoon baking powder
2 ripe bananas, mashed
1 teaspoon vanilla extract
1½ cups flour
½ cup chopped walnuts
Directions:
Coat the inside of a 6-cup bundt pan with non-stick spray.
In a medium bowl, combine baking soda in the sour cream. Set aside to allow the baking soda to dissolve.
Using an electric mixer, cream the butter with the sugar in a large bowl until thoroughly combined. Add the eggs one at a time and beat until uniform.
Add the baking powder, bananas and vanilla extract to the sour cream mixture and stir to combine, then fold into the large mixing bowl with butter/sugar mixture. Add the flour and walnuts. Stir until just combined. Do not overtax. 
Pour batter into the bundt pan, tap gently on the counter, and cover loosely with foil. Do not seal. Place in the silicone sling.
Put 1½ cups of water in the Instant Pot. Carefully lower the bundt pan into the Instant Pot. 
Select "Pressure Cook" or "Manual" function. Use (+) or (-) to set the time for 45 minutes.
When the time is up, press "Cancel" and let the pressure naturally release until the pin drops (typically 15-20 minutes), then careful remove the pan from the Instant Pot and let cool for 5-10 minutes.
Turn out onto a plate while still warm.
*The MANUAL and PRESSURE COOK buttons are interchangeable.