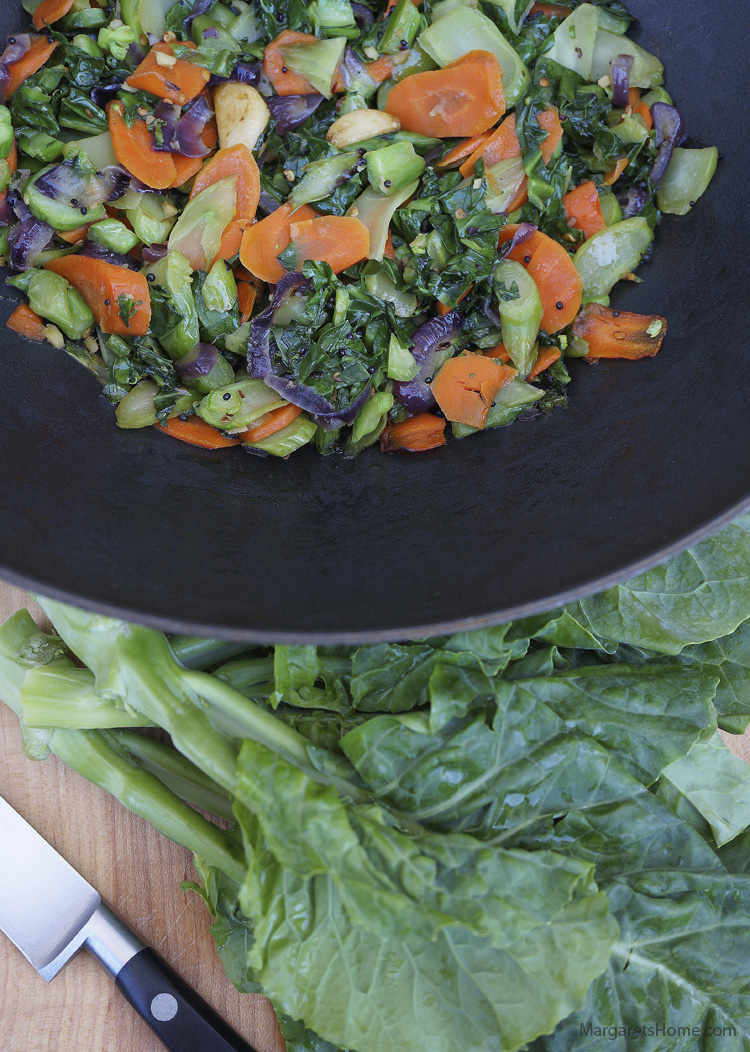 I saw bunches of fresh Chinese broccoli or Kai-lan, as they called it in my local Chinese grocery store. I was curious, so bought two bunches and looked it up in Wikipedia. It comes from the same family as regular broccoli, but it has a much stronger taste.
How do you pick fresh Chinese broccoli? You select a bunch that has dark green leaves and you look at the end of the stalk. The middle of the stalk should be one color, a creamy translucent color. Old Chinese broccoli stems will be dried up, with a hard, white opaque center. So, don't pick those.
This quick and easy stir-fry took less than 15 minutes to make. If you've tried cooking a new vegetable that you found in your grocery store, tell us about it in the comments section.
Stir-Fried Chinese Broccoli and Carrots
Adapted from Spicetrekkers
Prep time: 5 minutes
Cooking time: 6 minutes
Serves: 4
15 stalks Chinese broccoli, washed and dried
2 carrots, peeled
2 tablespoons peanut oil
½ teaspoon mustard seeds
4 garlic cloves, peeled
½ cup sliced red onion
1 tablespoon minced ginger
½ teaspoon chilli flakes, (depending on heat and your preference)
Salt
Cut the Chinese broccoli into leaves and stalks. Trim and discard the very bottom of the stalks. Slice the stalks thinly at a sharp angle. Keep them in a bowl. Slice the carrots thinly at a sharp angle and put them in the bowl along with the stalks. Cut the leaves into bite size pieces and keep in a separate bowl.
Heat a wok over high heat. Add oil and swirl to coat the sides of the wok. When the oil is hot, add mustard seeds. When they splutter, add the whole garlic cloves and stir-fry for five seconds. Add the onion and ginger and stir-fry for another five seconds. Then add the carrots and the sliced stalk. Stir-fry for two minutes. Add salt and the broccoli leaves. Continue stir-frying until the leaves are just wilted. Make sure that the vegetables are tender but somewhat crunchy. This dish goes well with rotis or parathas.