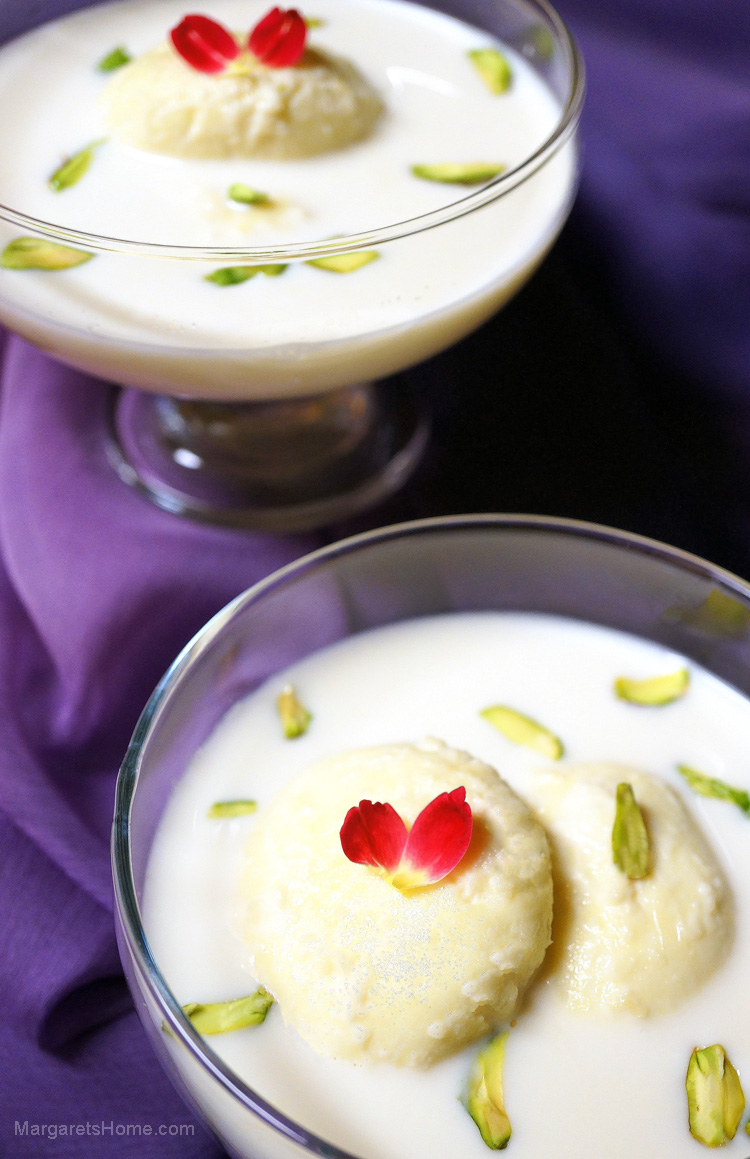 I cannot believe I've been blogging for two years! That's 104 posts. My sincere thanks to each one of you who has visited my blog during these past two year. MargaretsHome.com had 38,883 views and 528 comments. Your feedback is important to me. When you call to ask a question or when you tell me that you've tried my recipe and it worked out well for you, it makes my day! MargaretsHome.com would not be the same without you. Please continue to visit and I hope I can inspire you to cook some incredible dishes at home. I'm celebrating this milestone with one of my favorite desserts – Rasmalai.
Rasmalai is sometimes spelled Ras Malai. Ras means juice and malai means cream. Wikipedia describes rasmalai as a rich cheesecake without a crust. The recipe that I'm sharing with you is less complicated than the version used by authentic sweetmeat shops in India. In my version, the soft, spongy, cardamom-flavored balls are made with milk powder. Sugar and whole cardamoms are added to whole milk. Then it is boiled and simmered until it becomes thick and rich. The rasmalai balls are then cooked in it until they double in size. Rasmalai is served with some of the sweet, creamy milk sauce and garnished with pistachios.
Rasmalai can been made out of paneer (Indian cheese), ricotta cheese, or powdered milk. I've experimented with all three ingredients several times and feel that this recipe is quick, easy and delicious. Adjust the amount of sugar that is added to the milk according to your taste. I've tried to give you detailed directions so that the rasmalai will turn out perfectly when you make them for the first time. Follow the instructions carefully and you will have success.
I will be taking a short break from blogging as I am going on vacation. I'm sure my travels will yield even more exciting food experiences and recipes to share with you.
Rasmalai
Prep time: 5 minutes
Cooking time: 40 minutes
Serves: 5
Ingredients:
6 cups whole milk
½ cup sugar, (depending on your taste)
5 whole cardamoms
1 cup Nestle's Nido full cream milk powder
½ teaspoon all purpose flour
½ teaspoon baking powder
1/8 teaspoon cardamom powder, (optional)
2 teaspoons melted ghee
1 egg, (at room temperature)
Directions:
Pour the milk into a heavy-bottomed, wide, stainless steal pan. Add sugar and whole cardamoms. I cracked open the pods a bit, but you can leave them whole. Bring the milk to a boil over high heat and then turn the heat to medium-low and simmer for 15 minutes. Stir occasionally to avoid the milk sticking to the bottom of the pan.
Sift the milk powder, flour, baking powder, and cardamom powder into a large mixing bowl. If you don't like the cardamom specks in the rasmalai, skip adding it. But it adds a wonderful flavor to the rasmalai. Add ghee and rub it into the milk powder mixture with your fingertips. In a small bowl, beat the egg lightly with a fork. Add one tablespoon at a time into the milk powder mixture and mix with your fingertips to form a soft and slightly sticky dough. Don't knead, just bring the whole mixture together into a ball. I used about three and a half tablespoons of egg. Cover with a towel and let it rest for two minutes. If the mixture feels dry add a teaspoon of egg. Add one teaspoon at a time. Take small pieces of the dough and make them into small marble sized balls. Flatten them just a little and put them on a plate.
Bring the milk to a boil again and then immediately turn the heat to low and allow the milk to simmer. Add all the rasmalais into the milk. Cover the pan with a tight fitting lid and let the rasmalai cook for five minutes. Remove the lid after five minutes and gently turn each rasmalai over. Cover and let them cook for another 10 minutes. Take one rasmalai out and check if it is done. Place the rasmalai in a bowl and cut it in half. See if the rasmalai is cooked and looks spongy inside. If not, you need to cook them for another five minutes. When they are done, turn off the heat and leave the rasmalai covered for ten minutes at least. Then gently transfer them into a serving bowl. Let them cool and then chill them overnight in the refrigerator. Garnish with slivered pistachio and serve.