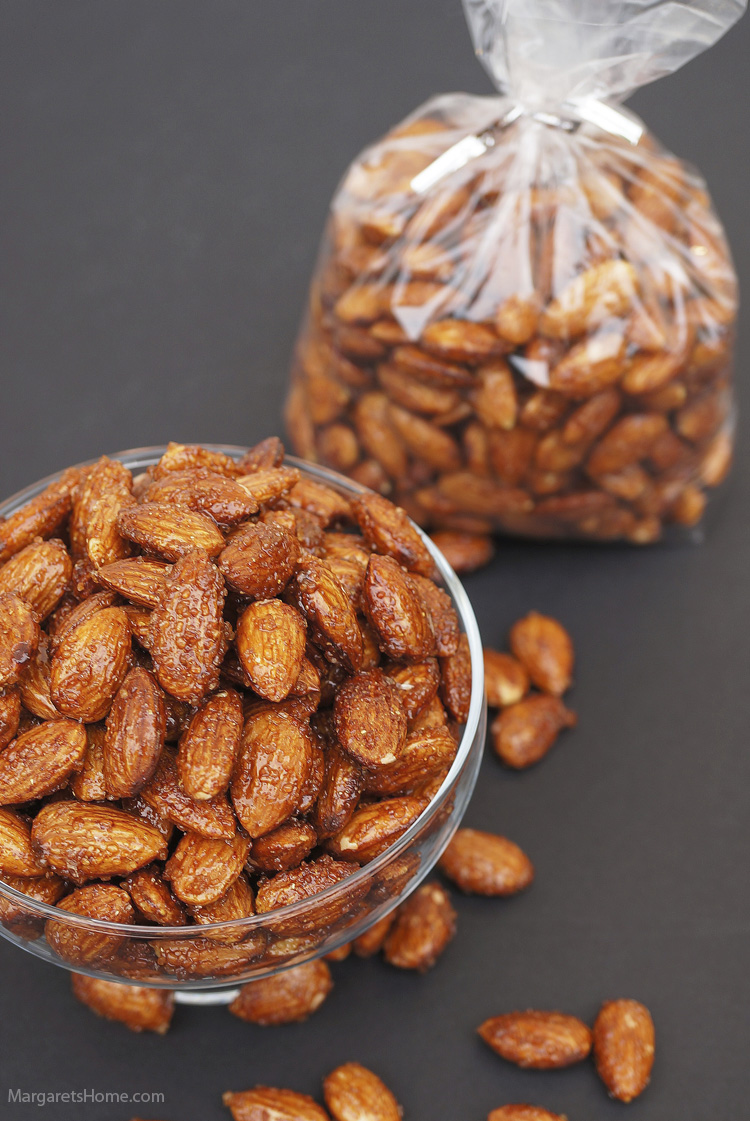 WARNING – These Honey and Spice Roasted Almonds are highly addictive!
I've tried different spice mixes and I think I finally found the winning combination for these honey and spice roasted almonds. The fusion of sweet, salty, spicy, smoky flavors and, of course, the crunch makes these nuts the perfect snack. At least that is my opinion. Let me know what you think, once you've tried them yourself.
Honey and Spice Roasted Almonds
Prep time: 5 minutes
Cooking time: 20 minutes
Serves: 10
3 cups whole raw almonds with skins on
2 tablespoons Turbinado sugar, (raw sugar)
1 teaspoon salt
2 teaspoons chilli powder, (depending on heat and your preference)
½ teaspoon smoked paprika, (optional)
½ teaspoon cumin powder
½ teaspoon coriander powder
2 tablespoons honey
1 tablespoon water
2 teaspoons peanut oil
Preheat oven to 350 degrees F. Spread almonds onto a foil-lined baking sheet. Bake for eight minutes, rotate the pan, and bake for another eight minutes.
While almonds are toasting, combine sugar, salt, chilli, paprika, cumin, and coriander powder in a small bowl and set aside.
In a wide-bottomed saucepan bring honey, water, and oil to a boil, over medium-high heat. You will see small bubbles appear on the surface. Immediately stir in toasted almonds and cook until the nuts are all coated and the liquid is absorbed. Turn off the heat. Sprinkle the sugar, salt, and spice mix over the almonds. Toss well to coat all the almonds.
Spread nuts back onto the foil lined baking sheet in a single layer. Cool completely and break the almonds apart. The honey and spice roasted almonds can be stored in an air-tight container for a month. But, I bet they won't last that long!