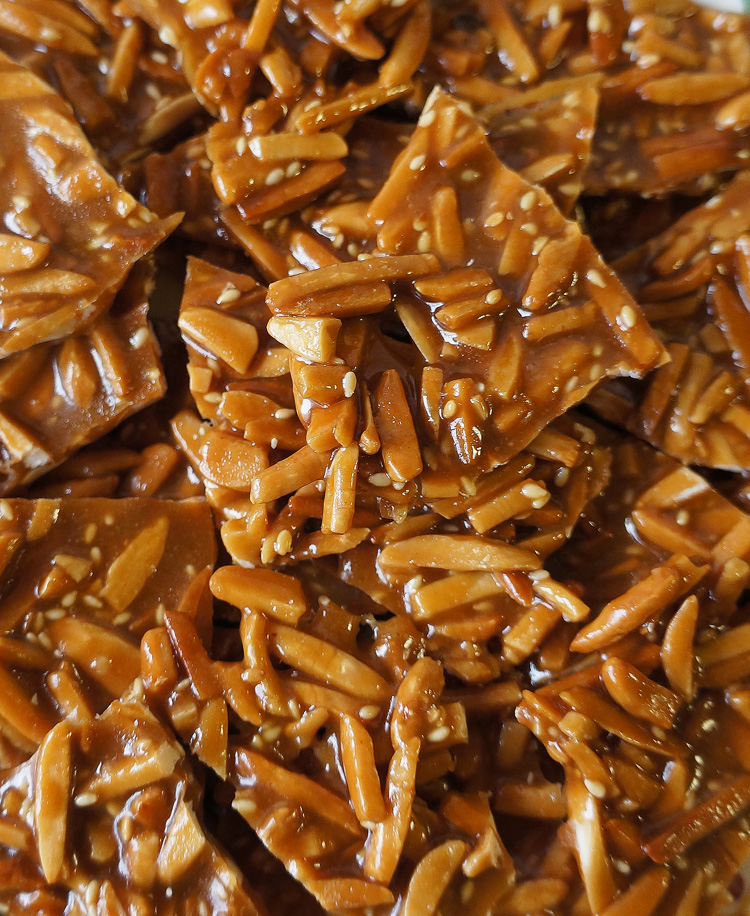 The holidays are just around the corner, and during this time, many of my friends ask for my Almond Brittle recipe. I'm reposting the recipe below, and I've also entered it in the Fisher Nuts "My Fresh Twist" recipe contest. Click here to vote for my recipe! You can vote for my recipe five times a day until November 5. Hint: Just hit the vote button 5 times in a row! Many of you have tried and tasted my Almond Brittle so I am sure I'll get your vote. Thanks for your support.
This recipe was originally posted on December 18, 2012.

Almond Brittle
½ stick butter (4 tablespoons), room temperature
¾ cup sugar
1/8 teaspoon salt
1 cup slivered almonds
2 tablespoons sesame seeds
Line a baking sheet with foil and set aside.
Place a heavy-bottomed saucepan over medium heat. Add butter (make sure it is at room temperature), sugar and salt. Stir with a wooden spoon until the butter, sugar and salt are well incorporated, and then add almonds and sesame seeds. Turn heat up to medium-high.
This is the point where you have to pay close attention, and keep stirring constantly. When the almonds and sugar begin to brown, and turn to a light caramel color, and you see the melted butter separate from the rest of the mixture, turn off the heat. Very carefully, pour the mixture onto the foil lined baking sheet. Spread to a thin, even layer with the back of the wooden spoon. Let the almond brittle cool completely before you snap them into pieces.
Store in an airtight container. Or, put them in little bags or boxes, as shown in the picture, and share them with your friends. They make delectable little gifts for Christmas.
Video tips for perfecting your almond brittle